Some vacationers on the Big Island of Hawaii soak up sun on beaches with white, black and even green sand. Not far away, skiers speed down the snow-covered slopes of a dormant volcano. Other people check out a surreal moonscape of hardened pitch-black lava, then hike through a lush tropical rainforest.
If this sounds like a continent-wide choice of activities, that's because the island of Hawaii (its official name) in ways resembles a miniature continent. Since it shares its name with the state, it's often referred to as the Big Island to avoid confusion, and with good reason. It's almost twice the size of all the other Hawaiian Islands combined.
Visitors find a miniature world that encompasses virtually every kind of landscape. Cactus-dotted desert lies near rain forests. Barren lava fields contrast with waterfalls plunging into verdant valleys.  Depending upon which classification system is used, Hawaii Island has at least eight and possibly more of the earth's 13 climate zones.
Volcanoes Are A Main Attraction
The major attraction for many visitors is Hawaii Volcanoes National Park, which encompasses the five volcanoes that over millions of years created the island.  This is one of the few places in the world where people may come face-to-face with an active volcano.
Mauna Loa has erupted 33 times in the past 175 years, most recently in 1984. Kilauea is the world's most active volcano. It has been erupting since 1983, and several years ago the lava flow invaded populated areas and prompted an evacuation by some residents. Lava flows from Kilauea increase the size of Hawaii Island by a number of acres each year.
Those massive mountains also have another claim to fame. They measure more than 30,000 feet from their base far below the sea to the summit, making them higher from bottom to top than Mount Everest in Asia, the tallest above land.
Something Good for Skiers on Hawaii Island
Another volcano, Mauna Kea – the name is Hawaiian for "white mountain" – at times receives a mantle of snow during winter that is adequate for skiing and snowboarding. However, skiing there is not for the timid.
There are no lifts or grooming, and a 4-wheel drive vehicle is required to drive to the 13,796-foot summit.  Once there, skiers find outstanding snow which locals call "pineapple powder."
A good way to experience the park is to take the Crater Rim Drive, which leads to several major attractions. The Jaggar Museum provides a detailed introduction to volcanoes, and the overlook outside offers a breathtaking panoramic view.
The Thurston Lava Tube was formed when an underground river of molten lava ran out of its channel and the walls cooled and hardened. The aptly named Devastation Trail leads through an area that was buried beneath a thick blanket of cinders during an eruption of Kilauea in 1959.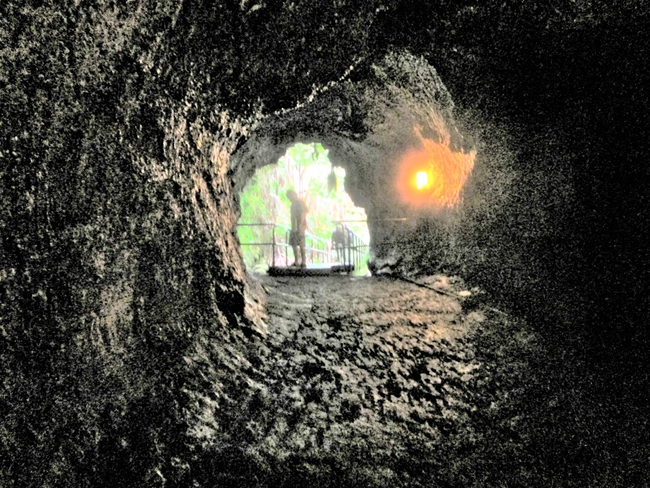 Along with volcanoes and the usual sun-and-sand vacation activities, there are plenty of other reasons to visit Hawaii Island. For fishermen, waters off its Kona Coast are famous as the best in the world for catching giant blue marlin.
Much bigger sea life drops by during whale-watching season, from December through May. While Humpbacks have top billing, it's also possible to spot sperm and melon-headed whales.
People who prefer to keep their feet on firm ground find a wide choice of hiking opportunities. Volcanoes National Park alone offers 150 miles of trails.
Coffee and Cowboys on Hawaii Island
Some visitors are pleasantly surprised to discover that coffee and cowboys are among Hawaii Island's unexpected treasures. World-renowned, and costly, Kona coffee has been grown there since it was introduced by missionaries in 1828.
Today, the beans are harvested at countless tiny farms crowded into a narrow strip of land along the Kona Coast. The rich volcanic soil, cloud cover and elevation of upland slopes combine to provide an ideal environment. A number of the small farms offer tours and tastings.
A farm setting of another kind more closely fits the Big Island nickname, and adds a bit of cowboy culture to the scene. This story began in 1788 when a visitor presented a gift of five cows to King Kamehameha 1, who had consolidated his rule over the eight Hawaiian Islands as one kingdom. After the monarch set the animals free, over the next two decades they multiplied into thousands, wreaking havoc with farm crops and gardens.
When a Massachusetts sailor named John Parker landed on the island, he got permission from the king to shoot the wild cattle. He began selling their meat and hides, became wealthy and eventually established a ranch that carried his name.
In the 1830s, Parker contracted with vaqueros, horse-mounted cattle herders from Mexico, to tend his large herd of livestock.  The local island men they trained to ride and rope became instrumental in the growth of the Parker Ranch into one of the largest cattle spreads in the United States. Two historic homes on the sprawling property are open to the public, and the story of the ranch comes to life at the visitors' center.
Hawaii Island is a Treasure Trove of History
For history buffs, the story of the island's past is as intriguing as what greets visitors today. The earliest settlements were established by Polynesians who arrived after a long and treacherous ocean voyage in large double-hulled canoes.   Estimated dates of their arrival span hundreds of years, from the fourth to eighth centuries.
Clues to the lifestyle of the ancient Hawaiian civilization abound throughout the island.  They include remnants of villages, temples (heiau), agricultural mounds and other archaeological remains.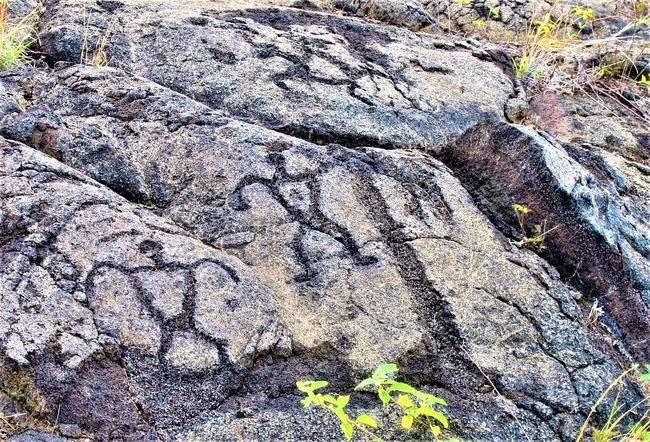 Some relics, like royal fish ponds constructed to satisfy noble palates, and petroglyph lava rock carvings have been incorporated into the grounds of hotels.  The etched images depict humans, birds and other recognizable forms as well as undecipherable lines and dots. Their precise meanings are unknown, but scientists believe that they record births, deaths and other major events, and perhaps include astronomical symbols.
One of the more intriguing sites is the Pu'uhonua o Honaunau National Historic Park, a reconstructed royal compound.  Known as the "City of Refuge," it served as a sanctuary for people who angered the gods in some way.
Transgressors who were able to reach this sacred place were absolved by a priest and allowed to go free. The compound encompasses temples, sacred burial places, petroglyphs and other reminders of ancient times.
Another chapter of island history comes alive in the Waipio Valley, a six-by-one mile gash in the land rimmed by 2,000-foot high cliffs over which numerous waterfalls cascade. The meandering river they create gave the valley its name, which means "curved waters."
Also known as "Valley of the Kings," it once was home to many rulers, and contains remains of important temples.  Visitors may view the valley from a small overlook, or take a guided tour into it.
Stars Above Hawaii Island
In contrast with the view at the bottom of a deep valley is the opportunity for a look at the stars as few people have seen them.  Hawaii Island is home to one of the most renowned astronomical sites on the planet.
Perched above the cloud cover on the Mauna Kea volcano,13 research facilities keep high-power telescopes trained on the sky. Because of the high elevation, clear air and minimal light pollution, the stars resemble sparkling glitter scattered overhead.
An opportunity to observe stars in a way that few people have isn't the major reason why most people visit Hawaii Island. It's but one in a long list of attractions that appeal to various interests well beyond the beaches, no matter what the color of the sand.
For more information about the Big Island, log onto www.gohawaii.com
Authors: Fyllis Hockman and Victor Block are a husband-wife team of experienced travel journalists who have gallivanted throughout the United States, and to nearly 80 countries around the world, and written about what they have seen, done and learned. Their articles have appeared in newspapers across the country and on websites across the Internet, and they each have won numerous writing awards. They love to explore new destinations and cultures and uncover off-the-beaten-path attractions. Read more of their work at The Rambling Writers 
Latest posts by Rambling Writers
(see all)