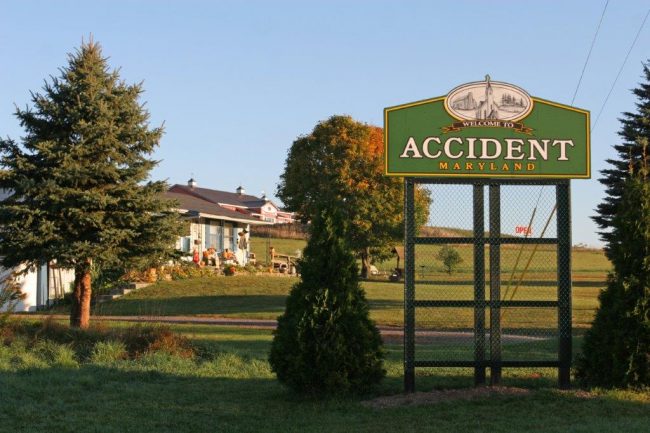 Accident, Maryland
Although no one is sure how the town of Accident, Maryland got that name, one popular story is that it came about, well, by accident. According to that recounting, the British Lord Baltimore opened western Maryland for settlement in 1774 and two men set out to survey the area. When one of them showed up to begin work, the other claimed that he already had begun to chart that tract. Realizing they had chosen the same parcel of land "by accident," they decided to call it that.
Boring, Oregon
The name of Boring, Oregon isn't meant to describe what the community has to offer. Visitors find an antiques mall, pick-your-own-produce farms, and tours and tastings at a popular microbrewery, among other attractions.
They learn that a Union soldier and pioneer named William Boring settled in the area in 1856. Later town fathers, displaying a bit of humor, adopted the motto "The most exciting place to live."
Santa Claus, Georgia
An unapologetic effort to cash in also can be the source of offbeat place names.  Years ago, an enterprising man in Georgia who sold pecans to people driving from the northeast to Florida had an idea for attracting more business. He incorporated his farm, named it Santa Claus and became its mayor.  Later a businessman developed the land as a community for middle-income families and gave it street names like Candy Cane Road and Rudolph Way.
Hell, Michigan
A very different story awaits visitors to a town in Michigan that was settled in 1838 by a man who operated a grist mill. When short of cash to purchase grain, he paid with home distilled whiskey and some farmers went on a several-day bender. Asked where their husbands were, wives often replied, "He's gone to Hell again."
According to local folklore, when townspeople were seeking an official name for the community the mill owner remarked, "Call it Hell. Everyone else does."  Hence a new industry was born, based on tourism. Today people are invited to "Bring your family for a little bit of Hell on Earth," to mail postcards from the Hell Post Office, and to drop by the Hell ice cream store, saloon and other establishments that tout the name.
If none of these humorously named hangouts prompts you to consider a visit, there's an alphabet-long list of other possible alternatives, from Allgood, Alabama to Zig Zag, Oregon. Not to mention Looneyville, Texas and Little Heaven, Delaware; Money, Mississippi along with Marmaduke, Arkansas, and Ding Dong, Texas as well as Disappointment, Kentucky. The choices cover the country, tempt the imagination and offer a different way to explore and experience the United States.
Author Bio: After gallivanting throughout the United States and to more than 75 other countries around the world, and writing about what he sees, does and learns, Victor Block retains the travel bug. He firmly believes that travel is the best possible education, and claims he still has a lot to learn. He loves to explore new destinations and cultures, and his stories about them have won a number of writing awards.