Travelers are seeking destinations without city lights to go stargazing.
What if I told you that in North Carolina, that magic is all around you. All you have to do is look up, literally.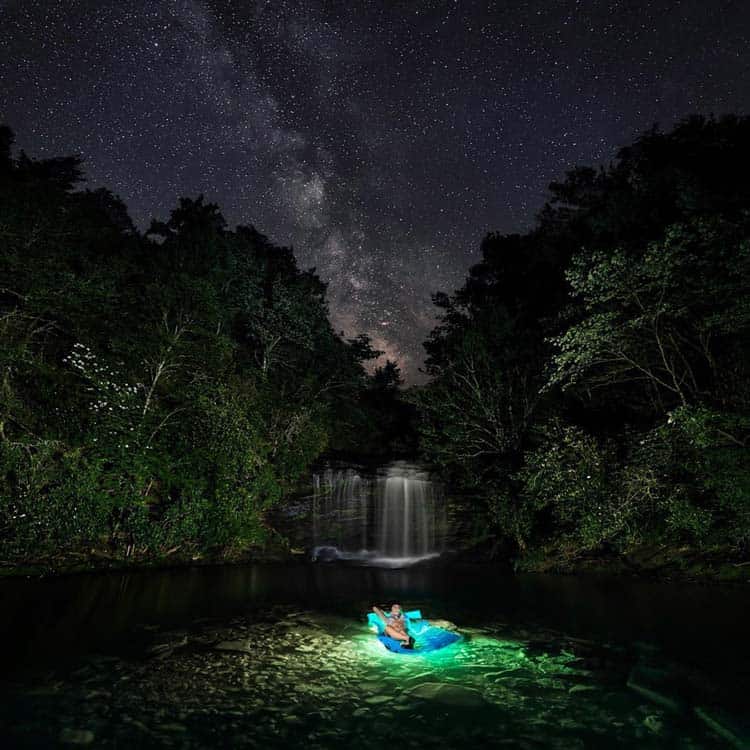 Stargazing in North Carolina
Specifically, in the Western North Carolina Mountain Towns of Cashiers, Cherokee, Dillsboro and Sylva, this magic I speak of can be seen for miles and miles across the sky in the form of stars.
Since this destination is surrounded by nature and void of any big cities close by, the light pollution is low, allowing the sea of stars to be seen from any location in the destination.
Worth the Hike for the Views
For the brightest and clearest view, hikers can make their way to the top of one of the many overlooks sprinkled throughout this mountain hideaway.
As 2020 showed us, it truly is the little things in life that matter the most and taking a second to appreciate those little things does the soul a whole lot of good.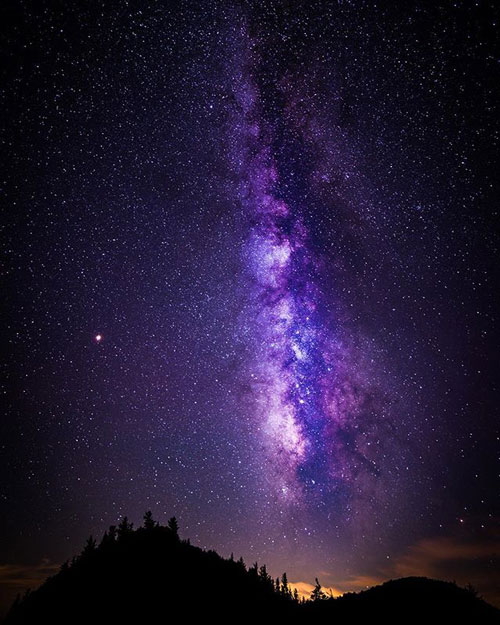 Star Chasing
Star chasing anywhere else may just look like hundreds of little white dots but here, these starbursts look close enough to reach out and touch.
Pack your telescope and choose from a wide array of viewing locations, overlooks and hiking trails for your next moonlight adventure and get ready for an out of this world experience in Jackson County, NC.
Top 5 Overlooks and Stargazing Spots in North Carolina for Astrotourists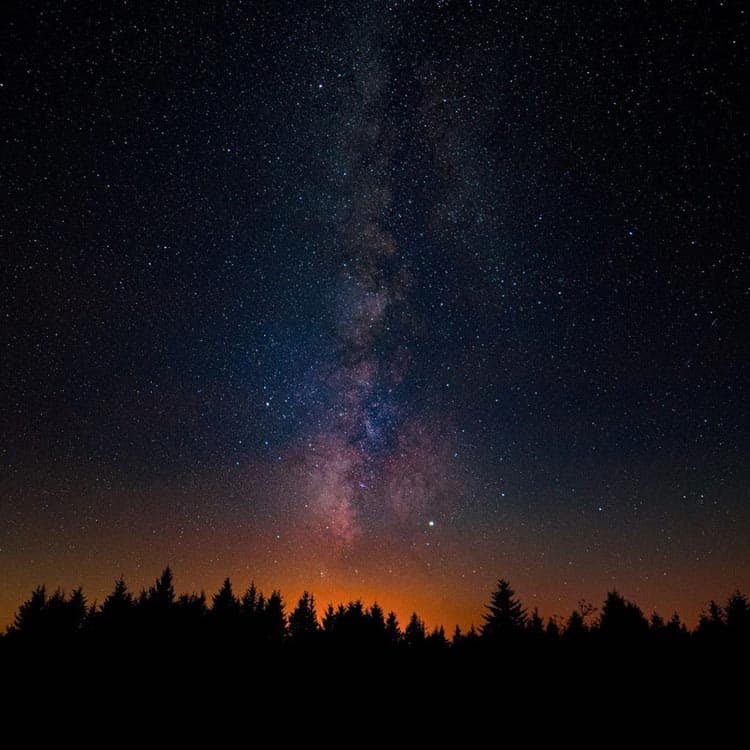 One of the greatest hikes along the Blue Ridge Parkway, Black Balsam Trail scales Black Balsam Knob, the 23rd highest mountain in North Carolina.
Once you reach 6,000 feet, the mountaintops are almost completely void of trees, making for incredible views and invigorating hikes.
For a steep hike with great views along the way, Waterrock Knob Trail will literally take your breath away.
A 1.2-mile roundtrip hike will take you to the top of the 6,292-foot summit. The vigorous climb gains 412 feet in elevation and features great views along the way.
Be sure to pack a cozy jacket, even in the summer many nights at this elevation can get chilly. Sierra Trading Post has a range of layers from moisture-wicking long sleeves for the hike up to winter fleeces for the stargazing session. Check out all of their jackets and more here.
At the top, there are several vantage points where you can see up to 50 miles out on a clear day to the Smokies.
With sheer, vertical cliffs that tower above the valley below, this trail features one of the county's most recognizable peaks.
Due to erosion, Whiteside Mountain now boasts the highest vertical cliffs in the eastern United States—about 1,800 feet. Whiteside's 4,930-foot crest can be attained by a loop trail that offers panoramic views of the sky in its most perfect form—great for stargazing.
You may glimpse a peregrine falcon soaring overhead or perched on Whiteside's rocky outcrops during spring or summer visits, but the cliff face is closed to rappelling and climbing during nesting season.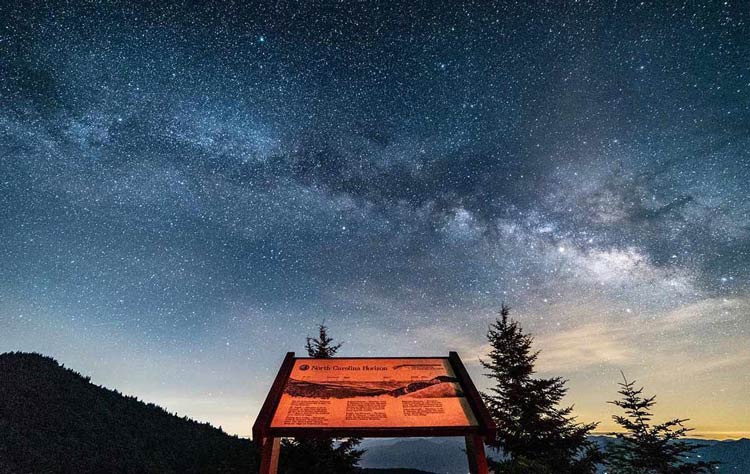 See if you have what it takes and hike the strenuous terrain of Pinnacle Park, a 7-mile trek that ascends more than 3,000 ft. in elevation.
Your reward? Incredible views of the mountains below and the stars above. Be sure to pack a late-night snack and camera before embarking on this hiking and stargazing adventure.
The 1,000-acre town park features streams, waterfalls and panoramic views throughout. The 3.4-mile trail to the top follows an old logging road for most of its length, through a grassy ridge and then up a short rocky trail to the Pinnacle where panoramic views of Sylva and Scotts Creek Valley await.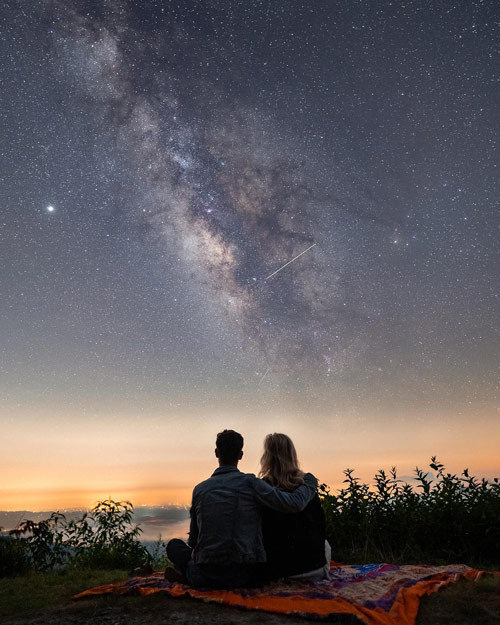 Known as the best-smelling trail on the Blue Ridge Parkway, this 1.5-mile loop winds through a spruce-fir forest.
You'll love this surprisingly easy hike to the highest peak along the Blue Ridge Parkway – talk about skyline views.
Even though the climb is about 700 vertical feet, the Richard Balsam Trail is not overly strenuous, and the cooler temps make for a refreshing hike during hot summer months.
When hiking to view the beautiful night skies, guests are recommended to either pack gear to stay the night or bring flashlights and take care while climbing down since you only have natural moon and star light to guide you.
Book This Trip to North Carolina
Set on stargazing at some of the most beautiful peaks in North Carolina? Get away from all the city lights and find the perfect vacation package in one of these special towns through TripAdvisor or Travelocity now!