For many of us, winter is a season to endure until Mother Nature warms things up and we can get outside again. But in Quebec, Canada, winter is embraced with gusto. In fact, it's celebrated each year from the end of January to mid-February at the Québec Winter Carnival.
Since the early days of this French colony, the weeks before Lent have always been a time to get together and eat, drink and be merry. The people of Quebec often faced hard winters, so in 1894, Quebec City introduced a winter celebration for people to enjoy. Although interrupted several times due to world war and economic crises, the event has been held more than 60 years.
Believed to be the biggest winter festival in the world, the Québec Winter Carnival is a favorite with locals, who pull their bundled-up kids on sleds to attend the events,  as well as guests from around the globe.
"Our goal is to make winter fun," says Patrick Lemaire, a media spokesman for Carnaval de Québec. "With an average natural snowfall of over 400 cm each year, our region is the perfect winter playground. In fact, the white stuff is the guest of honor at our winter festivals."
Rather than fight the cold, Quebec embraces the chill by creating every way possible to have fun in the snow. The festival is packed full with events and activities, from parades and snow sculptures to snow tubing, ice slides, horse-drawn sleighs, ice skating and outdoor and indoor food kiosks.
Bonhomme is the official spokesman for the Québec Winter Carnival. A 7' snowman, Bonhomme is the beloved festival ambassador. For some children of Quebec, Bonhomme ranks even higher than Santa Clause. He spends his year traveling the world promoting the culture and people of Quebec.
During the festival, Bonhomme makes his home in his Ice Palace, which guests can visit throughout the winter carnival. Built each year to a new design, the icy palace is lit with changing pastel lights and fully furnished with furniture built just for a snowman.
The secret to keeping warm during the festival is bring the right clothes, wear layers – and yes, drink caribou, a favorite local hot drink made from red wine, brandy,  and maple syrup. The drink is served in cups made of ice from ice bars around the festival.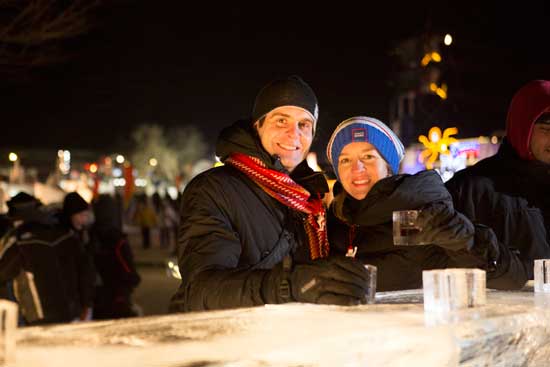 Outdoor Adventure Park: Valcartier Village Vacances
The Québec Winter Carnival isn't the only way to celebrate winter in Quebec. Valcartier Village Vacances is one of the biggest winter amusement parks in the world. During the summer, it is a  popular water park, with wave pools, a lazy river and thrilling slides. But during the winter, it becomes a winter playground with 35 snow slides, skating paths, and even snow rafting.
The park has 17 mechanical lifts which pull guests to the top of snow-covered hills. Tubing is one of the top activities, and they have more than 5,000 tubes on property. There are also  snowy slides like Everest, the highest accelerating slide in North America. Riders reach speeds up to 80 km/hr, so it's not for the faint of heart. This is serious winter fun.
If You Go:
English is widely spoken, and Quebec has a well-earned reputation for hospitality.
Quebec Tourism
www.quebecregion.com
What to Wear
Winter temperatures in Quebec vary from -13° F to 41° F (-25°C to 5°C) so it's important to dress in layers. The three-layer technique is recommended. For the inside undergarment layer, a synthetic or a mix of wool and synthetic fabric is recommended. Don't wear cotton since it retains humidity. The middle layer should isolate air and control humidity, and a wool, flannel or polar fleece sweater is recommended. The final exterior layer, a warm coat, should shield you from wind and humidity. Don't forget a good hat which covers your ears, a scarf, gloves, thick socks and warm snow boots. Instant hand and toe warmer packets are also helpful.
Where to Stay
For the ultimate Quebec winter experience, consider staying at the Quebec Ice Hotel. The only ice hotel in North America, Hôtel de Glace is open from the beginning of January to the end of March. It is constructed from scratch each year, using a new design and theme. READ MORE
If you'd like to be close to the festival activities, consider staying at Hilton Quebec, Hôtel Château Laurier Québec, Fairmont Le Château Frontenac or Delta Quebec, which are all within walking distance of the festivities.
VIDEO BY BENJAMIN RADER