Chill Digs: A Stay at the Québec City Ice Hotel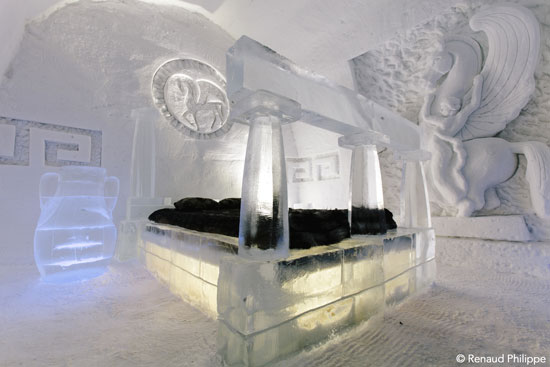 What on earth had I been thinking? Although it had seemed like a good idea when we booked our stay, now I wasn't sure. Our bed was made of ice, and the walls of our room were completely built of snow. I could see my breath in the chilly room, and the sleeping bag in my hand seemed awfully light. How we would be warm enough to sleep?
But as they say, when in Québec….
It was time to put aside my fear and savor the experience. After all, it isn't every day that you get to sleep in a hotel built entirely of ice and snow.
The Hôtel de Glace, known as the Québec City Ice Hotel in English, is one of the most popular attractions in Québec City. Now in its 17th year, the Canadian hotel has drawn more than 1 million visitors from around the world.
The only ice hotel in North America, Hôtel de Glace is open from the beginning of January to the end of March. It is constructed from scratch each year, using a new design and theme. Construction on the hotel begins in December when the temperatures have been below zero for a week. More than 50 Canadian and European experts create the icy architectural wonder, working around the clock to make the ice hotel a reality.
The team uses more than 30 tons of snow, creating 44 unique guest rooms and suites. The hotel walls are four to seven feet thick, and some of the ceilings reach up to 19 feet tall. Snow artists create whimsical scenes on the walls, with beautiful designs and scenes.
More than 500 tons of ice blocks are added to create the crystal-like walls, furniture and decorative fixtures. Ice sculptures carve masterpieces from intricate columns to artistic wall pieces. Lighting is an ever present design element, and rotating pastel colors reflect on the ice, creating a magical dreamlike appearance.
Jacques Desbois, CEO of Hôtel de Glace, is the brainchild behind the Ice Hotel. Once known as "Mr. Igloo," he has always been passionate about the ice and snow. He started an ecotourism company in 1996 with interactive igloo villages. When he heard about the ice hotel that had been built in Sweden, Jacques knew he had found his passion.
With its snowfall and consistent winter temperatures, Québec City was the perfect location for such a hotel. Jacques traveled to Sweden to meet the creators, and then spent years in development. His dream of the Québec City Ice Hotel came true when the hotel opened in 2001.
Though the hotel is stunning in photographs, it is even more magical in person. My husband, Ben, and I arrived late at night. A light snow was falling, and the crystal white exterior of the Ice Hotel was almost shocking in the moonlight.
Instead of checking in, though, we couldn't stop ourselves from exploring. Most of the guests were elsewhere, so we had the main rooms to ourselves. We stopped first in the Ice Chapel, where dozens of weddings are held each year.
Soft lighting reflected off of the ice walls and fixtures. Rows of seats, covered in furs, lined both sides of the chapel. Though I couldn't help but shiver at the thought of wearing a wedding dress in the chilly air, I have to admit it was enchanting.
From there, we wandered through a maze of halls and rooms, exclaiming over secluded sitting nooks centered on electric fireplaces (for looks only) and romantic corners with lounges covered in furs. There were beautifully carved tables and chairs, detailed sculptures and chandeliers — all made of ice.
We followed another winding hallway to discover a Grand Ice Slide, a popular attraction with guests of all ages. Of course we had to try it, zipping around the curves and dips.
My favorite room, though, was the Ice Bar, a mass of connecting rooms that can hold up to 400 people. During busy evenings, the club is filled with music and dancers. But it was late and most guests had already gone to bed.
The bartender served us colorful drinks in glasses carved from ice blocks. We sat down next to a fireplace, and watched the lights, which changed from soft pink to purple to green, dancing off the walls.
You can't help but smile when you find yourself in such a place. It's not every day you get to drink from an ice glass in the middle of a crystal palace.
Finally, it was time to head to bed. We wound our way through several hallways at the far end of the hotel to find our room. Two sleeping bags sat on our bed, but the thought of sleeping here was a bit daunting. The guest rooms stay at a consistent 28◦ F.
But we didn't have to worry. The Ice Hotel employees are experts at keeping warm in the cold, and they provided everything we needed, including a helpful orientation on how to use the sleeping bag and sleep sack, which could keep us warm down to -22 ◦ F. They explained how the heavy duty bag worked, and how to use the bag properly so that none of our body heat escaped during the night.
The Ice Hotel advises guests to get warm before heading to bed by soaking under the stars in one of their outdoor hot tubs or heating up in the sauna.
We chose the hot tubs, which was relaxing at first. But I noticed the icicles hanging off of my ponytail, and Ben's hair was frozen with ice. That couldn't be good.
But it wasn't a problem. After a hot shower and drying our hair, our bodies had warmed up enough to crawl into our sleeping bags. The hotel had advised sleeping in a warm inner layer, like fleece, with socks and a hat. (Although one of the employees swears that you will be warmest if you wear nothing at all, something I wasn't willing to try.)
We followed their instructions and they were absolutely right. I was so comfortable in my cocoon that I fell right to sleep. Next thing I knew, it was 8 am and time to get up. Guests have to clear out of the rooms each morning because the hotel opens to tours at 10 am. So we made our way to the dining room.
Each overnight stay comes with a full buffet breakfast. The room was abuzz with guests talking excitedly about their experiences. Although there were a few sleepy faces in the room (perhaps they didn't follow the instructions?), most people had huge smiles on their faces.
Guess who had one of the biggest.
If You Go
Hôtel de Glace
https://www.hoteldeglace-canada.com/index.php
Daily tours are available from 10 am to 8 pm for CAD $18 (adults)
Overnight stays from CAD $199 per person
Québec Region
www.Québecregion.com
Coming next: Snow Fun: Celebrating Winter at the Québec Winter Carnival
Author Bio: Janna Graber has covered travel in more than 25 countries. She is the managing editor at Go World Travel Magazine, and the editor of A Pink Suitcase: 22 Tales of Women's Travel. Find more of her work at jannagraber.com and follow her @AColoradoGirl
Latest posts by Janna Graber
(see all)