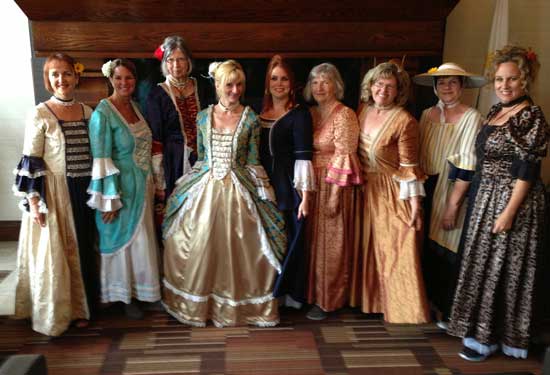 "Can you pull it any tighter?" I ask my friend Belinda. "I want this thing to stay put!"
Belinda responds by pulling the strings lacing up the back of my 18th-century gown even tighter. "There," she  says. "That's not going anywhere now."
To be honest, it's the first time I've ever dressed in such fashions, but I learned one thing – with all these hooks, slips, fasteners and back laces, you need someone to help you get dressed!
Still, Belinda and I feel quite grand as we twirl in front of the mirror, admiring our attire. She has donned a royal blue gown with white lace sleeves that is fit for any distinguished lady, and I'm wearing a gold and blue dress complete with hoop slip and matching lace necklace.
Such attire might seem odd, but it's the fashion here in Québec City, Québec – at least for five days each year. We're here for the 17th annual New France Festival, when the Québec capital city celebrates its French colonial roots.
The New France Festival aims to be historically accurate with a sense of humor. "It's not enough to be historical," says Stephan Parent, General Director. "We want to be gastronomical and fun."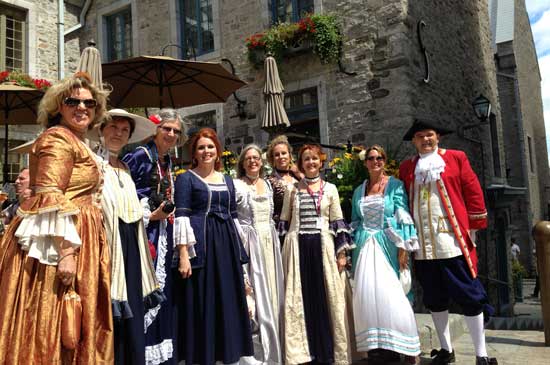 More than 200,000 visitors from around the world come for the lively celebration, but locals also get into the spirit. Many spend hours designing and making their 17th and 18th-century attire.
Visitors who don't have their own costumes can rent costumes at the festival. The New France Festival website even offers tips on how to create your own costume using common items you can find at home.
The New France Festival takes place each August in Old Québec, where it fits right in. Old Québec  has been named a UNESCO World Heritage Treasure, and it is the heart of the Québec capital city. (See Top 10 Things to Do in Québec City.) With its historic city walls, cobblestone streets, and 17th- and 18th-century architecture, the remnants of France can still be seen.
The only French-speaking province in Canada, Québec has a unique history all its own. New France (Nouvelle-France) refers to the North American region colonized by France, starting with the exploration of the St. Lawrence River in 1534. Eventually, the area stretched from Newfoundland to the Rocky Mountains and from Hudson Bay to the Gulf of Mexico.
The French colony ended with the cession of New France to Spain and Great Britain in 1763. With the Louisiana Purchase in 1803, the United States obtained the southern regions of the French colony, permanently ending French colonial efforts on the North American mainland.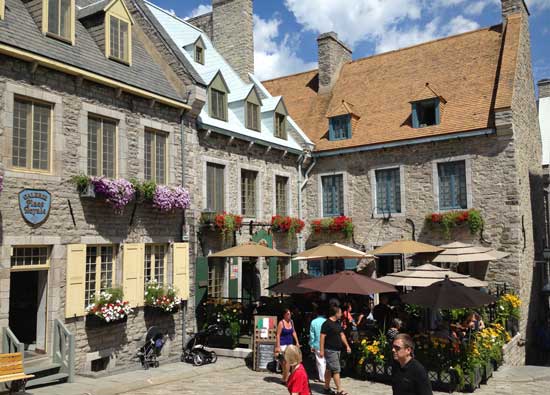 But even though Québec eventually became part of English-speaking Canada, its French heart still beats strong. French is the main language of the province, but most Québecers are bi-lingual.
This year, the New France Festival theme is "To our heroines," honoring the women – mothers, nuns, natives, and merchants – who helped to form the new French colony.To kick off the festival, 36 women, representing the first women who were sent by Louis XIV to help build the new colony in 1663, arrive on a sailing vessel on opening night.
These "Kings Daughters," as they were called, are considered to be some of the founding mothers of Québec. From 1663 to 1673, 800 more King's Daughters were sent to Québec. Each woman was given a dowry from the king, and had one month to choose a husband. Their goal was to help build the colony by promoting family and the birth of children. Evidently, they were successful, because a majority of Québecers can trace their ancestry back to one of these women.
With the arrival of the King's Daughter, the festival kicks off in earnest. A huge opening parade makes its way down Grand-Allee, with more than 600 characters, musicians and floats to entertain the crowds. Many joke and dance, other "Giants" twirl and move in their awkward giant gait.
The parade, however, is just the beginning. The festival offers non-stop events. Music is a huge part of the festival, with different concerts every night. There's even a band from Cajun Country in Louisiana. Magicians, storytellers, re-enactors and puppeteers entertain all week long.
As the week passes, we listen to the Québec Folksongs of the band Barbo, and sample local cheese, beer, wine and desserts at the Aliments du Québec Market in Place de Paris, the heart of festival activity. Québec takes pride in their local products, offering farm fresh produce and goods that rival any destination. I especially like their local cheese, berries and "Liquid Gold," the maple syrup that is produced in the province.
Festival activities go into the night hours too, with concerts and entertainment. One night, we watch the "Love in New France" fireworks show light up the night sky over the St. Lawrence River.  Another evening, we're thrilled to see Les Chemins Invisibles, a street event created by Cirque du Soleil and presented at Agora, the Old Port of Québec.
While costumes are worn throughout the festival, the highlight for me comes on the last day. There is another parade – only this time instead of watching the parade, we get to be in it!
The sun is shining brightly but the air is cool when Belinda and I step into the streets, which is good because our 18-century gowns are heavy! We join several other friends who have also come to the Québec festival. Each of our costumes came with the name of an historic local character. An Ontario photographer becomes Dame Julie, a fine French noble woman, and an American journalist dons the character of Marie.
I become Anna. I don't know anything about her, but I can almost imagine her life back then as we walk through the historic streets and enter the town square during our parade.
Many others are in period dress too, and we admire each other's costumes. As the parade route continues to wind through the alleys to the beat of drums, we smile and wave. My friends, Linda and Kim, come up with a group courtesy that we bestow upon eager photographers. Sure, it's a little strange that we are dressed as French colonists, yet speak few words of French, but no one seems to mind.
Travel experiences are often influenced by the people we meet on our journeys, and the people I've met here have been warm and friendly. Come to think of it, I've been smiling and laughing all week long.
"Isn't this fun?" Belinda asks as we stop along the parade route to pose for another photo. "We're not just watching the festival, we're IN it!"
Yes, indeed.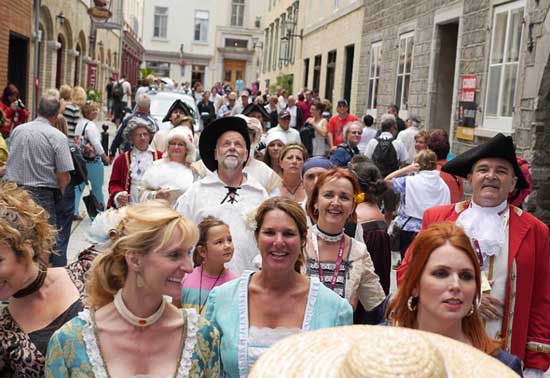 If You Go
The New France Festival takes place each August in Québec City, Québec. The 2014 festival will be held August 6 thru 10, 2014. For more information, see New France Festival
Québec City Tourism
Don't Miss Top 10 Things to Do in Québec City, Québec
Trying Poutine in Quebec City: Author Janna Graber and Kim Orlando try this regional speciality.