The two adversaries stood five feet apart and slowly turned to face one another. Without a word the armored knight drew his sword, and with one awkward swoosh decapitated his enemy.
The victor stared at the head rolling across the wooden floor. As the red velvet curtain fell, the viewing public shouted hoots that good had prevailed over evil.
Teatro Argento in Palermo, Sicily
No, this wasn't a movie scene or a live execution, but the final act of a performance of Opera Dei Pupi (Puppet Theater) at Teatro Argento in Palermo, Sicily. Wooden puppets, 32 inches tall and weighing 22-plus pounds each, operated by master puppeteers from above the stage, have such a sophisticated, mechanical construction that one puppet can slice off the head of another puppet in one swoop.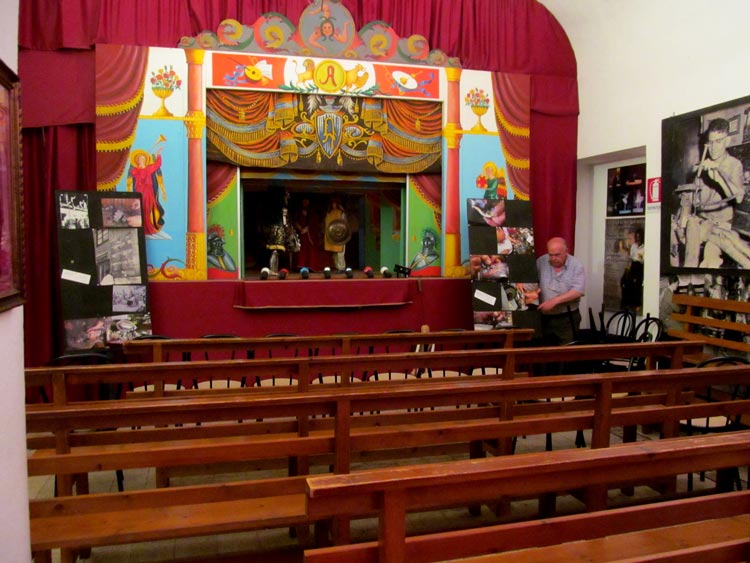 Puppet Theater Declared a UNESCO Intangible Cultural Heritage Tradition in 2008 
On a recent adventure of Sicily's timeless traditions, we met the Argento family puppet masters in one of the most fascinating experiences of our trip.  We entered through the arched doorway of Teatro Argento in front of Palermo's Cathedral on Palazzo Asmundo.
Inside, 81-year-old Vincenzo Argento and his son Nicola waited to share the family's five generations of passion and historical involvement in Puppet Theater.
It remains one of the oldest Sicilian cultural art forms, dating to the Greek period, and was declared a UNESCO Intangible Cultural Heritage tradition in 2008.
In Greek and Roman times, Puppet Theater created a vehicle to convey morality and political matters to the public. Wooden puppets had a rod through the body that allowed manipulation by the puppeteer. Amazingly, this is the exact method still used in classical Sicilian puppetry.
What Are Puppets?
The terms puppets and marionettes should not be interchanged. The difference between them is that for all variations of puppets − hand, shadow, water or Sicilian − there are no strings attached and the puppeteer brings the puppet to life. Marionettes are solely animated and maneuvered by pulling strings and these thin cords control the motion.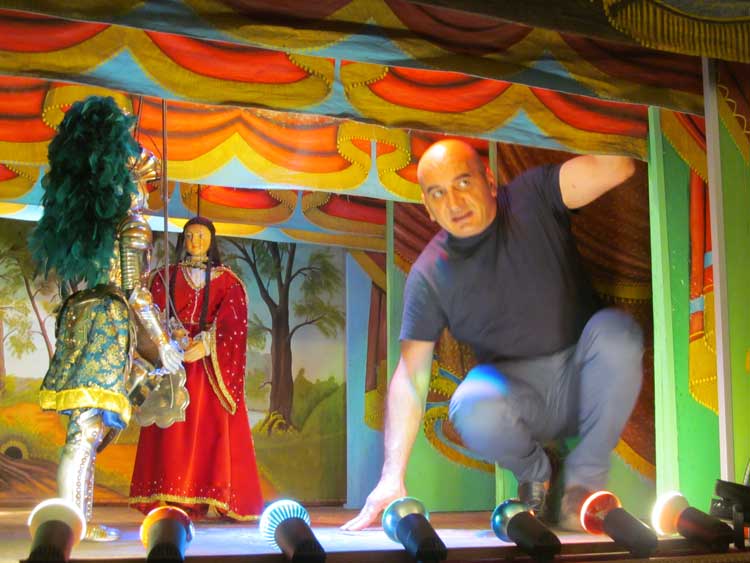 Palermo and Catania have Puppet Rivalries    
In Sicily, there are two distinct types of puppets: Palermian on the west coast and Catanian on the east coast. In similarities, both types represent small models of a person or an animal with head, torso and limbs made of wood, metal joints between the legs and body and long thin supportive rods through the entire puppet.
But the differences are a big deal. Palermo and Catania have rivalries about everything, it seems, pupi included. The puppets of Palermo have an additional rod to move the arms, which allows the right hand to raise a sword and the left hand to hold a shield. Catanian puppets are larger in size, but the arms remain stationary and can only hold a sword, but can never raise it.
Medieval troubadour tales during the reign of the Holy Roman Empire's Frederick II in the early 1200s provide the source of most puppet theater plays in Sicily. The ability to raise a sword in battle scenes is crucial and Palermo puppeteers boast that their puppets can maneuver this action.
Puppet Theater Performances
Performances typically involve Sicilian cultural traditions such as the Song of Roland. Clashes involving the Moors, Charlemagne, King Arthur and other chivalric characters prevail. Swords are constantly being drawn at Teatro Argento and heads roll frequently.
Themes center on codes of conduct, sense of honor and defense of justice and faith. The 20-foot stage uses Sicilian folk type canvas with layered curtains for backdrop to give perspective. The puppeteer must provide the voice of the puppet he controls, coordinate movements with background music, and provide impromptu dialogue for the tale being enacted. All these tasks reflect the individual puppeteer's personality.
The Argento Family Began Its Puppet Mastery in 1893
 The Argento family began its mastery of this art form in 1893, when 20-year-old Vincenzo Argento founded Teatro Argento in Palermo. It is the only family-operated puppet theater that has remained without interruption in this city for 125 years.
Vincenzo learned about puppets from an old puppeteer, Don Giovanni Pernice. Later, Vincenzo's four sons helped to spread the love of Puppet Theater throughout Palermo and the nearby village of Agrigento. Fast forward two generations and now his grandson, our host, also Vincenzo, and his family continue to operate Opera Dei Pupi di Vincenzo Argento e Figli (sons) at the same location.
Remarkably spry for his advanced age, Vincenzo glowed with passion for this art form, as he shared his love of puppets through a local's translation from Italian to English. Taking a more active role now, son Nicola, showed us the mechanics of an unadorned puppet.
He explained that his father invented the mechanism to turn the puppet's head and control the walk, by manipulating an inserted rod.  This feature makes the Argento Sicilian puppets superior.
"Would you like to try to make the puppet walk?" Nicola asked, handing me the controls atop the puppet's head.  I groaned at the heaviness of the wooden figure's 22 pounds and managed to make the puppet take only one pathetic stumble.
Costume, metal armor, sword and helmet could add more pounds. Even the thought of a puppeteer manipulating these dead weights, as Nicola does during every onstage performance, left me exhausted.
Vincenzo explained that his company starts with a piece of wood that ends as the puppet's stage performance. At their workshop, skilled family members hand-sculpt the wooden heads and busts, construct and shape the armor using metals of brass, copper and silver, insert rods, paint faces and make all the characters' costumes.
The theater puppeteers use the Sicilian language in spoken dialogue and performances are episodic in nature. Vincenzo described how a patron never sees a tale from beginning to end in one sitting. Stories enacted in a series require Palermo citizens to revisit the theater often.
It reminded me of going to the movies every week when I was a child to keep up with Flash Gordon adventures or recently waiting impatiently for the next episode of "Game of Thrones."
Vincenzo said that at times they offer a summary from the last performance, but for a tourist, this isn't necessary. When there is a battle scene and puppet bodies start piling up on stage, it's easy to figure out what's going on without translation and who's winning the fight.
Palermo's Martyred Priest, Giuseppe Pino Puglisi, is the Subject of a New Play   
Vincenzo's sons have updated performances to keep the art form alive and current. They recently added a play about Palermo's martyred priest, Giuseppe Pino Puglisi, who relentlessly encouraged teens from poor neighborhoods to remain free from the Mafia's lure of wealth.
On Sept. 15, 1993, on his 56th birthday, Father Puglisi was killed by a Mafia-ordered hit. Twenty years later, in 2013, he was beatified by The Vatican and Pope Francis visited Palermo in July 2019 to honor the memory of this beloved priest. Vincenzo proudly showed us the puppet that resembled Priest Pino, created for its premier performance.
This visit to Teatro Argento and the personal interaction with the masters of local puppetry gave me a more in-depth understanding of Sicily, of Palermo, of the traditions that run deep within the Sicilian soul.
Shadow Puppets Around the World
On other jaunts around the world, I have been enchanted by water puppets in Vietnam, shadow puppets in Indonesia and marionettes in Myanmar. Now the circle is complete with this comprehensive lesson on the wooden puppets of Sicily with no strings attached.
Performances daily at 5:30 p.m. for 12 euros. Located off of Palermo Cathedral on Palazzo Asmundo, Via Victor Emanuele 445; [email protected]
Author's Bio: After a life-long profession of treating the mentally ill at a PA psychiatric hospital for 33 years and also serving as its Director of Admissions, Carol L. Bowman retired to Lake Chapala, Mexico in 2006 with her husband, to pursue more positive passions. Her family thought that she, too, had 'gone mad.' She's been teaching English to Mexican adults for ten years, in a program operated by volunteer expatriates and writing for local on-line and print publications. Using her adventures experienced during visits to over 80 countries to capture a niche in travel writing, Carol also dabbles in 'memoir.'  A frequent contributor to Lake Chapala English magazine, "El Ojo del Lago," she's won several literary awards from that publication, including Best Feature in 2010 and Best Fiction in 2014. She also netted a story regarding her psychiatric field work in the published anthology, "Tales from the Couch."