There are strings attached to this workshop in England, where students learn how to make violins, violas, guitars and bows.
While some people return from their summer vacations with snow globes and magnets, rolled up rugs and local crafts, Jeremy Osner has more unusual taste in souvenirs:  He crossed the Atlantic to build his dream instrument – a violin.
Cambridge Violin Workshop
The intrepid instrument-maker, who also recently created a cello from a metal washtub, attended a week-long, sold out violin-making workshop in Cambridge, England, and returned to his home in New Jersey with a partially built handmade instrument in his carry-on luggage.
Every summer, people from around the globe, from total beginners to amateur luthiers, are drawn to the back-alley workshop, which offers seven popular week-long sessions, including courses in violin, viola, guitar and bow-making. Some return year after year.
And while it may look like a bucolic cottage on the outside, inside is a spacious well-equipped workshop, with all the specialized tools and materials needed to create musical masterpieces.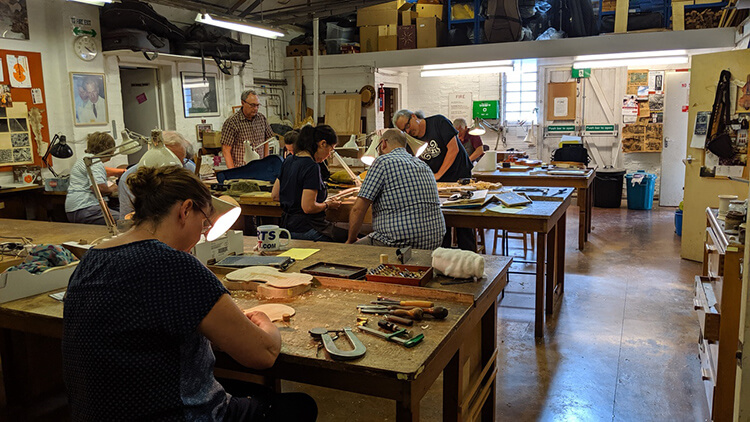 "The only thing you must have is patience," says Juliet Barker, who in 1956 became Cambridge's first independent violin maker and founded the workshop in 1986. "A good eye also helps," adds her son Christopher Beament, who manages the workshop and is one of several instructors. Barker's teaching career spans decades; though retired, she still contributes her expertise to the students at Cambridge Violin Makers.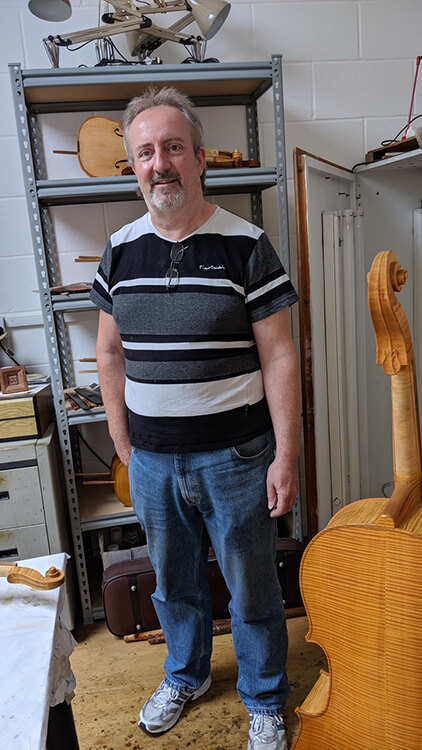 Cambridge University granted first music degree more than 500 years ago
Cambridge is home to 31 colleges that make up one of the most prestigious universities in the world. It has, not surprisingly, an impressive academic musical pedigree, ranging from granting the first degree in music more than 500 years ago, to a more recent obsessively detailed genealogy of 22 years of homegrown rock 'n' roll. It's not unusual to run into famous Cambridge rock 'n rollers at local pubs.
On Day One of Osner's journey to the musical mecca, he carefully removed from his backpack the template and mold that he had constructed at home. The instructors pointed out an uneven edge and a misshapen curve, and showed him how to fix the problems. Osner worked all morning with gauges and a rasp (a tool similar to a file), smoothing and re-shaping.
While on a lunch break, students gathered at the family-run Harpur's Cafe nearby for jacket (baked) potatoes and bakewell tarts (an English confection). The violin makers and the bow makers sat at separate tables. Back at the workshop, Osner glued blocks to the mold and began to work on the ribs.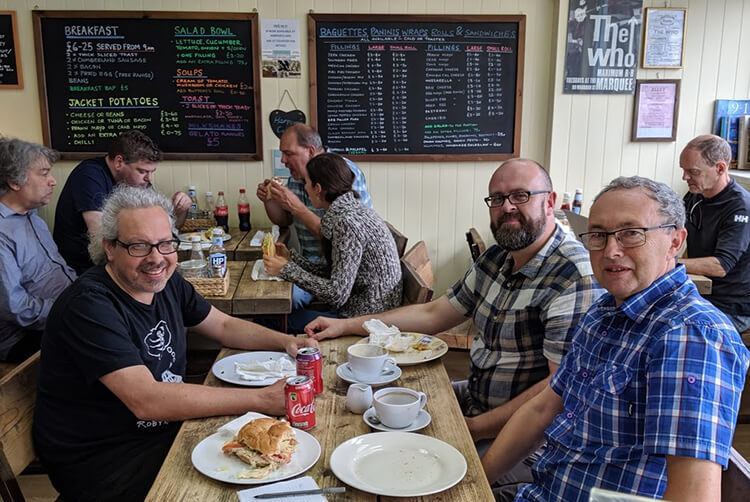 Making a Violin
On Day Two, Osner began using a special curved iron to bend the violin's ribs and continued sanding and shaping the blocks.
In the evening, students were treated to a talk about the pre-history of violin making by Barker, referring to research she had conducted when writing her classic book, "Violin-Making, A Practical Guide."
It was also an apt time for show and tell: A student from the bow-making course shared a German violin from the 1750s and a bow that had belonged to composer Edward Elgar. Highlights of the evening included Barker examining the rare violin, and an impromptu student performance.
On Day Three, Osner finalized the curve of the blocks and glued up the rib garland.
"What you don't realize," said Steve Crick, another first-time workshop attendee, "Is the amount of precision and accuracy involved." Crick, from North Yorkshire, England, is a retired chemist. His musical family includes professional musicians, a music teacher, and an in-law who is the lead singer of the glam rock band Slade.
On Day Four, Osner worked on flattening the top and bottom of the rib garland and prepared the plates for the front and back of the violin.
David Woozley, a high school band teacher from Eastbourne, England, was also attending the workshop for the first time. "It's the exact opposite of my day job," Woozley said, referring to the workshop's quiet and focused atmosphere.
Violin Begins to Take Shape
On Day Five, Osner began to shape the back of the violin. Each curled shaving on his work bench represents one stroke of the gouge. Osner shaped and glued in the cedar linings for the rib garland.
Viola (yes, that's her name) Introini is from Italy and has attended several 10-week terms of the workshop during the school year while also pursuing her doctorate in biophysics at Cambridge University. This was her first summer course, where she is working on the scroll, the delicately carved end piece at the top of the violin's neck.
On Day Six, Osner marked and cut out the form for the neck and scroll of the violin, and flattened the linings in the garland.
"It's very satisfying to finish, at last," said Antoni Alderson, a retired printer from Bristol, England, who has attended the workshop for six summers. His violin's fingerboard, which provides the hard surface for the strings, was carved from a piece of ebony that had sat in a friend's garage for more than 50 years.
Meanwhile, Osner and fellow students, instructors and Barker, enjoyed a potluck spread on the workbench after a week of meticulous craftsmanship and artistic growth.
If You Travel to Cambridge
From London's Heathrow Airport, take the tube to King's Cross station, then transfer to a Great Northern train to Cambridge. Another alternative is to hire a car service from the airport directly to your lodging in Cambridge. The cost, if you are traveling with family members, will work out to be about the same as taking public transport. Travel time from Heathrow varies – about two hours.
Twelve Transfers car service: twelvetransfers.co.uk
Bike rental at Cambridge Station: https://www.rutlandcycling.com/pages/rutland-cycling-cambridge-station.aspx
Lodging: Simple rooms in a nearby house are available for rental through the workshop. Many Airbnb options are available in Cambridge.
Note: The Cambridge Violin Makers summer workshops are announced in February on the website and fill up quickly. www.makeviolins.com
Christopher Beament – Workshop Manager
The Workshop
70a Hartington Grove
Cambridge
United Kingdom
CB1 7UB
Telephone – +44 (0) 1223 411071
Mobile – +44) (0) 7813 805987
Author Bio: Ellen Kahaner can pack a suitcase and go anywhere on (almost) a minute's notice with her reporter's notebook in hand. She has published articles on a wide range of subjects, from radiation spills in Juarez, Mexico, to kitchen spills in suburban New Jersey