Naturally, in Provence, France we started our trip off with a glass of wine at lunch. After all, it was too late for breakfast. "Deux verres de vin rouge ― um, uh ― pas sec. Un peu."
Finally, I just threw my hands in the air and laughed. I meant well but it seemed unfair to make our poor waiter suffer for my lack of versatility with the language. Our waiter obliged with two glasses of wine and a hearty, "Welcome to Provence!"
Our first morning, vaccination card in hand, we left to explore Pernes-les-Fontaines in Provence, a 10-minute walk from our cozy, CDC-treated, 100-year-old, two-story farmhouse that we called home for two weeks. We had to move to the curb much more often to accommodate bicyclists than cars.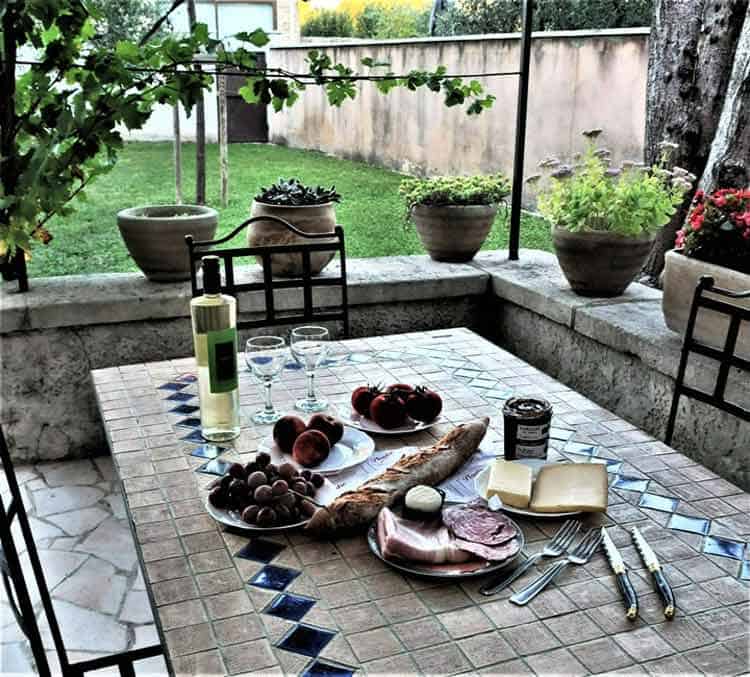 How different our Provence adventure was from the usual prescribed schedule offered by most tour companies. Such is the beauty of Untours which puts you up in unusual accommodations in multiple cities in more than a dozen European countries ― perhaps a castle, in a vineyard or a delightful old house like ours to live like a local.
Untours provides a car, inundates you with information, connects you with a local contact to answer questions and sets you off to see what you want to see when you want to see it. Unencumbered by anyone else's set schedule or preferences, it's a much more socially distanced option than a tour bus.
Yes, there is a supermarket near Pernes, known for the 41 fountains which constitute its name (although nonoperational due to water as a precious commodity), but it's so much more French to stop at the individual butcher, baker, cheese shop, produce store to buy provisions ― and so we very smugly did.
Untours Allows You to "Live Like a Local" in Your Hometown Setting, Such as Pernes Les Fontaines, Provence
Expect to get lost everywhere and savor the adventure of doing so. No one has ever been inextricably lost, though the temptation to be so is great as you traverse streets spanning multiple centuries in an afternoon's outing.
One day after building up a great thirst, we stopped for lunch and ordered a beer. When I balked at the choice of either Heinekens or Corona and asked, "Ou est les bieres Francaise?"
I received a stern rebuke, "We are French, we drink wine." Lesson learned.
Second surprise, how few people actually spoke any English, though they were very eager to help, nonetheless. And in COVID September, when we were there, that was true for the tourists as well.
The Hill Towns of Provence Promise Enchanting History that Walks You Through Multiple Centuries Along Narrow, Winding Streets
The hill towns in Provence come by their name honestly. There is more than a dozen within an hour's drive of Pernes, was Gordes, one of the 100 Most Beautiful Villages in France.
Our first hill town came into view, perched high upon a hill―go figure―enveloped by stone walls overlooking stone buildings overlooking vast vineyards ― you do not question that designation.
As much as I imagined anything called a hill town to be quaint and picturesque, I was not prepared for the exhilaration I felt upon entering.
The awe at the walled surroundings, the sense of being transformed back to the 11th-century, views that demand head-shaking wonderment, precarious walkways and narrow side streets whose sides you can touch with outstretched arms ― all of which made it easy to dismiss the many cafes, shops and tourists which also abound.
Take time to visit the 11th century Abbey. Its most recent renovations? The 18th-century.
From Gordes, it's an easy drive to Roussillon, a town shrouded in varying shades of ochre. Sort of a combination of red, maroon, orange, terra cotta and yellow. Who knew there were so many shades of color I heretofore couldn't have given a name to? Dramatic views of ochre cliffs give Roussillon its unique coloration. Oh yes, it also has stone buildings.
The next town was more a nostalgic stop than anything else ― that and the dozens of vineyards we passed en route.
Menerbes, the hometown of Peter Mayle, author of the renowned "My Year in Provence."Admittedly, I wish I had read it after the trip so I could have related even more to his many Provincial adventures.
Menerbes is another one of the 100 Most Beautiful Villages in France. The canopied entrance alone suggests that. And, of course, there is the de rigueur enthralling view.
Menerbes is quieter, more subdued than Gordes with wider streets. While dating back to the 14th century, there is less a visceral sense of the medieval influence. All of which contributed to its own personality and livable charm ― and the fact that this is where Mayle did his shopping.
A small garden for sitting and reflecting beckoned. This being our third hill town ― hill being the operative word ― we welcomed it! Just when we thought we had seen the most charming village, we came by another.
Best to withhold judgment on charm quotients.
When visiting said charming small towns ― which is mostly what you want to do ― be sure to park in the lots outside of town. Don't even think about driving in the towns themselves unless you're on a bike. We did ― not by choice ― and not until we finally found a way out of the one-way, very narrow miasma of traffic did our stomachs return to their designated place in our bodies.
A trip to the Saturday morning market in Pernes is a trip itself. Unending supplies of flowers, fruit, furniture and food, in addition to clothes, shoes, crafts, purses, jewelry and household items. And especially wine, cheeses and olives – and more varieties of ham than all the deli meats combined at a supermarket at home. The people are as varied as are the perishables.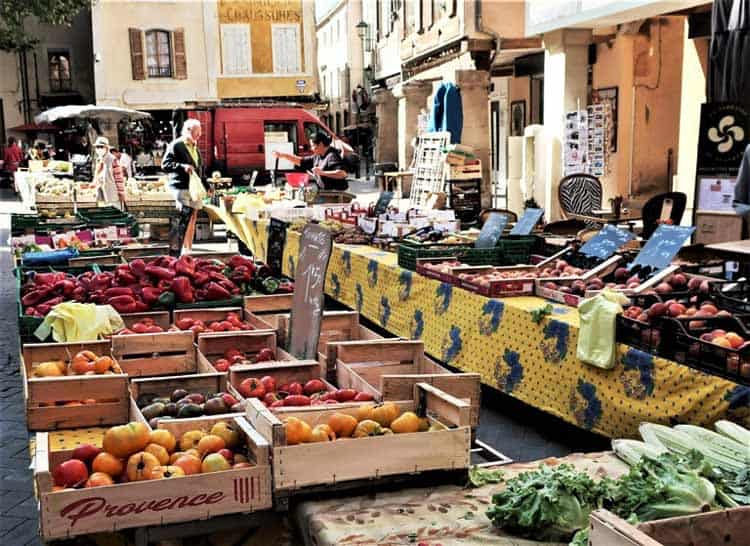 Sunday brought us back into town ― this time to a ghost village. Everything closes on Sundays. Hard to believe the two days co-exist within the same town.
So much for our plan for afternoon wine at a café. But as we had learned, whatever the village, it's always a good idea to walk off the main square to see where the people really live.
So, we found ourselves in a residential area, perusing 13th-century corridors with the sounds of everyday life emanating from apartment windows. A welcome sense of becoming acquainted with our hometown outside its more touristy main square. And a reminder that there was more life to the ghost town than we initially thought.
Sometime later, when visiting a favorite restaurant, our waiter smilingly led us to "your usual table." Voila, we belonged. Thank you, Untours.
Avignon was a slightly different experience than our beloved hill towns. A big walled city from the 14th century. Here the operative word is big.
Massive medieval monuments dominate the square ― churches, palaces, municipal buildings, amphitheatres ― dwarfing those straining their necks to take them all in. Take special note of the Palais de la Pape because yes, Avignon was the center of the papacy in the early 14th century before it permanently moved back to Rome.
As always, the city center is a combination of ancient buildings and modern shops and everywhere the city walls, built three centuries before the first settlement in America. The past somehow feels both overwhelming and imminently present.
Provence Offers a Multitude of Farmer's Markets, Festivals, Cafes and Museums to Delight All Visitors
As my husband's eyes were beginning to glaze over at the thought of another hill town, we mixed up our days with a local hike, a day of errands and laundry, a visit to a Cezanne and Kandinsky exhibit at a museum in Les Baux (Can you handle yet another Most Beautiful Village?), and a festival in St. Remy (there is probably a festival every day somewhere in Provence), a week-long homage to bulls in several iterations.
At the bull ring, more than a dozen grown men were chasing after the bull ― or maybe it was the other way around. It was a bizarre sport, and I didn't know whom I was supposed to root for ― but it definitely made me better appreciate American football.
Fortunately, there was also a bonus stop to view extensive Roman ruins dating back to the third century and a street adorned with reproductions of Van Gogh's letters and paintings from when he lived in St. Remy ― there is always a bonus in Provence.
At lunch, we sat at a table for two and ordered a steak to share. We were then moved to a larger one. "Porquoi?" It was needed to accommodate the size of the steak. Provence is also full of surprises.
Another memorable meal? It's harder to name one that wasn't. But this one, a "destination" multi-course luncheon at an imposing hilltop chateau ― Le Domaine du Castellas in Sivergues.
If with a novice gear-shift driver (my husband), harrowing roads competed with breath-taking scenery, if you dared take your eyes off the road long enough to look at it. Sheer terror might overcome appreciation of your surroundings but these very surroundings and the narrow, winding hill towns that inhabit them are the very reason you come to Provence.
Fortunately, we didn't come upon a car going the other way ― we'd still be there trying to figure out who could pass by where. The roosters and goats that we ended up sharing our outdoor repast – some of whom at other times might actually show up on the menu themselves – help mitigate the afore-mentioned terror.
All the more reason to appreciate picking up a fresh roasted chicken from the market, wave to shopkeepers we had befriended, sip yet another glass of wine and dine al fresco at our arbor-covered, garden-enclosed picnic table, contemplating tomorrow's adventures. A perfect way to end the day. Such is the beauty of Untours! For more information, check out Untours in France.