Rare wildflowers, prairie grass, tumbleweeds, sagebrush and ornamental wrought iron fences dot the 200-year-old pioneer cemeteries of Custer County, Colorado.
Among them are Ula, Rosita, Silver Cliff, Hope, Assumption, Beulah and numerous private family cemeteries. And though mention of God's Acre Cemetery is found in the Columbine Genealogical & Historical Society records, we've been unable to locate it.
Custer County is a rugged and mountainous area settled by German miners in the 1870s when silver was discovered near the town of Rosita. Rich ores, cobalt and nickel were found in the Gem Mine northwest of Silver Cliff.
Remnants of the Geyser, Bassick and Bull Domingo Mines can still be seen today. The county enjoyed fame until the silver bust of 1893 when it became predominately a cattle and ranching community.
Rosita Pioneer Cemetery
Past Rosita residents endured cholera, flu and other epidemics in the early 1900s. The cemetery has numerous graves for children and potters. Potters' graves are typically marked by a wordless white wooden cross or a stone simply inscribed "unknown".
The cemetery is one of the few in the county nestled amongst a dense and hilly pine- and pinon-tree-covered forest. The soft, spongy woodland floor speaks to decades of few visitors.
Silver Cliff Cemetery
Perhaps the most well-known cemetery in the county is Silver Cliff. It is famous for the "dancing blue lights" discovered by 19th-century miners. Ghosts? Doomed miners? Spurned lovers? Reflections from the sun?
A National Geographic magazine reporter wrote about the lights in August 1969 and people began traveling to Silver Cliff. However, few did see the lights. Scientific and speculative discussions ensued as to the origin of the lights, but nothing was conclusive.
Best Tips & Tools to Plan Your Trip
The Assumption Pioneer Cemetery
Residents of the Silver Cliff cemetery and its nearby neighbor, The Assumption, repose under the jagged peaks of the Sangre de Cristo Mountains. Both with graves dating to the early 1800s.
Many grave markings have decayed or are illegible. Others are crudely inscribed with a name or a date: Baby 1829 or simply, Daughter.
Interesting Cemetery Facts and Sights
What draws visitors to rural pioneer cemeteries is often the fascinating history. But the chance to experience the peace, serenity and beauty found in these remote graveyards is also a draw.
It's rare to see anyone but yourself, antelope, elk, foxes and other critters. Headstones only begin the story. Soon you'll be imagining what the lives of those who lived 200 years ago might have been like.
Wagon wheels, mining tool relics, colorful rocks, statuary, hand-carved wooden boards, lone white crosses and stone tree stumps mark the graves. However, many have been reclaimed by the earth.
Typically absent of decoration, these remote resting places are rarely visited by any but the cemetery buffs who research the past to share the stories of those who lived. Social media groups have sprung up for people to share their photos and stories.
Did you know? A coin left on a headstone lets the deceased soldier's family know that somebody stopped by to pay their respect. A penny means you visited.
A nickel means you and the deceased veteran trained at boot camp together. A dime means you and the deceased veteran served together in some capacity. Pebbles on a gravestone mean you visited, mourned for, respected or honored the deceased.
Ula Pioneer Cemetery
Once the county seat, the town of Ula has long since disappeared. Land was donated by the Kettle family for a graveyard in the 1870s. One of the oldest gravestones is of Azor Palmer, who died in 1826. Headstone epitaphs capture life in the mountains: "I came to life in the cool winds and crystal waters of the mountains". And, this Emily Dickinson quote appears often: "Where ships of purple gently toss on seas of daffodils. Fantastic sailors mingle and then the wharf is still."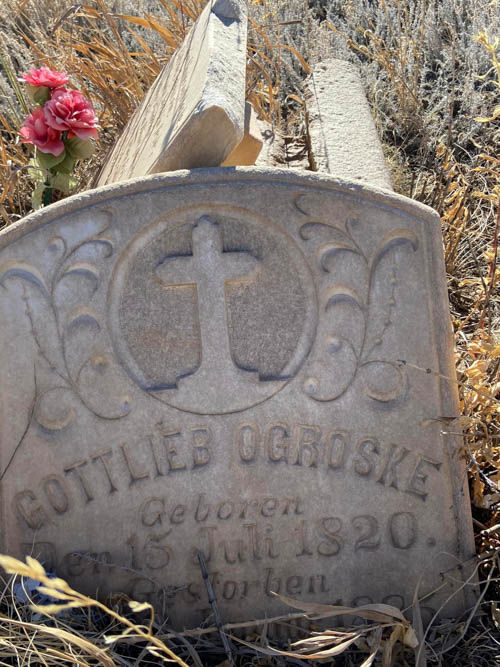 Hope Lutheran Pioneer Cemetery
Hope Lutheran Cemetery lies in the shadow of the mountains with all headstone epitaphs in German with delicate scrollwork and engravings. It's as though this cemetery was placed so visitors could sit with their loved ones and admire the magnificent mountain views. Though the history indicates that it dates back to 1872, there's a gravestone of Gottlieb Ogroske born in 1820.
Stone markers representing trees and nature marked the Woodmen of the World graves until the mid-1920s when they were discontinued due to the cost of the stones.
Symbols on the tree stones included axes, mauls, wedges and woodworking tools. The WOW motto was "Dum Tacet Clamet" meaning "Though silent, he speaks" and was engraved on the stones.
Beulah Pioneer Cemetery
Beulah Cemetery was established in 1869 by John Jacob Sease to honor his niece Mary Sease who died at age 19 from tuberculosis.
Mary loved nature and poetry and often went to a sunny slope to sit and watch the earth and sky. She asked her uncle if she might be buried there and he agreed. The Beulah Historical Society maintains the cemetery today. 
The "Lichgate"
The entrance gate of the times was a "lichgate" which is an arching gate of cast iron or wrought iron and heralds the cemetery's name. It was also popular to surround graves with three-foot-tall handwrought iron fences and gates. What was once ornate scrollwork, though, is now rusted and decayed.
In fact, iron works made by The Stewart Iron Works in Cincinnati Ohio can be found in many Colorado cemeteries. As well as The Hassell Iron Works in Colorado Springs. The Colorado Springs Pioneers Museum has a diary on display that Julia Hassel wrote when she was 12 years old.
Plan a trip to Custer County, Colorado and take a step back into what was the Wild, Wild West. Learn about the pioneers who made these beautiful, rugged mountains their home.
Author Bio: Jules Marie is a freelance writer and a cemetery buff living in Westcliffe, Colorado with her three golden retrievers who visit cemeteries with her.