Inside Petra & Little Petra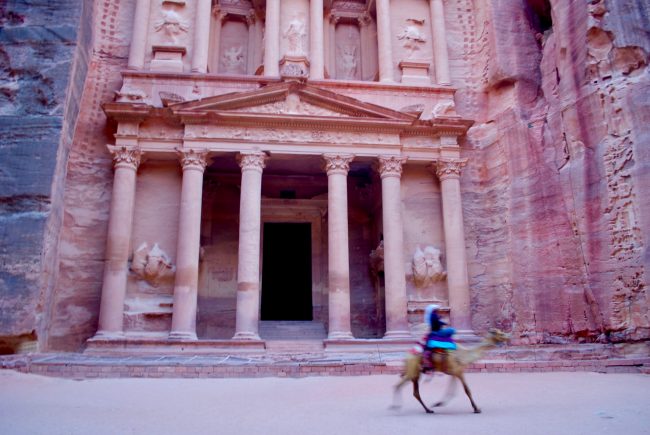 The once lost city of Petra, hidden in a deep, canyon in southwest Jordan, is an archaeological site rivaling any in the world for its grandness, artistry and compelling history dating back to 400 BC. At one time, 20,000 people lived in Petra, known as the Rose City for its pastel rock walls. Although many civilizations have been part of Petra's history, it was ancient Nabataeans who created the mesmerizing facades seen across the canyon today. Exploring Petra—the most popular attraction in Jordan—requires walking long distances in desert heat. The route past the city's main sites is approximately six miles from start to finish, and back again. Go early in the morning to avoid the high heat of the day and take water. Visit Little Petra, too, the nearby more compact site that serves as a good entry point to understanding Petra's history and carvings.
Make Time for Little Petra
Some useful travel tips for your perfect trip to Petra:
✈️ Find the cheapest flights in

WayAway
🛌🏽 Your perfect accommodation is on

Agoda
🤳🏽 Make your trip more exciting with

Viator

tours
🫓

Try a Bedouin Experience with Viator
🚐

Book a transfer from Amman Airport to Petra on Viator
🚗 Rent a car for your comfortable trip with

Rentalcars
A few miles north of Petra is Little Petra, in the land of the Ammareen people. Although it doesn't have the grand scale of its more famous neighbor, Little Petra, most likely an ancient caravan staging area for Petra, has charm of its own.
Up Close in Little Petra's Ruins
Little Petra's quieter, more intimate setting includes pathways and intriguing carved stairs leading up and around the hills offering close-up access to carvings and shallow interiors.
Contemporary Culture, Ancient Site
Stalls near the entrance to Little Petra are stocked with Bedouin art and wares. There are also Bedouin tent camps nearby that make a good overnight base for those who want to join a guided hike the back way into Petra or simply experience authentic local hospitality.
The Painted House in Little Petra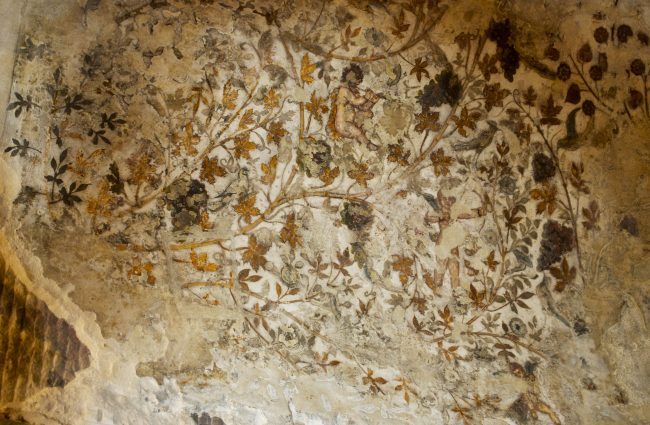 As you walk into the second wide-open area in Little Petra, steep steps on the left lead up to the evocative Painted House. Inside is one of the only Nabataean painted interiors to survive through the centuries, a work of delicate flowers and vines. A cherubic Pan, showing Hellenistic influence, is among the exquisite images still visible.
Looking Out Over Jordan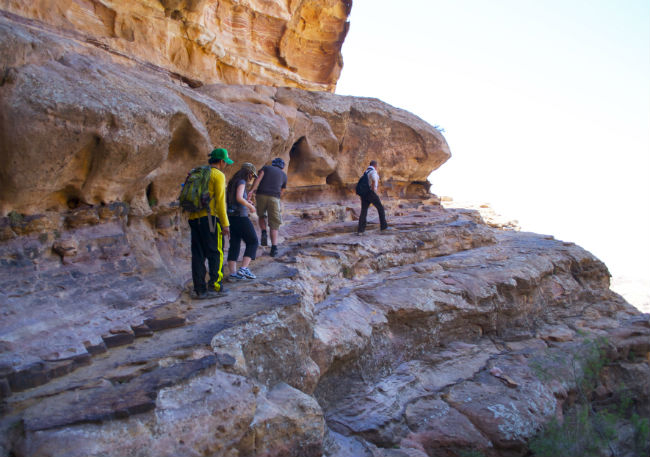 If you're a hiker, consider walking through the stark, dramatic terrain—up and down steps, along dusty high ridges, through occasional groves of trees—to the back entrance of Petra, a three- to four-hour hike. It's imperative to have an experienced guide, one who knows this land and the not-always-obvious trail, which covers seven-plus miles. Once in Petra, it's another six miles through the city to the main front gate and nearby hotels.
Fear of Heights? This Trail Isn't For You
The trail at Petra isn't extremely difficult, but neither is it for the faint of heart. There are places to test even a skilled hiker's nerve, places where the trail all but disappears into narrow rock ledges with harrowing drop-offs, though the trail has been improved in recent years. Still, going with a reputable guide is smart. Quality hiking shoes, layers of clothing and plenty of water are a must.
Deserving of the Term "Iconic"
Most visitors enter Petra via the main gate, following pathways to the siq, a winding slot canyon with towering walls that eventually opens up to Petra's masterpiece, the Treasury, Al-Khazneh. Unlike Hollywood's version in Indian Jones and the Last Crusade, there are no vast rooms beyond the doorway, no priceless artifacts. The true treasure here is the artistry of the complex exterior. Although crowded, the candlelit nighttime shows add a mystical quality (and separate fee). Those who hike into Petra from the back reach the Treasury in late-afternoon light, without crowds and with time to ponder its mysteries.
Look Up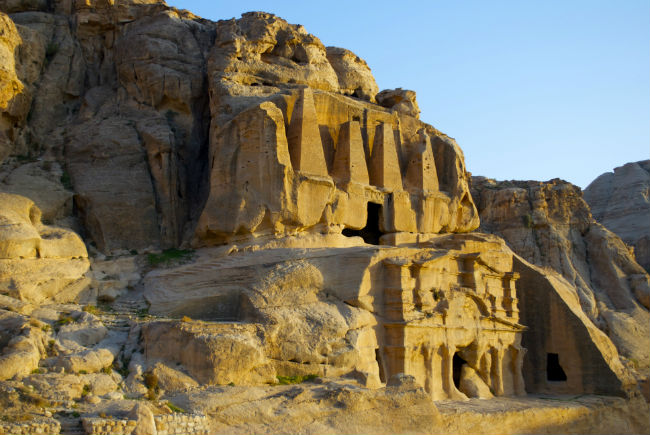 For those entering or leaving Petra via the main gate, look up as you stroll the one-mile route between the gate and the Treasury. The Nabataeans who created Petra touched nearly every available rock surface. These tombs are eroded yet still evocative, especially when bathed in the deepening light of the afternoon sun.
Carved, not Constructed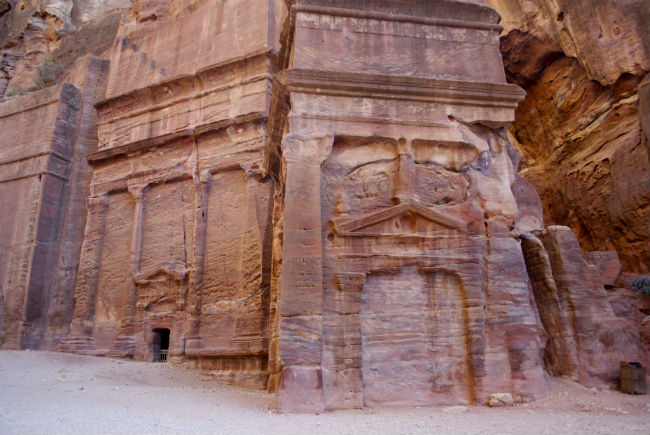 From a distance, Petra appears to be comprised of structures, the striking ruins of a long-ago city. But these are not buildings. They're works of art meticulously cut by hand out of the rose-rock walls. A few have small chambers behind them, primarily used as burial sites, but the doors of most lead to nothing. Petra is an elaborate illusion of gifted artists.
Taxi by Camel
If you yearn to ride a camel in a memorable setting, this is it. If you need a break from all the walking, camels deliver. Drivers and their desert beasts can be found all along the main drag from the Treasury, past the Theater and beyond, waiting to pick up fares. Camels are part of Petra's long history, as natural here as the sand and stone.
In the Footsteps of Romans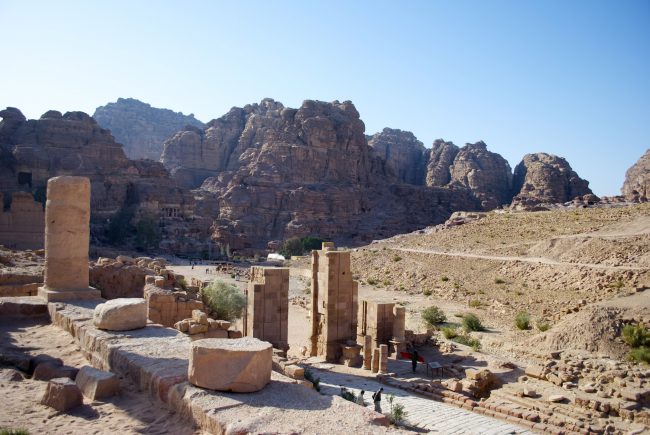 Petra was created by the Nabataeans but was also inhabited by Romans and Crusaders, among others, and finally Bedouins. Nowhere is the Roman influence more palpable than on Cardo Maximus, a wide thoroughfare once defined by graceful columns and magnificent gates.
Go Off-Road in Petra
There's every reason to leave the main trail within Petra. There are steps to climb, side paths to explore and natural or manmade features that grow more impressive the closer you look. These steps lead to the ruins of a Roman temple above Cardo Maximus, hints of its former grandeur still visible.
A Convergence of Cultures
Signs of a multitude of cultures converging in Petra are clearly visible as you stroll along the grand Cardo Maximus. Here the road faces the East Cliff with four ancient Nabataean burial chambers known as the Royal Tombs. The Silk Tomb's waves of colored sandstone should be viewed up close. Today, people from across the world walk this road where Petra's contemporary Bedouin culture thrives, too.
Dare to Climb
Stay on the valley floor and you'll miss an amazing part of Petra—the Monastery and views 800 steps up from the main city. Walking is the best way to preserve the ancient steps, but if you can't, you can hire a donkey (for a price). Your reward for the climb is an astonishing view across the landscape. From here it's easy to see how Petra is all but invisible—and thus safe from marauders—even when you know its location.
The Monastery
The Monastery, Ad-Deir, is arguably the most impressive and powerful façade in all of Petra, not for the intricacies of its carvings but for its staggering grandness. You have to stand in front of it to truly appreciate its enormity. The doorway alone rises 26 feet. This is one façade with a sizeable room behind it, one reportedly once used by early Christians to practice their religion away from Roman eyes.
End of the Trail
After all the ups and downs, the sun and heat and sweat, hikers round a corner to come face-to-face with the Monastery, which seems to rise from nowhere out of the mountain from which it's carved. This is also the end of the trail for those who enter Petra from the main gate and make the final climb up 800 steps to the top of the cliffs. However you come to it, it's not to be missed. Those who hike in venture down to the canyon floor to view the city for the first time, while those who climbed up from below turn around here to stroll back through Petra, seeing it in a new way and new light. If walking becomes too much, hail a camel or a carriage driver to carry you part of the way.
Author Bio: Christine Loomis is a longtime journalist who has covered travel and lifestyle topics for multiple print and online publications. She has been editor-in-chief of three magazines and regularly provides reviews, content and photo galleries for USA Today 10best. She serves on the board of the Society of American Travel Writers (SATW).