Whenever I'm in the Pacific Northwest, I try to make time to visit the Oregon Coast. I never tire of the area and came to the conclusion years ago that it's truly my happy place. This destination is magical in every season, even in the winter, or should l say especially in the winter.
Yes, it can be cold and damp and grey. But if you choose to embrace the weather and not let it stop you from getting outside, you'll find all the peace and serenity you desire. You can walk for miles along the beach or hike the trails, only encountering a handful of other hardy souls. And the storm-watching is phenomenal.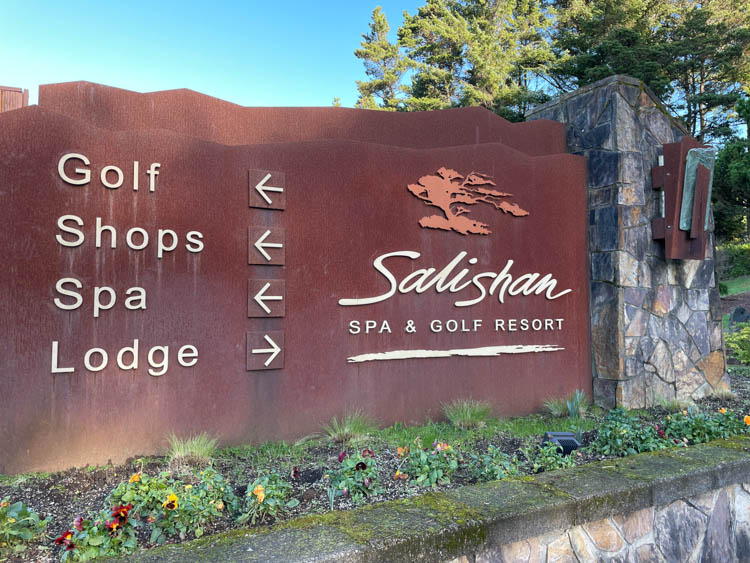 Salishan Coastal Lodge Location
It was late in January when I detoured from Portland and headed to the central coast, this time opting to spend a few days in the vicinity of Lincoln City. My destination was Salishan Coastal Lodge in Gleneden Beach. The Lodge is a well-regarded resort for those seeking a rejuvenating retreat and a classic Pacific Northwest experience.
How the Lodge Came to Be
The property, which opened in 1965, was the vision of real estate developer John D. Gray. Gray viewed the Pacific Northwest, with its lush greenery and year-round beauty, as the ultimate natural haven. And he sought to build a splendid jewel on the stunning central Oregon Coast.
No stranger to developing and building high-end resorts and lodges in the region, Gray knew what he wanted and how to make his dream become reality.
Salishan Oozes Northwest Charm
Situated on 250 acres of unspoiled Oregon Coast land, Salishan has the quintessential Pacific Northwest ambiance. The architecture emphasizes the use of locally sourced woods, natural light and a sense of harmony with the landscape.
Planning a last-minute trip to Oregon?
Top Experiences and Tours in Oregon:
Where to stay and transportation in Oregon:
It seamlessly melds organically with the environment. Inside, the ambiance continues with stone fireplaces, rustic-chic furnishings and Northwest art adorning the walls.
Rooms are spacious, yet cozy, with a private balcony, fireplace and seating area. Your view, depending on room category, may overlook the golf course or forest of towering Douglas firs. At the premier level, you'll gaze out at glittering Siletz Bay.
Activities Abound
You can do as much or as little as you want during your stay. Just know, there's plenty of recreation to keep uber-actives going all day long.
Thrill seekers will want to head to the Aerial Park, where you'll soar high up in the trees on the course's fifteen platforms and twenty elements through a series of obstacles. You'll feel like Tarzan and Jane on this adventure.
Take a complimentary cruiser bike to explore the area at your own pace. Or rent a mountain bike at the front desk and challenge yourself on the Bike Skills Course, with its circuit of rollers, banked turns and other features.
Swing your clubs at Salishan Golf Links. The 18-hole course is a beaut, with a landscape of seaside bluffs and ocean views. Restored in 2004 by Oregon golf legend and PGA Tour Pro Peter Jacobsen and his design team, the course is known for being challenging and fast playing, as well as for having a spectacular backdrop.
Head to the Beach
Trails wind through and around the lodge. If you want to get to the beach, take the nature trail, which sidles the golf course. The beach is soft, sandy and unspoiled. This is where you'll find me much of the time, as living in landlocked New Mexico, I crave the ocean.
As you stroll, make sure to keep your eyes out for one of the glass floats that are hidden each day for guests to seek and find.
Finders Keepers Project
In years past, treasure hunters searching Oregon's coastline would occasionally find blown glass Japanese fishing floats that were used to float fishing nets. These floats, typically in striking shades of green and blue, ranged in size from two inches to two feet.
People would collect and polish them, then display them in their homes. They were the ultimate treasure for the serious Beachcomber.
Best Tips & Tools to Plan Your Trip
Today, fishing vessels use plastic floats. In nearby Lincoln City, however, glass floats have attained a certain fame. Several thousand of these dazzling orbs, made by local artisans, are hidden along the seven miles of beach by an army of Float Fairies.
It's all a part of the Finders Keepers project, which began in 1997 when a local artist thought of glass floats as a clever way to launch the new millennium.
People came from all over the country to search for them and the event was such a success that it became a defining promotion for the community that continues today: "Discover random acts of findness in Lincoln City!"
Try Your Hand at Glassblowing at Lincoln City Glass Center
The town has several glass studios and galleries. At Lincoln City Glass Center, you can purchase lovely glass pieces from the gallery and watch glassblowing demos or you can design your own glass masterpiece. I opted for the hands-on experience. And what fun it was.
Though it may look easy to the observer, glassblowing is a complex process with numerous steps. It requires patience, tenacity and dexterity. My instructor was very knowledgeable and skilled and took the proper measures to ensure my safety. After all, an art glass studio is full of hot stuff.
Participants can choose to make various objects, like bowls, floats, votives and paperweights. When you finish your session, your creation goes into a special type of oven to slowly cool the piece down.
It's ready for pick up the next morning, or you can have it sent to your home. My bowl sits on a table in my house and I beam with pride whenever I look at it.
Indoor Recreation Options
Back to the lodge…If the weather is too inclement for you, there are plenty of indoor recreation activities. Pick up a racquet and play a match or two, or work on your game with a pro at the Salishan Indoor Tennis Center.
Go for a swim at the indoor pool and have a soak in the hot tub. And if you're a dedicated gym rat, the lodge has an on-site fitness center with all the bells and whistles.
Relax and Rejuvenate at The Spa
Those who desire to get in touch with their inner Om can take a private hatha yoga class, available through The Spa. Salishan is famous for its spa, which specializes in custom treatments aimed at encouraging relaxation and renewal.
Services include a variety of massages, facials and body treatments. There's also a hair salon where the stylists will be happy to give you a new do.
I opted to have a Himalayan Salt Stone Massage during my stay. This healing treatment incorporates the use of warm salt stones containing dozens of trace minerals that are absorbed by the body. The minerals help reduce inflammation, detoxify, nourish and exfoliate the skin.
Heather, my massage therapist, worked her magic to de-knot my knots using different strokes and pressure points, along with the application of warm towels. It was a heavenly experience.
Before and/or after your treatment, enjoy complimentary use of the spa amenities, including indoor and outdoor hot tubs, saunas, steam rooms and relaxation room.
The latter has an open fireplace and floor-to-ceiling windows fronting the bay. I spent much time luxuriating in the picture-perfect outdoor hot tub, as it overlooks the bay, too.
Check out the Marketplace
The spa, along with the golf course, Marketplace and beach access, are all situated across Highway 101, but you needn't worry about crossing the road and dealing with traffic, as you can easily walk through the underpass to get to the other side. Getting your daily steps is easy at this resort, as it's fairly spread out and divided by the highway.
At the Marketplace, you'll find a deli, bakery, candy store, art gallery, and other shops to peruse. Sample a few brews while you're at it from Beachcrest Brewery.
Tasty Offerings at the Resort's Restaurants
The lodge's Provisions Market is a great spot for breakfast or lunch. You can order and eat inside or on the patio or get food to go for a picnic. Offerings include cooked-to-order omelets and waffles, salads, bowls, sandwiches, lattes and smoothies.
For dinner, The Attic's farm-to-fork entrees take centerstage. The menu includes everything from specialty pizzas and seafood dishes to a Thai Chicken bowl and 10 oz ribeye. I had the crispy Brussel sprouts to start, followed by the fish of the day, which was salmon, with a blueberry compote.
Save room for the Oregon mixed berry cobbler or marionberry sorbet. Or if you want to drink your dessert, order the "S'more Please!". This craft cocktail contains vanilla vodka, Godiva chocolate liquor, Baileys, cream, a torched marshmallow and a graham cracker.
Speaking of s'mores, you can purchase a s'more kit at the lodge and roast your own creations at the firepits onsite. It'll feel a little like camping, minus the tent, the bugs, the hard ground…
Author Bio: Debbie Stone is an established travel writer and columnist, who crosses the globe in search of unique destinations and experiences to share with her readers and listeners. She's an avid explorer who welcomes new opportunities to increase awareness and enthusiasm for places, culture, food, history, nature, outdoor adventure, wellness and more. Her travels have taken her to nearly 100 countries spanning all seven continents, and her stories appear in numerous print and digital publications.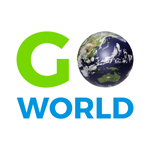 Latest posts by Go World Travel Magazine
(see all)