Editor's Note: We're all dreaming of travel ahead. Here's some inspiration for future adventures. We share places, products and activities we recommend. If you make a purchase using a link on our site, we may earn a commission.
I was in Oman, one of the Middle East's best-kept secrets, and I'd had the first date with breakfast a few hours earlier before Khalifa arrived. It was 9 a.m. when I popped the eighth sweet date of the day in my mouth.
Our guide for the day picked us up at our hotel in Muscat, Oman. As soon as my college-age daughter and I crawled into his SUV for the two-hour drive from Oman's capital to Nizwa, Khalifa offered us dates stuffed with almonds and a thermos of cardamom coffee.
In Oman, dates are everywhere.
Nizwa, Old Capital of Oman
Nizwa, the capital of Oman during the sixth and seventh centuries, is nestled at the base of the Hajar mountains and surrounded by date palm oases. It's known for its castle, its fort and its dates — there are more than 40 different kinds of them. I was determined to try as many of them as I could.
"We say it's lucky to eat an odd number of dates," Khalifa said.
Lizzie and I looked at each other and, preferring good fortune to bad, made sure we each ate a ninth date.
Getting to Oman
We'd made the quick hop from Dubai to Oman in the neighboring United Arab Emirates on Fly Dubai ($100 each way).
Check out Kiwi for more flight options and transportation packages for your whole stay. They find hidden fares and travel hacks to make your world travel easy! Book your flights and more here.
Oman's other neighbors are Saudi Arabia to the west and Yemen to the south. Oman's 1300-mile coastline fronts the northern Indian Ocean, which is called the Gulf of Oman.
In Muscat, we'd swum in its warm waters as little fish nibbled our toes and watched as groups of fishermen pulled in nets filled with sardines. Nizwa, more conservative than Muscat, where about a third of its population lives, is connected by an excellent road.
Traveling in Oman
In fact, the roads in Oman are so good that many tourists rent cars. A car is useful in Muscat since it's a city that spreads outward, not upward, and public transportation is limited.
We decided to hire Khalifa since we wanted to learn about Omani culture and history and Lizzie jokingly said she worried that if I drove, we'd take a wrong turn and end up in Yemen.
Exploring Muscat in Oman
After Dubai's intensity, we'd fallen in love with Muscat's more mellow vibe.
We'd spent hours at Tche Tche Cafe on Al Qurum Beach, sipping slushy fresh mint lemonade while watching families stroll on the promenade.
In Oman it was also far easier to meet Omanis than it had been to meet Emiratis in Dubai — about 85 percent of Dubai's population are guest workers from elsewhere.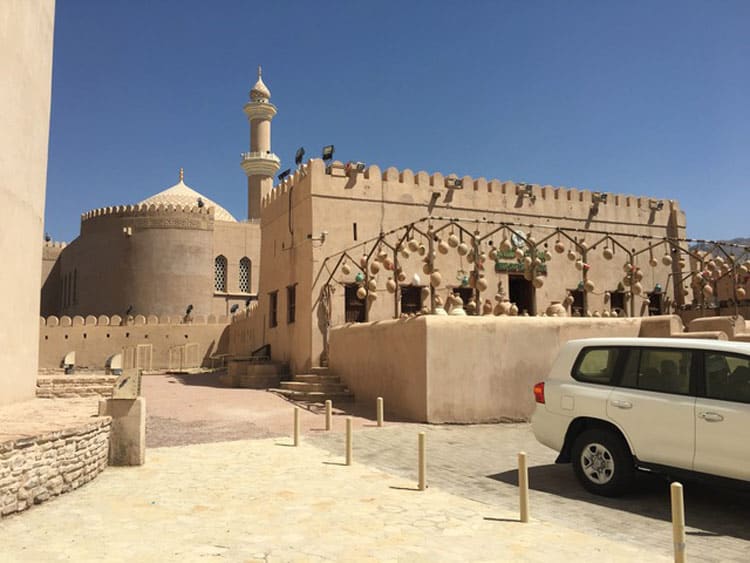 Oman's Nizwa Market
In Nizwa, after parking our car next to a trailer holding two camels which had apparently arrived a day early for the town's famous Friday market, we wandered into a date shop next to the souk.
You can see the beauty of the market and Nizwa's ancient interiors on the Nizwa Oasis Full Day Tour with Lunch. Book your dates in advance here so they don't fill up! Now you can cancel anytime up to 24 hours before the event for a full refund, so you can plan stress-free.
The walls were covered with Omani textiles and woven baskets, and the shelves were stacked with sealed packages of dates, date paste and date syrup, but we headed straight to the main attraction — the dozen large bins filled with all kinds of dates.
After sampling honey dates, cardamom dates, sesame dates and more, all different colors and prices, we were ushered to sofas with brightly colored cushions where we were presented with a platter of yet more dates. I ate dates number 16 and 17, washing them down with several little cups of slightly bitter cardamom coffee.
Halwa in the Middle East
Afterward, we stopped at a shop in the souk that sold halwa, a sticky sweet found all over the Middle East, South and Central Asia, Eastern Europe and North Africa.
Oman's halwa is made of — surprise! — dates as well as spices like rosewater, saffron, nutmeg and cardamom.
The shopkeeper, wearing the ankle-length white dishdasha almost all Omani men wear, cut us off sliver after sliver to taste from the giant halwa blocks. I wondered if we needed to eat odd numbers of date-based halwa, too.
Forts in Oman
When the Portuguese explored this area and East Africa in the 1500s, they made maps of the countries with drawings of what they found there. For Oman, it was 'fort, fort, fort,'" Khalifa told us as we left the souk and walked to Nizwa's 400-year-old fort.
The Portuguese not only made maps of Oman, but they also controlled its coast until 1650. During those 150 years, they built many of their own forts, including the one that towers over Muscat's Muttrah district.
It's hard not to see forts, castles and towers in Oman as there are more than 500 of them scattered throughout the country. "In the past, they could live off dates and water if they needed," Khalifa said, pointing out the fort's date storage room.
Like almost all the forts and castles we visited in Oman, Nizwa's has a date storage room. During times of turmoil and war, dates could sustain those under siege for months. Stored dates lasted for up to a year.
"They'd stack dates in cloth bags and those at the bottom would get smashed and the date syrup would drain here," he said, pointing to an indentation in the stone floor.
We climbed up the stairs to the fort's roof to get a better view of the date palm orchards that surround Nizwa. One male date palm can fertilize about a hundred female plants, which are the ones that produce the fruit. Dates are Oman's primary agricultural crop. They're raised not only for people but to feed animals too. In this arid country, 50% of the cultivatable land is used to grow dates.
Throughout Oman, we'd seen both small local date shops, with bins like in Nizwa, and fancy boutiques where gourmet chocolate-covered dates are displayed like jewels, like Bateel, which has branches throughout the Middle East (and one in Michigan). As we walked down the fort's stairs, I learned that in Oman dates are for more than just eating.
"See those slats in the stairs?" Khalifa asked. Lizzie and I nodded.
"If invaders got into the fort or castle, those who lived here poured boiling date syrup through those slats to kill or maim them."
That certainly didn't sound lucky.
Dinner with Khalifa's Family in the Countryside
Later that night, after spending the day eating more dates and shuwa, Oman's traditional dish of slow-cooked stewed lamb, and drinking endless tiny cups of cardamom coffee and delicious milky sweet karak tea, we traveled through Oman's stunning countryside to Khalifa's house.
He wanted us to meet his mother, who lived with him, and his wife and their three children. As he proudly introduced them, Khalifa mentioned he was taking his family on holiday to Germany during the summer.
"The kids just want to see snow — in July," he said.
A giant serving tray with three different kinds of fish, shrimp, an eggplant stew, mutton and chicken was placed on a low table in front of us. We smiled shyly at Khalifa's family and started eating. Although we were full, we ate until we thought we would burst. It would've been rude not to accept their hospitality.
"We believe it's good luck to have guests visit," Khalifa said, offering us yet more dates and cardamom coffee. I made sure to eat an odd number of them.
Book This Trip
Ready to start soaking up the culture of Oman while tasting the best dates? Be prepared for your trip with the best flight deals and transportation packages by booking through Kiwi. Then, you can find hotel or VRBO options, top-rated cafes, cultural sites and more through Travelocity and TripAdvisor.
For more excitement around Muscat, Nizwa and all of Oman check out the top-rated tours with GetYourGuide. From the Wadi Shab Trek and Coastal Tour to the Jebel Shams and Treasures of the Interior Tour, there is an activity for everyone's interests. Book your dates here.
Author Bio: Sue Sanders' writing has appeared in The New York Times, The Washington Post, the Los Angeles Times, Real Simple, AARP's The Girlfriend, Vox, Family Circle, Islands and other publications.