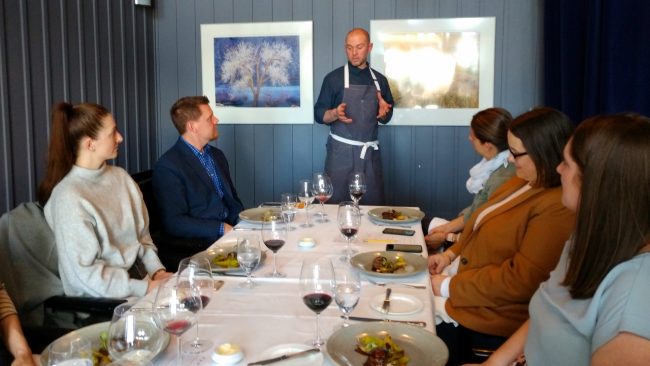 Visiting Caneros Resort and Spa
Carneros Resort & Spa is a beautiful property in California's Napa Valley. I had a fantastic chef's tasting lunch with a wine pairing at FARM, the resort's main restaurant. FARM's menu features a changing single-ingredient focus that's truly unique in Napa. For my visit, the menu was called "A Tasting of Carrot." Each item showcased unique carrot flavors and uses for the orange vegetable.
Eating and Drinking in Napa Valley
The first course was braised Spanish octopus, served with carrot gel, trout roe and frisee. For the wine pairing, it was a refreshing 2017 Laird Cold Creek Ranch Pinot Grigio from Carneros.
After the octopus it was a pasta dish, housemade orecchiette pasta with fava leaf pesto, baby carrots, black trumpet mushrooms and carrot foam. This was really, really delicious. The wine pairing was a drier 2013 Tablas Creek Espirit de Tablas Blanc from Paso Robles.
Next course was probably my favorite, glazed pork belly. It was served with a delightful, sweet carrot ginger glazed with charred broccolini on top with a Granny Smith apple mostarda. The wine paired with the pork was a 2017 Scribe Pinot Noir from Carneros.
The main course was a Prime filet mignon with a miso carrot puree, salsify, pistachio, leeks and a salsa verde. A wonderful, compact cut of delicious beef. The deep red wine paired with the steak was a 2016 Adaptation Cabernet Sauvignon from Napa Valley.
Dessert showcased the work of the resort's pastry chef Jerome Maure and went with the trend of forming the dessert into a lifelike version of the ingredients featured therein. In this case it was a giant, realistic, carrot-shaped carrot cake. It was filled with a cream cheese creameux filling and placed on top of cocoa almond streusel designed to remind one of the dirt that surrounds a carrot in the ground.
Lunch was hosted by the resort's executive chef Aaron Meneghelli and its wine director / sommelier Zion Curiel. The chef introduced each food course and the sommelier presented the wines to us.
Luxury Travel to Napa Valley
My visit to Carneros was just part of an incredible luxury travel adventure with evoJets. The private jet company has what they call evo Experiences, specially curated luxury travel adventures involving transportation on one of their private jets. The Carneros Resort trip is called "Wine & Away." We flew to the resort from LAX, landing an hour later. Carneros is ten minutes from Napa Airport. It's about an hour from San Francisco.
Read more of Freddy Sherman's take on travel on his Go World Travel Blog. You can also follow more of his adventures at luxuryfred.com, on his luxuryfred Instagram feed and on his YouTube channel.