Los Angeles has a long history of sensational Italian eateries that can combine classic dishes with modern ingredients and a modern cooking style. Old school 1990s-era names like Orsini and Posto bring back memories of traditional Italian dishes done in a modern, approachable style. That same authentic, delicious tradition continues at Culina, the Italian restaurant at the Four Seasons Los Angeles at Beverly Hills.
The Four Seasons Los Angeles at Beverly Hills
Not to be confused with its sister hotel at Wilshire and Rodeo, the Beverly Wilshire, A Four Seasons Hotel, the Four Seasons Los Angeles at Beverly Hills is perched on the border between LA and the city of Beverly Hills, making it convenient for all of LA's best shopping and dining.
The luxury hotel is also a popular spot for celebrities (and presidents) to stay as you can enter through the underground garage and go straight up to some of the penthouses. Aside from Culina, dining options at the Four Seasons LA at Beverly Hills include Culina Caffe and Plant, a restaurant with a menu dedicated to plant-based cuisine.
Culina
Taking up a good deal of the first level area of the luxury hotel, complete with a large outdoor dining terrace, Culina presents a modern twist on classic Italian, offering something that feels more like a Manhattan neighborhood Italian bistro. There's a large bar area and they usually have musicians performing on piano and / or singing so it's a fun atmosphere. Culina is open for breakfast, lunch and dinner and the food can also be delivered for in-room dining anytime. They also host a very popular three-course Sunday brunch.
Despite its home within one of LA's most expensive hotels (rooms start around $900 a night), Culina also looks to present a casual, dare I say affordable experience. In line with other Italian restaurants, for example the Margherita pizza is $27, spaghetti and clams is $39 and a organic Jidori half-chicken is $38. Those are the dinner menu prices, lunch pricing is about 25 percent less (Margherita pizza is $27).
My Meal
I don't know what it is, but I just love fancy restaurant grilled chicken. I can never get my own cooking to taste like it. I started off with a Caesar salad with grilled chicken, kind of an off-menu item, as the menu had a Baby Gem and a market salad. The salad was just delicious, a huge portion, and I was quite satisfied after just that! Next up was the Margherita pizza, which was hot and perfect. I had some grilled broccollini as a side dish, it was served a bit spicy with Calabrian chili, roasted garlic and lemon juice.
My buddy had the New York Strip steak, a prime 10 ounce Brandt beef steak served with exotic (!) mushrooms, Villa Manodori balsamic vinegar, fresh horseradish and black truffle salt. I had a nice chunk of the steak and it was excellent.
For dessert, my friend had the Gelato Festival vegan ice cream and I had some vanilla gelato with some raspberry sorbet. We also enjoyed some fresh-baked chocolate chip cookies.
Service at Culina, like at the Four Seasons as a whole, was warm, on-point and flawless.
My Stay
I had a quite wonderful staycation at the Four Seasons in one of their Hollywood Suites. The suite has a separate bedroom and a sofa bed, offering privacy for guests traveling together who want to stay separately. We were on the 11th floor with a balcony facing east and providing us a 180-degree view of the LA skyline including DTLA all the way to the Hollywood Hills.
Getting There
The hotel is centrally located on Doheny Drive, close to downtown Beverly Hills. It's about a 30 minute drive to LAX and the same to drive to Burbank Airport (BUR), excluding rush hour, of course. To get there in style I rolled up in the 2023 Aston Martin Vantage F1 edition coupe, which impressed even the jaded valet guys, who see every kind of supercar you can imagine.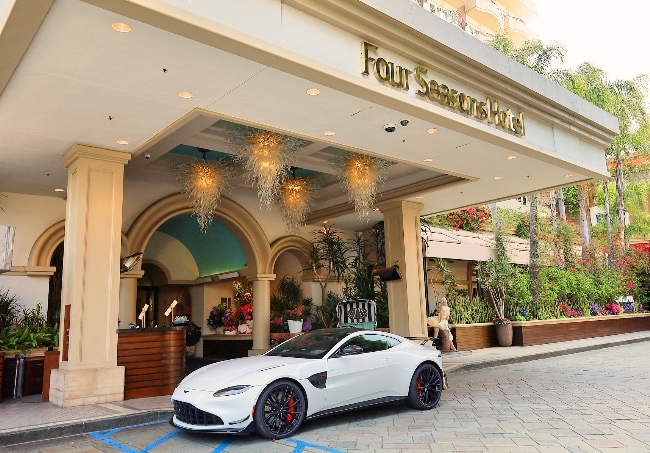 Read more of Freddy Sherman's take on travel on his Go World Travel Blog. You can also follow more of his adventures on his YouTube channel or his @luxuryfred Instagram.