The Smithsonian Institute in Washington, DC, is super. The National Gallery of Art is gorgeous. The National Air and Space Museum takes visitors on flights of fancy. These are among the major galleries and exhibits that make the nation's capital a true museum-lover's paradise.
Those in the know are aware that the city is also home to a long list of smaller, less-well-known but equally interesting and intriguing collections that appeal to a wide variety of interests. From woodlands and words to history and mystery, these below-the-radar attractions make up in allure anything they may lack in terms of size and fame.
The Department of Interior Museum, located in that agency's massive headquarters complex, depicts its stewardship of the country's public lands, natural resources and heritage. It does so with works of art, natural history specimens and artifacts reflecting the diversity and culture of Native American tribes.
Mother Nature in Miniature at the National Bonsai Museum in Washington, DC
Mother Nature in a much smaller format comes to life at the National Bonsai Museum just outside of Washington in Beltsville, Maryland. In addition to its world-class collections of miniature bonsai trees, it displays miniature Chinese Penjing landscapes and viewing stones, which are meant to suggest mountains, waterfalls and other scenic sites. Other attractions include ornate pots and scrolls and companion plants.
Rocks are front and center at the Old Stone House in Washington's historic Georgetown neighborhood. That little structure, which was erected circa 1765, is said to be the only surviving pre-Revolutionary War building in the city.
Some rooms are furnished with items typical of the mid-18th century. The brick courtyard leads to a garden of fruit trees and seasonal floral plantings.
Civil War Hurting and Healing at Museums in Washington, DC
It is kidney stones that are discussed at the National Museum of Health and Medicine in nearby Silver Spring, Maryland. It was established during the Civil War to preserve the impact of military medicine, and exhibits relate to every major U.S. armed conflict. They range from facial reconstruction and brain injury displays to biomedical engineering. Civil War period also saw Clara Barton, a self-taught nurse, administer to the wounded and go on to found the American Red Cross. The house where she lived and worked at the time doubled as the Missing Soldiers Office.
In 1865, Clara wrote to President Abraham Lincoln, requesting and getting permission to become an official government correspondent seeking those who had vanished during the conflict. The list of soldiers who had disappeared during the Civil War that she compiled grew to a total of 6,650 names.
Other chapters of the past come alive at the DAR Museum. It is operated by Daughters of the American Revolution who trace their lineage back to colonists who fought for America's independence. Its storehouse of more than 30,000 objects reflects the culture and social history of the United States prior to 1840. The assortment includes such diverse displays as a wood canteen used by a man who fought the British, children's toys and hand-embroidered samplers.
Ride the Rails at This Trolley Museum Near Washington, DC
Transportation is the focus of the National Capital Trolley Museum nearby in Montgomery County, Maryland's Northwest Branch Park. Electric streetcars from six countries represent different eras and technologies. This includes trams that were in service in Washington from 1862 to 1962. The highlight is a ride in a restored trolley along a demonstration railway that winds through a miniforest.
Enjoy Edutainment at Two Museums in Washington, DC
Some repositories fit into the edutainment category, providing a dose of learning with their enjoyment. That certainly applies to Planet Word, which seeks to inspire a love of language.
Words are everywhere. Study the floor, which traces the evolution from cave dwelling drawings to hieroglyphics to alphabets. See how babies acquire language skills. Get tips about public speaking. Check out puns like the image of one suitcase laughing and another crying, which are identified as "emotional baggage."
Not to be outdone, at the Museum of Illusions, visitors float in the air, grow and shrink and have their head served up on a plate. Or do they?
Holograms, optical tricks and other deceptions leave you confused and chuckling. "What's going on" signs at each display explain how your eyes and mind were tricked. They made me feel better about my frequently asked question: How do they do that?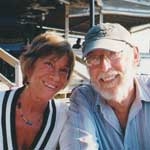 Latest posts by Rambling Writers
(see all)