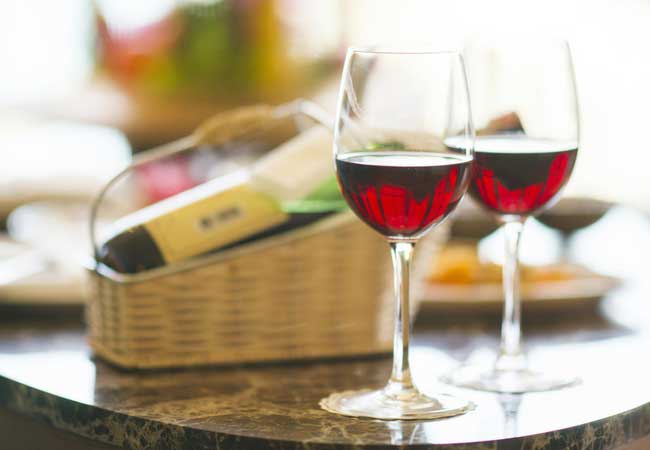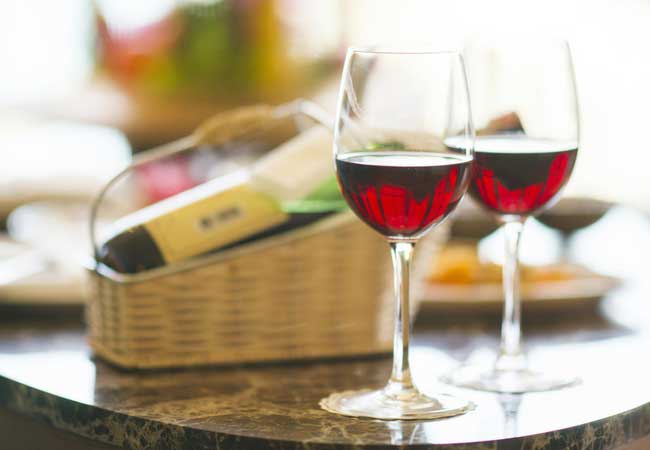 Just mention the grape Malbec and most wine drinkers immediately think of the dark-purple, tannic wine from Argentina. Of course, Argentina has been extremely successful marketing Malbec as the signature grape of the region, and its reasonable price-point has made it a popular wine for many consumers around the globe.
Malbec in Argentina, however, was a transplant from France, and if you want to try Malbec as it was originally grown, then you need to try Malbec from the Cahors region in France.
Wine Region: Carhors, France
An hour and thirty-minute drive north of Toulouse, the rural region of Cahors is the home of Malbec, also called Côt. The city of Cahors, a small medieval village, home of the nearly 900-year-old Cathedrale Saint-Etienne and the stunning 14th century fortified bridge, Pont Valentre, is quaint and worth a visit, but all of the wine action is outside the city.
Here, densely populated fields filled with grapevines, pigeonaires and picturesque sunflowers blanket the landscape. The Appellation d'origine contrôlée (AOC) of Cahors includes about 4,500 hectares / 11,100 acres and comprises hundreds of winemakers.
Wine has been made in Cahors for 2,000 years, and in the 1,200s was called the "Black Wine of Cahors" given the intensely deep purple color.
Wine from Cahors was extremely popular through the 1,300s but then merchants from Bordeaux restricted the export of wine from Cahors from the Gironde port and the wine struggled to come to market. When the pest phylloxera hit the region, destroying the root stock of the vineyards, in the 1860s, it took over 100 years to restore the grapes.
Then, a severe frost hit the area in 1956 and many of the replanted vines were destroyed. With a tiny 400 hectares / 1,000 acres of vines, Cahors was designated an AOC wine region in 1971.
Malbec in France 
It specified that Malbec needed to comprise at least 70% of the wine, with Jurançon Rouge, Merlot Rouge, Tannat and Syrah comprising the remainder of the blend (but Syrah and Tannat could be no more than 10% of the wine). Over the last 50 years, Cahors has had trouble marketing their wine to drinkers who already thought they knew Malbec wines, and that they came from Argentina.
Malbec from Cahors, however, is quite different from its Argentinian progeny. The terroir in Cahors, that includes the climate, soils and geographic influences definitely imprints a unique character to the grapes.
A deep minerality and complex structure is present in many of the classic wines from Cahors that is a result of the influence the region has on the vineyard. Winemakers are also taking steps, especially, over the past decade to transform their processes to achieve even more expression of the terroir in the wine.
I had an opportunity to visit the largest organic and biodynamic winery, Chateau de Chambert, in Cahors to learn more about their winemaking process. While winemaking started at Chateau de Chambert in 1690, they became certified organic in 2012 and certified biodynamic in 2015. With over 60 hectares / 145 acres of vines, they plant about 80% Malbec with 15% Merlot and the remainder Chardonnay.
There is a lot of experimentation in the winery with concrete tanks, large oak barrels, traditional sized oak barrels and single plot vinification. I found the most interesting wine to be their 2014 wines from single plot vineyards (Cerisiers, Petite Maison and Le Puits), with tiny production levels and Burgundy Grand-Cru price points. While these wines still need to age a few years, you definitely can taste the distinct soils and complexity in the wines.
At Chateau de Chambert and throughout Cahors, there is a wide range of winemaking styles. The expression, vin de soif (easier drinking wines that do not need to be paired with food) blend in more Merlot to create a smoother wine that can be consumed sooner after bottling.
The 100% Malbecs from Cahors retain their deep purple color, and the limestone and clay soils produce a lot more minerality and very structured tannins in the wine, especially compared to their Argentinian cousins. Aging also benefits these wines to give their rich tannins time to soften and bring balance to the wine.
Tasting through several vintages from different wineries, a found that vintages from eight years ago were ready to drink, so 2012 or earlier. Broadly, I found the tannins too powerful and a lot of austerity in the younger wines.
Winemaker Fabien Jouves, from Mas del Pêrié, is transformational figure in Cahors. A strong advocate of biodynamic agriculture, Jouves brought biodynamics to Mas del Pêrié in 2011. Jouves also maintains the purity in the cellar and minimizes the manipulation of the grapes to produce the wine.
He has a mixture of tools including concrete vats, oak barrels and larger casks and chooses the right mixture based on "the personality of the grapes." Mas del Pêrié, like Chateau de Chambert, also produces a mixture of vin de soif and vin de terroir. The traditional five terroir-driven Malbec wines emphasize the vessel, like amphorae, aging or the specific soil type to differentiate the styles.
La Roque, with 30-day barrel fermentation in concrete and wood vats and aging for 6-months, contrasts Amphora with 30-day barrel fermentation and then aging and secondary fermentation in amphoras for 6. Mas del Pêrié also is producing non-AOC terroir wines from Chenin Blanc, in addition to eight other wines with creativity in grapes that match their names and labels, from "Malbec Invaders" to "You Fuck My Wine".
While the region of Cahors may not be a well-known area for many wine-drinkers, the rich history and unique wines make this region worth understanding. Not all of the winemakers are embracing biodynamic and organic methods, but this definitely is the trend in the region. Aside from another way to differentiate from Argentina, the progression of more sustainable techniques is important for the long-term viability of the region.
Author Bio – From computer programmer to French wine scholar: Michael Biddick has disrupted century's old systems of judging wine by creating an algorithm to systematically uncover the best wine regions in the world. In his upcoming release, 43 Wine Regions (Mascot Books, Oct. 2018), Biddick broadens the palates of wine drinkers by offering practical and enjoyable visual infographics that clearly show why these 43 wine regions are so magical. 
A French Wine Scholar through the Wine Scholar Guild, Biddick was a contributing editor and author at Information Week and Network Computing Magazines and authored the book Federal Cloud Computing. A Milwaukee, Wisconsin native, Biddick earned a Master's degree in Information Systems from Johns Hopkins University. He currently lives in Washington D.C.
Latest posts by Janna Graber
(see all)