A cruise through the Caribbean, seven days at a 5-star resort in Mazatlan and golfing on the isles of Hawaii have finally become attainable for even the smallest of budgets.
Lavish vacations are no longer a "once-in-a-lifetime" experience thanks to Don't Go Poor Traveling, a premium vacation club. With a registry of over 5,000 4-star and 5-star luxury resorts worldwide, vacationers can find themselves staying in prestigious establishments such as Marriott, Disney, Wyndham, Sheraton, Radisson and more.
In addition to luxuriant resorts, club members also enjoy discounted cruise vacations on the best cruise lines including Disney, Carnival, Royal Caribbean, and Princess as well as wholesale prices on airfare and car rentals available to members in the U.S. and Canada.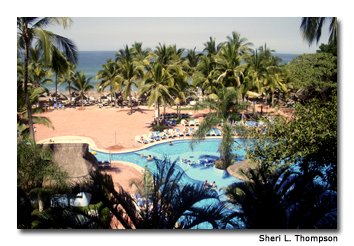 Available since 1986, membership was previously priced at $10,000 or more and offered only through private sales presentations. Now, this premium vacation club membership is available for just a fraction of that price through Don't Go Poor Traveling.
With savings of up to 90% off retail prices, members enjoy access to wholesale prices of  $298 to $799 per week – not per day or per person – for deluxe accommodations any time of the year, including peak seasons.
The 1, 2, and 3 bedroom high-end suites have spacious living rooms and bathrooms, fully equipped kitchens, designer-decorated furnishings, stereos and fireplaces as well as laundry facilities. A morning cup of coffee can be sipped while enjoying the view from the balcony before taking a swim in the pool, bicycling or joining one of the many other activities available for both adults and children.
Guests also have access to game rooms, hot tubs, fitness centers and barbeques. As the day comes to an end, visitors can retire to king-sized beds in gorgeous bedrooms or on sleeper sofas located in the living areas.
For an even greater discounted getaway, club members can take advantage of "hot weeks," which offer amazing values allowing travelers to enjoy extravagant vacations on budgets of all sizes.
Available for booking up to six months in advance or in as little as three days, units of varying sizes and 3,4 and 5-star locations can be booked with the single rate of $298. As an added benefit, upgrades can be requested with no additional charge if they are available.
Platinum membership, the option with the greatest amount of benefits, allows club members the opportunity to book "guest weeks" to give or sell without profit to others.
At any one time hundreds of listings are available for this use and Platinum members have access to unlimited guest weeks per year. During peak seasons and holidays, however, guest weeks may have limited availability as members receive priority.
Often, vacationers question the difference between Don't Go Poor Traveling and timeshares. The club recognizes the benefits offered by timeshares, but has created many travel benefits that just can't be matched. While Don't Go Poor Traveling members have access to over 5,000 resorts worldwide, a timeshare usually obligates a member to just one location for life with no offer of guest weeks.
Timeshares also tend to require huge upfront costs and ongoing fees, whereas club members pay a very affordable one-time membership fee with no ongoing fees, no exchange fees, no booking fees, no maintenance fees and no closing fees.
Multiple locations and the lack of fees certainly aren't the only benefits of membership, though. Members can book a year in advance or with three days notice and can also choose from listings from other vacation clubs, which are included in the registry. There are no blackout dates or points system and no vouchers or coupons.
No limit is put on the number of travelers other than that determined by accommodations, and Platinum members have the advantage of unlimited vacations per year.
With a state-of-the-art secure online system, online benefits can be enjoyed as well. Members can list their timeshares for rent through the company's website and can also book online. For those preferring a more personal approach, reservations can be made by calling customer support. To assist with any difficulties, 24-hour customer service is always available from experienced, helpful service representatives.
For anyone who loves to travel, no matter their budget, Don't Go Poor Traveling offers a wonderful opportunity to travel with a little more luxury, less hassle and fewer costs.
Travelers can visit www.DontGoPoorTraveling.com to sign up for a live demo and receive a complimentary trip to one of 19 destinations including Las Vegas!
No Purchase Required.
Enjoy 3 days and 2 nights of hotel accommodations plus 2 round-trip airfare tickets to a city of your choice of available cities.
(RETAIL VALUE – Up to $1500)