Brief History of Hotel Roanoke
When Hotel Roanoke opened in 1882, it was the prized centerpiece of the city being built around it by the railroads. Standing stately on a hill, it became the warm weather destination for people desiring luxury digs in the cool air of the Blue Ridge Mountains of southwest Virginia. U.S. presidents, celebrities and millionaires stayed here, but no one loved it more than local Roanokers who made it a fashionable hot spot for social and cultural events over the years.
It was that very community that stepped up to save it when the cherished landmark was facing its demise in 1989. This was after the Norfolk Southern Railway closed the hotel and gifted it to Roanoke's Virginia Tech with hopes the university's foundation would carry out badly needed renovations and add a conference center. But the foundation came up short with financing and turned to the community for help. Partnering with the city, they launched "Renew Roanoke," a grassroots fundraiser with collection boxes around town. Penny by penny in donations large and small, the locals raised $7 million in just six weeks. Renovations were made, the conference center wing was built, and the hotel re-opened in 1995.
"This hotel really means something to the community," said hotel spokesman Michael Quonce. "People tell me they've waited their whole life to stay here."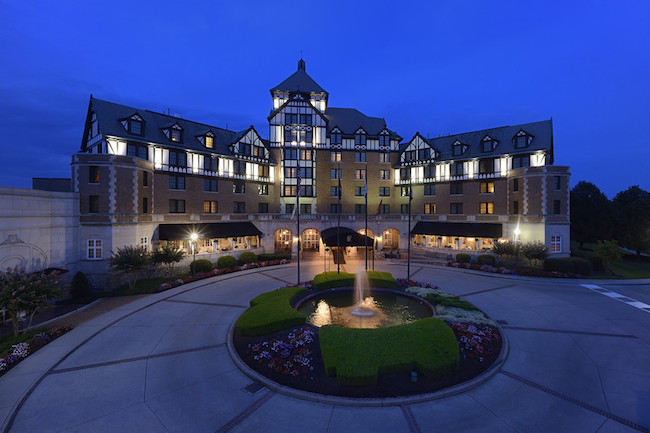 The Hotel Roanoke Now
Today the gorgeous Tudor-style hotel stands proudly as The Grand Old Lady of Roanoke and has earned the coveted AAA Four Diamond Designation Rating. The interiors beautifully reflect its elegant 19th century past with many original architectural features, artifacts and murals. The hotel is listed in the National Register of Historic Places and belongs to Hilton's Curio Collection of unique hotels. The new award-winning conference center has become the premier meeting site in the south.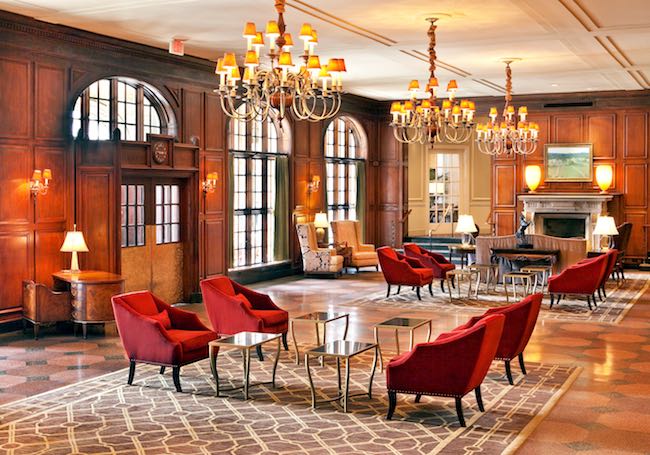 The lobby's check-in area retains the original elevator doors, wall paneling, black marble columns and scrolled brackets. Distinguishing it is a row of three-feet high panels of paintings on canvas depicting Virginia's colonial history. The murals by Hugo Ohlms wrap 66 feet of three walls.
Guest Rooms of Hotel Roanoke
Most of the 330 rooms including 18 suites were completely overhauled to meet current luxury standards. All include desk and chair, lounge chair with ottoman, TV, free WiFi, coffee service, and robes and safe in the closet. Though nicely appointed, the bathroom for the double-bed room is small with a single sink and very little shelf space. The hotel features a selection of PURE rooms, allergy-friendly and devoid of irritants that bother some people. There also are six accessible rooms. Cribs and high chairs are available too.
Amenities include fitness room, outdoor pool, pool table, in-room spa services, business center, laundry service, gift shop and more. Hotel staff has a keen sense of place and enthusiasm for the property, and they show it.
Dining at Hotel Roanoke
One of the largest of the original common areas, the Regency Room oozes elegance with classic detailing in the arched windows and Ionic columns. The original chandeliers and wall sconces provide lighting just as they did when the room opened in 1939.
Executive Chef Stephen de Marco serves southern-inspired French cuisine. "We put our own flair into it," he said. Peanut soup is a signature dish, and it is yummy! (recipe below)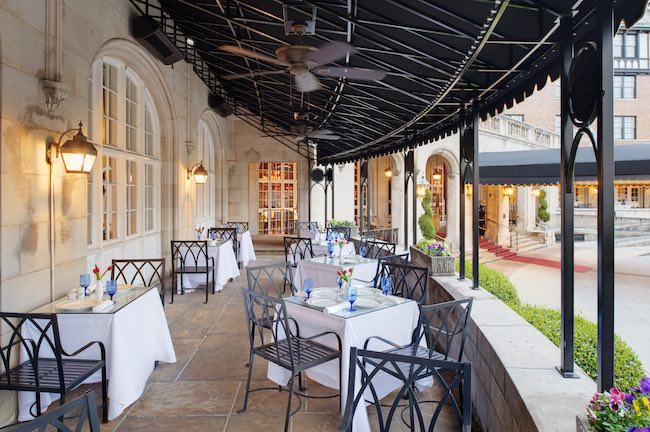 Besides breakfast, lunch and dinner, Sunday Grand Brunch is a long-held tradition. It's so good that OpenTable named it among the top 100 brunch restaurants in America based on customer reviews.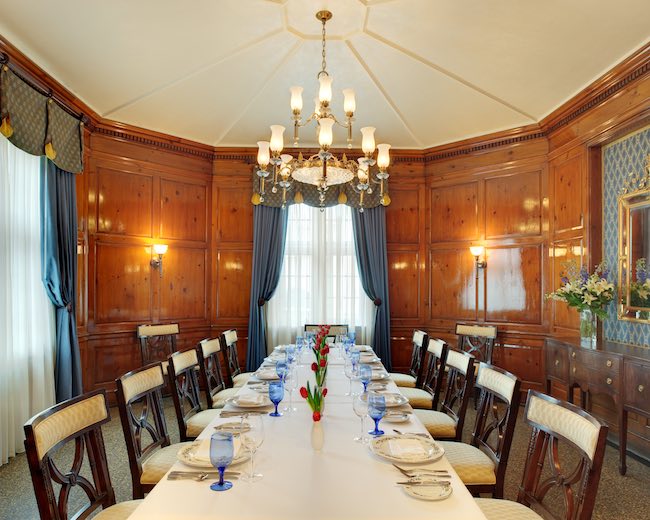 The rest of the week, breakfast buffet is set up in a separate room off the Regency Room. Here, I found another original mural, this one depicting Virginia scenes and famous buildings. The other dining spot, Pine Room Pub, features craft beers and pub fare.
Recipe for Hotel Roanoke's Peanut Soup
¼ pound butter
1 small onion diced
2 celery branches diced
3 tablespoons flour
2 quarts chicken broth
1 pint peanut butter
½ cup ground peanuts
⅓ teaspoon celery salt
1 tablespoon lemon juice
Melt butter in large saucepan and add onion and celery. Salute for five minutes (not brown). Add flour and mix well. Add hot chicken broth and cook for half hour. Remove from stove, strain, and add peanut butter, ground peanuts, celery salt and lemon juice.
What To Do In Roanoke
To get a sense of the city, drive up Mill Mountain to see the Roanoke Star, an beloved landmark constructed in 1949 that can be seen from anywhere in town. It shines white at night, becoming the city's "front porch light." From this vantage point, you can see the entire city.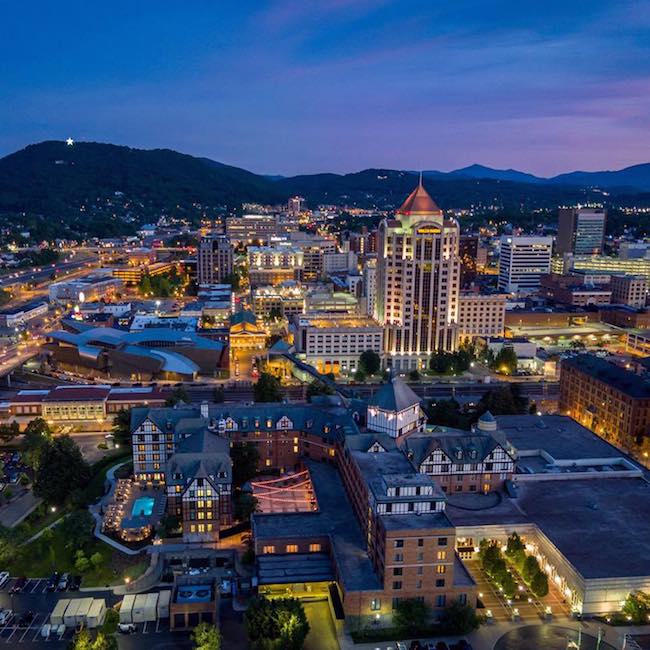 Market Square Walkway (covered) connects Hotel Roanoke with downtown. Easy peasy. First visit O. Winston Link Museum and Virginia Museum of Transportation to learn about the town's railroad heritage. Taubman Museum of Art and Center in the Square with a wonderful performing arts center—Mill Mountain Theatre—are close by, as is the Visitors Center where you can get a map for a walking tour of public art.
Biking the urban Greenways along the Roanoke River running through town is a great way to explore. If you have a car, driving the Blue Ridge Parkway is a beautiful way to see Virginia's Blue Ridge with stops at breweries, wineries and farms.
My favorite restaurants:
Local Roots – family-owned farm-to-table eatery for picky foodies like me; loved it!
Fortunato – a true Italian table; like eating the in the Old Country!
For more, click on www.visitvbr.com
Hotel Roanoke, 110 Shenandoah Avenue, Roanoke, VA 24026; 540-985-5900; www.hotelroanoke.com
Claudia Carbone is an award-winning travel writer based in Denver. Read about other hotels she's visited in Sleepin' Around.