During my last trip to Japan I rented a bicycle and cycled 160 kilometers across six beautiful islands in two days, following the Shimanami Kaido cycling route.  There were six islands connected by massive bridges with no special sights or interesting tourist spots. However, the ride itself was wonderful.
Massive bridges allowed me to get from island to island. Every time I would have to cross a bridge, I would ride up a steep hill for about two kilometers, then cross the bridge and cycle down to the coastline.
Cycling in Japan
The cycling paths are amazing and very safe. Speaking of safety, I don't think there's a single place in Japan that's not safe.
I saw many interesting sites along the way, including a massive dinosaur, which was quite an unexpected sight. I passed dozens and dozens of older people cycling along the path, so it wasn't just for extreme cyclists.
The journey took me two full days. I think I cycled around 8-10 hours a day (stops included).
Bio: I am Jacob Laukaitis, a 21-year-old digital nomad, who's already been to more than 30 countries in the past 2 years. The main reason why I can travel is the company I co-founded, ChameleonJohn.com, because of the flexibility and remote income that it provides. Because of this, I can travel for 9-10 months a year. If you would like to find more information about me or my trip you can visit my personal website JacobLaukaitis.com and my Instagram profile where I post the best moments from my trips.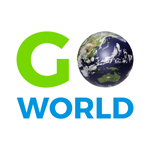 Latest posts by Go World Travel Magazine
(see all)