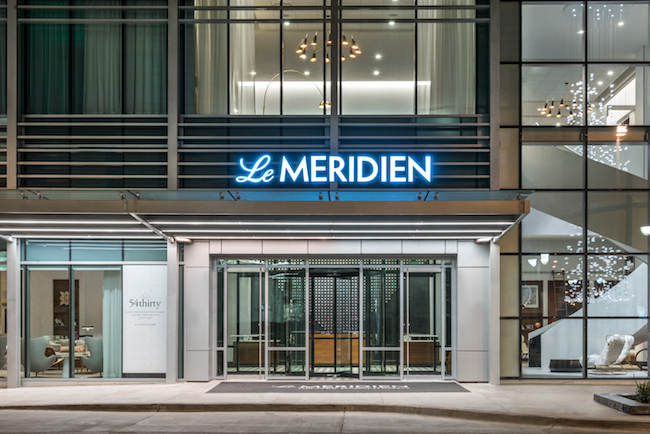 With the arrival of Le Méridien, Denver has firmly established itself as a true international destination. The hotel chain created by Air France in 1972 has spread from the original Le Méridien Etoile in Paris to 58 hotels worldwide. Denver is its first location in Colorado. The name refers to the geographic coordinate lines spanning the planet and affirms the chain's global presence, now part of Starwood/Marriott family. The hotel shares the building with Marriott's AC Hotel, making it the first dual-branded property in Denver.
In its primo site across from Colorado Convention Center and Denver Center for Performing Arts and on the light rail system, Le Méridien throbs in the heart of downtown Denver. It is a gorgeous property and lifts the city to new cultural heights.
Art and Design at Le Méridien
The French influence is immediate when you check in at the front desk. A large cluster of tiny oil portraits of French icon Marie Antoinette in plexiglass cases graces the wall. NINE dot ARTS curates the art program that includes 1,685 individual pieces from mostly Colorado artists.
As with all Le Méridiens, this 272-room hotel blends its European roots with a strong sense of place; in this case, inspiration comes from the Rocky Mountains and Colorado's skiing heritage. The cozy lobby is a contemporary nod to a ski chalet with its glass-enclosed fireplace as the centerpiece. French éclairs are served with Illy coffee in the morning and cocktails in the evening at the Lobbyist Bar.
To the side of the reception area, a circular staircase winds around a stunning mobile of clear glass above a pair of white faux-fur chairs. I can see a feminine sophistication emerge with the pastel decor and delicate designs as I walk around the spaces. Feminine and French and oh, so elegant!
Rooms at Le Méridien
Our lovely room in peaceful grey and white tones subtly references the mountains—wallpaper hints of a sidecut slab of granite or ripples in a lake after throwing a stone into the water. The rug design . . . a cable knit sweater. Wall art (not shown) is a modern mountain range scene above a lake. The ruffled white bedspread adds a feminine touch and pillows give a splash of color. A chaise lounge sits by a floor-to-ceiling window offering city views and lots of light. One clever bedside table doubles as a safe. Below the wall-mounted television is a desk with an Illy coffeemaker.
The closet isn't a closet in the sense of being an enclosed space. The surprisingly small metal rack has room for a few hanging clothes plus a robe and ironing board/iron.
We love the reading lamps attached to the headboard.
The vanity area of the bathroom is very small, giving way to a large walk-in shower. The mirror is open on both sides, revealing a full-length mirror on its backside in the bedroom. Thankfully, the toilet is in a separate room with a door.
Rooms are extra secure with peepholes and safety latches on the door.
Dining at Le Méridien
The pièce de résistance at Le Méridien is 54 Thirty, the highest rooftop bar in Denver. With clear views of the mountains and city, it's a stunner on the 20th floor. The name comes from the altitude in feet at which the bar sits.   
Cocktails and small plates are served beginning at 3 p.m. weekdays; 1 p.m. weekends. You can watch the sun set over the mountains and stay until midnight Friday and Saturday nights; till 11 p.m. weekdays and 10 p.m. on Sunday. This is the place to be for apres work or late night clubbing.
The restaurant, Corinne, serves breakfast, lunch, dinner every day, and brunch on weekends. The atmosphere is easy and casual, with inverted hurricane lamps in the chandeliers hanging from a wood beamed ceiling like you find in a mountain lodge.
Cuisine is classic American comfort fare like Salisbury Steak with mashed potatoes and Maple Glazed Salmon. Nothing really French here, unless you count a delicious French Onion Soup. The chef's take on Buffalo Wings—a western staple—is using cauliflower instead of chicken wings. Same spicy flavor but a whole lot healthier!
I found the breakfast menu to be even more inspiring: smoothies and juices, lots of egg dishes (Sweet Corn Cake Eggs Benedict!), and more. I love this Strawberry & Ricotta Toast. It's delicious on a hearty multi-grain bread.
Amenities and Services at Le Méridien
For the business traveler, Le Méridien offers beautiful venues for meetings and banquets as well as 24-hour business and fitness centers. WiFi is free in guest rooms and lobby. Dogs are welcome for $50 per stay. Valet parking costs $45 per night, but there's no resort fee.
A slew of unique experiences comes with just showing your room card. It's called the "Unlock Denver" program. Visit various establishments around the city, such as Laws Whiskey Distillery and Clifford Still Museum that have partnered with the hotel. Present your card for a complimentary tasting, tour or treat. You can even get a discount on a guided fly fishing trip complete with a ride to the mountains! Or check out a bike to explore Denver's extensive bike paths. It's all part of Le Meridien's three core pillars: coordinates, culture and cuisine. The experiences are detailed on the website.
In addition, CityPASS offers discounts to some of Denver's most popular attractions near the hotel like Denver Art Museum, History Colorado Center and more.
Le Méridien Denver Downtown, 1475 California Street, Denver, CO, 80202, United States, 303-893-1888; https://www.marriott.com/hotels/travel/denmd-le-meridien-denver-downtown
Claudia Carbone is an award-winning travel writer based in Denver. Read about other hotels she's visited in Sleepin' Around.