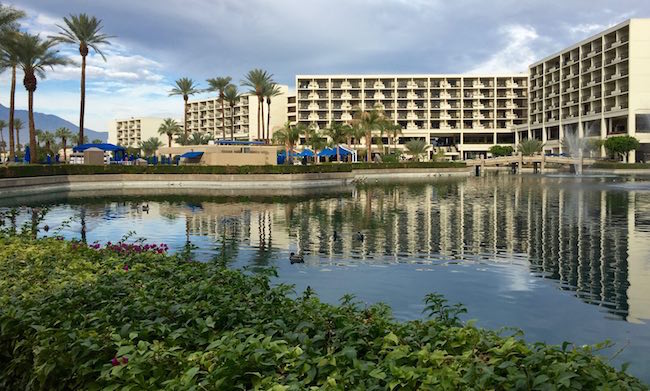 From my balcony at the JW Marriott Desert Springs Resort and Spa, I hear a gaggle of geese honking like cars on an LA freeway. I watch them as they swoop down to join their noisy buddies in the lakes sparkling in the rising sun on the grounds of this luxury resort in Palm Desert, California.
Palm Desert
One of nine cities in California's Coachella Valley, Palm Desert is a magical place. Surrounded by mountains that hug me under perpetual blue skies, I feel their warmth and slowly unwind in this peaceful landscape. Though it's in the middle of the desert with only about three inches of rain and 350 sunny days a year, it's surprisingly green thanks to an underground water source and the Colorado River that has been supplying water since 1919. Even so, the 50,417 permanent homeowners and 32,000 seasonal residents conserve the precious commodity that keeps golf courses green and lakes filled.
JW Marriott Desert Springs Resort and Spa
JW Marriott Desert Springs Resort and Spa captures the desert allure with a little magic of its own. With a collection of colorful tropical birds, shimmering lakes and lush grounds, it is a true oasis. Five swimming pools, two 18-hole golf courses, 20 tennis courts (hard, clay and grass) and nearby hiking trails give guests plenty to do in the outdoors.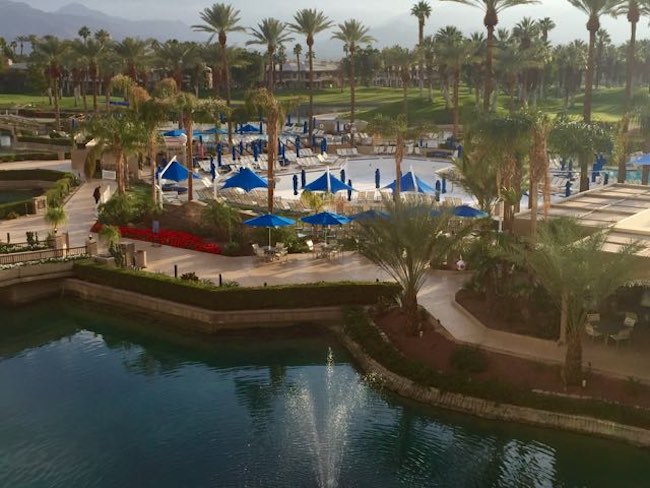 JW Marriott Desert Springs Rooms
My standard king room is anyroom—clean, spacious and comfortable but, alas, is devoid of a sense of place unlike the outside where the desert vibe engulfs you. It has a desk/chair, dresser with six drawers and a mini fridge, a sofa and coffee table. Amenities include TV, alarm clock, coffeemaker, safe, iron/ironing board. The marble bathroom is good sized with a tub, single sink in a large vanity, walled-off toilet and separate shower. I love the lighted magnifying mirror, hair dryer and robe. The pillowtop mattress is super comfy. Two bottles of water show up daily, although tap water comes from the aquifer and is safe to drink. A bevy of suites and connecting rooms are available too. A $30 per day resort fee comes with all reservations. It includes WiFi, use of spa (treatments extra) and fitness center, self-parking, mini golf and golf range, golf bag storage, an hour hard-court and tennis racquet rental, lawn games and comp drink in Blue Star Lounge.
The balcony large enough for table and chairs looks out over the lakes, swimming pools and mountains. It's delightful for in-room breakfast. I leave my slider open to let in the sounds of the water fountain and cool desert air to lull me to sleep.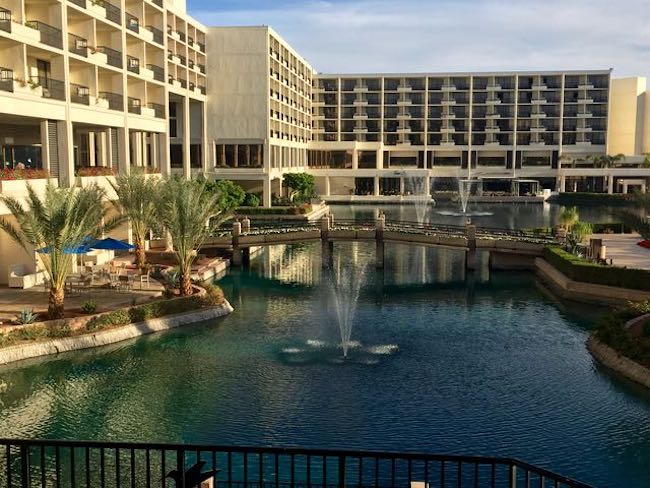 Dining Around JW Marriott Desert Springs
The signature restaurant is Rockwood Grill serving upscale fresh American cuisine sourced from local farms. I was disappointed to miss it. First of all, because guests go there via a leisurely gondola ride from an inside dock below the atrium lobby through the waterways around the property. And also I wanted to check out what diners consider one of the best restaurants in the city. However, breakfast and lunch are also served there, so I have the Grill's breakfast just outside at Blue Sky Lounge. There's also Mikado, a Japanese steakhouse with knife-wielding chefs chopping up fresh ingredients; The Lobby Lounge and Sushi Bar; Oasis Bar & Grille poolside; Fisherman's Landing where I enjoy a bountiful Crab Louie Salad; and Starbucks. A nightclub, Costas, is open Friday/Saturday from 9 till 2 a.m. If you are a light sleeper, book your room far away since the people leaving in the wee hours can be noisy.
Spa Desert Springs
Native American flute music sets the mood at the entrance to the spa in a separate building connected by walkways. Besides 48 treatment rooms, the facility has men's and women's indoor whirlpools, steam, sauna and Turkish Hammam. In addition, there's a salon, large fitness room, saltwater lap pool, boutique and a bistro serving healthy lunches.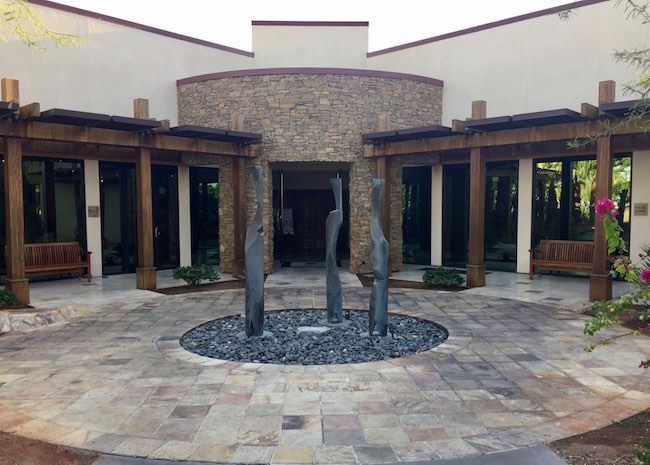 Other Amenities
*The Biggest Loser program guides you to better health through exercise and nutrition coaching.
*Three ballrooms and lots of meeting space, both indoor and outdoor, available for events and conventions.
*Kids Klub
*Full-time concierge
*Motorcycles available for rent with EagleRider.
*A variety of upscale shops
Getting to Palm Desert
Fly into Palm Springs, my favorite airport! The terminal is a beautiful outside "backyard" with a playground for kiddos. It's less than a half-hour drive to the JW. By car, it's about two hours from L.A., Orange County and San Diego.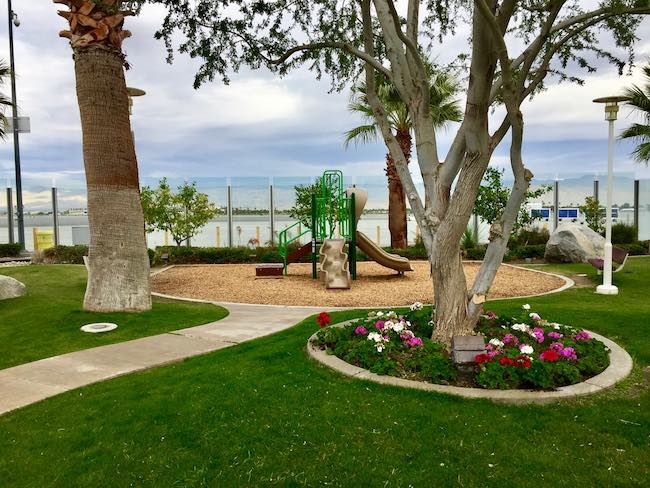 JW Marriott Desert Springs Resort and Spa, 74-855 Country Club Drive, Palm Desert, CA 92260, 760-341-2211, desertspringsresort.com.
Attractions in Palm Desert
The Living Desert zoo and desert garden houses animals like cheetahs, giraffes and wolves in natural outdoor habitats of the Colorado Desert setting. The facility also has a plein air art collection of landscapes painted from 1900 to the late 1930s.
Palm Springs Art Museum at Palm Desert features exhibits by international artists in painting, sculpture, photography and new media. Just outside is the Faye Sarkowsky Sculpture Garden and the Farmers Market every Wednesday morning.
El Paseo is a mile-long shopping district, chi-chi enough to be known as "Rodeo Drive of the Desert." Galleries, boutiques, consignment shops, high-end chains, public art and restaurants make up this village-like street that hosts art walks, entertainment and festivals throughout the year.
McCallum Theatre performing arts venue hosts big name performers and shows like Jay Leno, Itzhak Perlman and the LA Ballet.
Desert Adventures Tour Don't miss tour of the San Andreas Fault with the Red Jeep guides. You'll learn everything about the Coachella Valley and much more about the geology of this region.
Desert Willow Golf Resort Even if you don't play, have lunch on the terrace and soak in the gorgeous views surrounding this lush public golf facility with two championship courses.
Restaurant suggestions: Breakfast, Wilma & Frieda's; Lunch, Tommy Bahama; Dinner, Piero Pizza Vino.
Find more at www.DiscoverPalmDesert.com
Author Bio: An award-winning journalist for 32 years, Claudia Carbone is a native of Denver where she still lives. Follow her blog at Sleepin' Around: A Hotel and Travel Blog