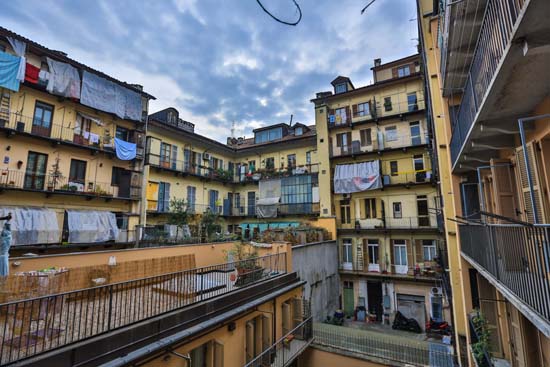 What I Thought About Torino
When my friends first invited me to their hometown of Torino, Italy, I will be the first to admit that I had had no previous desire to visit.
It was not because I thought it would be boring or unattractive, but simply because I rarely thought about its existence within the vast history and culture of Europe as a whole.
In fact, when I asked people about the city, no one was quite sure where it was located.
So, the Journey Starts
I soon found out that it was about two hours north by train from where I was living- in a small town west of Genoa, Italy.
So I packed up my things, hopped on the train and headed north.
One thing I have learned from my experience, however, is that the cities you know the least about tend to surprise and delight you the most.
Maybe it is the lack of expectation? Or perhaps it is the fact that you go there not knowing what you are looking for, and not walking around with your to-do list and your city map.
You embrace the place for what it is, and theentire experience is one of discovery. Needless to say, after my three-day visit, I was blown away by the beauty and culture of this mysteriously chic Italian city.
To describe Torino as a whole, I would say that it is a fantastic marriage of Italian culture.
with the grandeur and modern architecture of Milan, the charming and romantic qualities of the famous small towns of Positano and Siena, combined with the history of the famous big cities like Rome and Florence.
The Surprising City
Every corner you turn in Torino is a surprise. Perhaps you end up on a grand, modern boulevard lined with fancy designer brand shops and large marble buildings.
Maybe you end up on a narrow cobblestoned street lined with tall, skinny apartments boasting rickety shutters and iron balconies that teeter above the osteria's, gelateria's and boutiques below.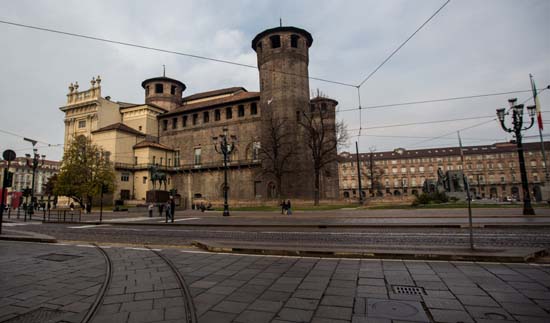 Maybe you are fortunate enough to stumble upon one of Torino's grand piazzas, housing an ancient building like the Royal Palace, an immaculately preserved architectural structure like the Mole Antonelliana, or even the church that contains the holy shroud Jesus was buried in.
Like many other European cities, it is impossible not to encounter street performers, outdoor cafes and many dogs.
Unlike other cities, however, there are not many beggars and the streets are kept clean.
The Arching Walkways
One of the great kings of Torino's past created a world of arching walkways on all of the grand boulevards, enabling pedestrians to walk throughout the city in any sort of weather without it affecting them.
It is possible to drive throughout the city, but many streets are pedestrian-only and parking is a hassle, so why not walk?
When you walk down the main, wide Parisian style streets, in the direction away from the city center, you dead-end at the river Po that is as still as glass.
At night, it reflects a perfect rendition of the lantern lit streets and narrow, tall buildings above.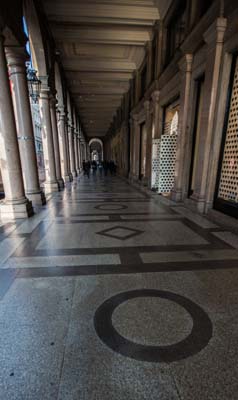 It is on this river that the people of Torino come to watch crewmen row in the summer.
Foods and Drinks
While enjoying food and drinks along the river's banks at one of the famous restaurants or summertime bars.
On the opposite side of the bank from the city, is a prominent old monastery that sits on top the highest hill around and overlooks the river and all of Torino.
Large blue disks fill the night sky above, illuminating the monastery and creating an effect that borders between extraterrestrial and art installation.
Although unfitting for the historical architecture of the monastery below, it is a prime example of Torino's desire to blend the old and new.
While Torino boasts a daytime life full of fantastic shops, beautiful buildings and delicious restaurants, it is at night that the city really comes alive.
The Dancing Lights
I was fortunate enough to see the different creative assortments of lights found dancing above the many streets of the city, because it was nearing the holiday season.
The grand piazzas are even transformed in the night, to boast massive lit sculptures surrounded by additional lights.
Unlike many other Italian cities, Torino is extremely international and tourists can indulge in Japanese, Middle Eastern, Chinese and a variety of other cuisines.
When I think about the cities in Italy that are well known to non-Italians, they are cities such as Bologna, Parma or Naples- all famous for food; Rome, Florence and Venice- all famous for art or history.
Milan- famous for shopping; or one of the small villages of the Amalfi Coast or Cinque Terre- famous for the picturesque colorful, quaint seaside villages.
Torino is not particularly "known" for anything, and maybe that is because it is a blend of so many things.
It is modern AND historical, has traditional and delicious Italian cuisine AND a fusion of other cultures, has great museums (one of the four Egyptian museums in the world) AND lovely parks and a river (the longest river in Italy in fact).
Like most of the cities I have visited in Italy, the people have a strong sense of pride and affection for their home. I was welcomed by the people and "given a taste" of true Torino.
As a seasoned traveler, I always prefer to be taken in by a local for part of my visit and allowed to wander for the remainder.
I was fortunate enough to do exactly this while in Torino, and now tell all who will listen about the magical wonders of the city.
If You Go to Torino
Torino Tourist Office
https://www.turismotorino.org/index.aspx?lingua=EN
Author Bio: Alexandra Kahn studied Marketing and Digital Media at the University of Colorado, Boulder before embarking on a three-year journey around the world to film rock climbing movies. Every second she can, she is traveling, always budgeting to increase the amount of trips she can take. In her free time she enjoys taking photos and writing about her adventures. She has a list of places to go to in the world and is determined to finish the entire list.