Anantara Dhigu
The staff at Anantara Dhigu welcomes us with traditional drums, cool towels and coconut drinks when we arrive by speedboat. The resort is one of three Anantara island resorts which sit side by side, each with its own style. Anantara Dhigu welcomes guests of all ages, including families with children. For kids age 11 and under, the Dhoni Kids Club has a supervised program that changes daily.
Anantara Dhigu has 110 villas and suites. I can't help but smile when I see my over-water villa with its large rooms and private wooden deck with stairs leading down to the sea. But it's the stand-alone tub with floor to ceiling windows looking out to the open ocean that makes me want to jump for joy. As I look out the window, I see a huge stingray pass in the turquoise waters below.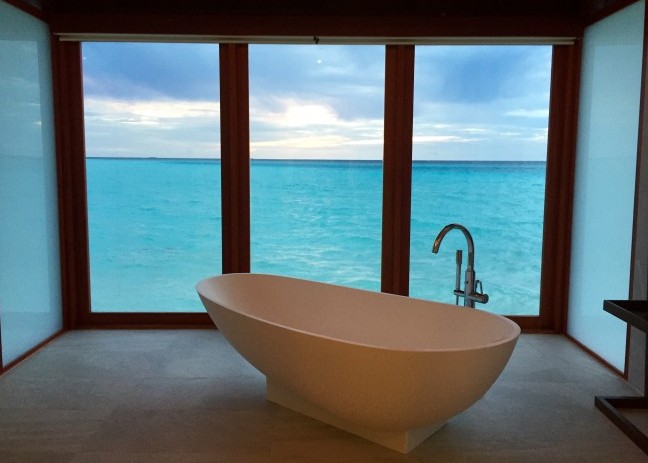 Dining at Anantara is a highlight, and there are more restaurants than we can sample during our stay, from Japanese to Italian to seafood. Maldivian cuisine has many of the spices and tastes that I like in Indian and Sri Lankan foods, yet has its own unique dishes. During a Spice Spoons cooking class at Anantara, my friends and I try our hand at making a three-course menu of Maldivian dishes, including a scrumptious fresh tuna curry (under expert guidance, of course). Best of all, then we get to eat it.
Anantara has a strong commitment to protecting the environment, and I'm thrilled to take part in the resort's Coral Protection and Regeneration Program called HARP (Holistic Approach to Reef Protection). Anantara has teamed up with marine biologists from Coral Reef CPR, whose goal is to promote sustainable management and rehabilitation of reef ecosystems, and they encourage resort guests to join those efforts.
Guests can participate in a coral reef propagation program by adopting a coral frame and planting it under the guidance of Anantara's resident marine biologists. When Dr. Andrew Bruckner, the program's chief scientist, takes us snorkeling at a spot near the resort, he shows us how the coral is changing color, obvious signs of its distress due to rising water temperatures.
Back at the resort, he shows us how to carefully attach damaged pieces of living coral to a wire frame, which will then be placed back into the sea. He explains how the pieces will begin to attach and grow as healthy coral.
Sad to leave Anantara Dhigu at the end of our visit, I'm happy to know that there are a few small (but growing) pieces of coral in the Maldives that I helped along.
Continued on next page