Ireland offers an island getaway for those of us who would rather not fly to a foreign destination only to lie on the beach and read a mediocre bestseller. Ireland's southwest peninsula, and the allure of Sherkin, Whiddy, Garnish and Bere Islands, are especially appealing.
West Cork Islands
Located off the coast of County Cork and accessible by short ferry rides from the mainland are the West Cork Islands, a string of seven islands that feature artists, military history, flowers to make your senses sing, local animals – both domestic and wild – and those Irish staples of good food, good drink and good, chatty company. Forgive the cliche, but the Irish have been blessed by that Blarney Stone. Other than Italy, I can't remember being to a country where people so revel in talking.
I was lucky enough to visit these islands for a few days this summer, delighting in part of the route the Irish call the Wild Atlantic Way, one of the longest defined coastal routes in the world.
How you get to Ireland's southern coast is up to you: I went by coach from Dublin. Trains are an option, but tend to take longer, and car rentals are the most popular choice.
That said, the Irish don't share a North American's view of distance, so I was warned about the long trip ahead, "long" meaning four to five hours. I didn't have the heart to explain that I used to make a longer trip (both ways!) every other weekend years ago to visit my mother.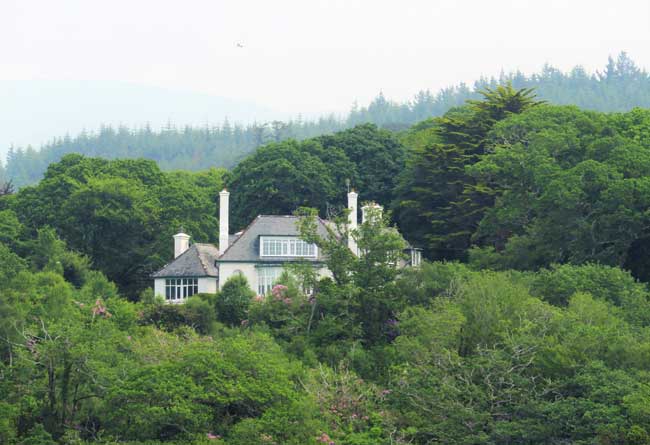 Though it didn't happen to me, you might spot a celebrity or two once you get there: Maureen O'Hara (Google her, young people. She was a cinema goddess) owned a house in West Cork, and Jeremy Irons owns a castle in the area; Matt Damon has waxed poetic about buying a local lighthouse and George Clooney? Well, let's start with Sherkin Island, where local gossip says he apparently considered buying a home, I gather for those moments he gets bored with the one he has on Italy's Lake Como.
Sherkin Island
To get to Sherkin, you take the ferry from Baltimore – a pretty port in and of itself and one of the southernmost cities in Ireland. Along with nearby Skibbereen and Clonakilty, it's a good spot from which to base your stay, and to take a whale-watching trip if the season is right. I did, with Whale Watch West Cork, and saw Minke whales, basking sharks and Risso dolphins.
None of the islands in question are home to many B&Bs or hotels, something which keeps them unspoiled and decidedly off the regular tourist run. My trip coincided with perfect weather and yet I did not have to fight off crowds of fellow wanderers.
Once on Sherkin's shores, you will be greeted by the ruins of the Sherkin Franciscan Friary, built in the 15th century. You'll also be met by the emerald greenery of Irish dreams, with roads rising to greet you and take you to the studio of artist Majella O'Neill Collins. George Clooney never did buy a house on Sherkin, but he did buy one of Collins' paintings.
Collins isn't the only artist on Sherkin; another prominent artist resident is Jo Ashby. In fact, creative and hippie types (aging and neo) make up a good chunk of the island's 100-something population, and gravitate to Sherkin North Shore, a lovely retreat which includes a small restaurant, if restaurant has a very loose definition.
Don't misunderstand – the food was excellent, but the options were basically "whatever the woman who runs it is making." I was a happy vegetarian that day, because she was making a mint and vegetable soup, with mint grown from her garden – 'twas heaven.
With such a tiny population, you are almost as likely to meet cows on the island as you are people, and some of the former might slow down your taxi a wee bit. Instead of fretting about your schedule, get into the island mode and relax – the cows might even approach for the visiting paparazzi, as they did for me. As an animal-lover, I considered this highly fortuitous.
Whiddy Island
A short drive further west along the mainland will take you to Bantry Bay – famous for shellfish farming – from which you can reach wee Whiddy Island (5.6 kilometres long and 2.4 kilometres wide).
With a population of 22, Whiddy might make Sherkin seem like Shanghai, but it has its own charms. First among them – from the moment you step off the ferry and approach Bank House Pub, you will hear Irish Gaelic spoken. Quite a delight.
Continued on next page
Senior editor Janna Graber has been covering travel for more than a decade. She has traveled to 38 countries -- and counting.
Latest posts by Janna Graber (see all)