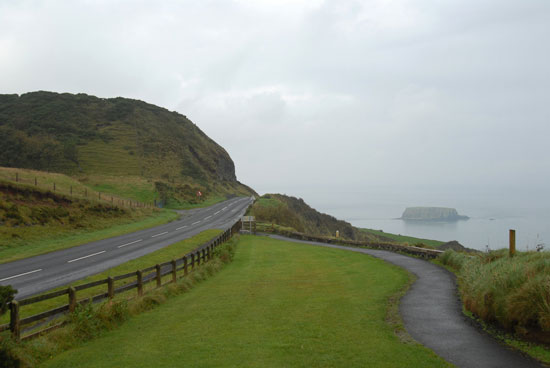 This is a story about brilliant branding. It's about Ireland, but it begins in Chile.
In the early 90s one had to head to the far south of South America to sample the tasty, thick, snow-white fillets of a large, deep-water cod called the Patagonian toothfish. No eatery in the U.S. wanted to serve a fish with that name. But when marketers came up with the alluring but meaningless name, 'Chilean sea bass,' the fish was on its way to fame, glory and millions of eager mouths.
It's the power of good branding.
Several years ago, when I first traveled a stretch of Ireland's rugged west coast, I thrilled to its savage beauty, from The Cliffs of Moher (the most visited outdoor site in the country), The Burren, a dusky karst surface that looks like the maria of the moon; the Maumturk Mountains, where St. Patrick dashed away the snakes, and the bowed bays and bites of Westport and Galway. But it never occurred to me to continue traveling north or south, or that anything stitched these sights together in a cohesive way.
But then some marketing virtuoso came up with the connecting tissue, and The Wild Atlantic Way was born and let loose to the world. It's a 1600 mile route, winding from Kinsale in County Cork in the south to Malin Head in Donegal in the far north, seamed with lighthouses, abbeys, cairns, stone circles and golf courses along the way.
Many destinations have a signature tour. Morocco has its Royal City Tour, Ethiopia its Historic Route, Spain the Camino de Santiago, Peru its Inca Trail, Scotland its Whiskey Trail, Egypt its Aswan to Luxor cruise. Now, Ireland has joined the club with an almost immediately iconic tour that weaves a rope of many spectacles.
Resistance is futile, so I find myself back in Ireland, this time to travel a northern section of the west coast along what is now officially The Wild Atlantic Way.
Dublin, the main gateway to Ireland, is on the east coast, so it is a bit of a haul to the other side, and I decide to break it up with a stop at a little lodge in County Mayo owned by a friend and his family…Ashford Castle.
The castle, on 350 acres along the shores of Lough Corrib and the River Cong, dates back eight centuries, and was owned by the Guinness family for over 100 years.  The Tollman family bought the castle in June, 2013, and have since put some $75 million into restoration. It shows.
Walking through the vaulted entrance is like being swept into a palace inside a manor inside a museum in a castle. It is, one staffer boasts, "Europe's first seven-star hotel."
To get to my room I walk past a full suit of armor, with a rapier in one hand, a dagger in the other, looking as though he may step into battle at any moment, or just raise an arm, as in a hundred shows, from Abbott and Costello to Scooby Doo to Night at Museum.  Above is a Belgian Val Saint Lambert chandelier, one of 130 hanging sprays that twinkle throughout. Then down a hall of fame (in some cases, shame), lined with pictures of guests past, Ronald Reagan, Brad Pitt, Fred Astaire, Barbara Streisand, John Travolta, Ted Kennedy, Tony Blair, Robin Williams, Jack Nicholson and John Wayne (he filmed The Quiet Man just down the road in the village Cong).
Pierce Brosnan got married here in 2001, and I send him an email (I took him rafting down the Colorado a few years back) boasting of coordinates, and he promptly emails back that he plans to return, as he will soon be making a film in Ireland.
My two-story bedroom is furnished with antiques, bespoke carpets, an Italian walnut bed, original artwork, a marble bathroom. I feel like a 13th century king, except there are electronic blinds, USB chargers in the wall and free Wi-Fi.
It would be easy to spend an indulgent spell here, with all the activities, a Hawk Walk (it boasts the oldest established Falconry School in Ireland), to golfing ( a 9-hole course), to tennis, to Clay Pigeon shooting, to archery (with flu flu arrows), to zip-lining (seven runs), to biking (50 new Kona bikes), to horseback riding (Connemara and Welsh ponies, Irish Draughts and Irish Cobs) to hiking, tree climbs,  kayaking and even a cinema (it has a 32-seat theater, complete with complimentary candy and popcorn….that alone makes me want to stay forever).
Foolishly, I only booked for a single night, so there is time for just one activity. I choose fly fishing, for wild brown trout and Atlantic salmon, in the waters set against the Connemara Mountains on one side, and the fairytale architecture of Ashford on the other, with master boat-builder and Orvis-endorsed guide and gille, Frank Costello.
In the long tapers of twilight Toni Tollman, who along with her mother Beatrice, oversaw the restoration, and who happens to be at the castle, offers a private tour. "When we started it had more holes than a teabag," she quips as we begin the expedition.  "Every roof and window leaked; the basement flooded. Electric wires were frayed; mildew everywhere. The goal was to bring the magic of the exterior to the inside, sourcing Irish talent through the process."
How did that go?
"We did not return the castle to its former glory," she smiles a meadow of flowers. "We made it better."
Energetic beyond any proven laws of physics, Toni managed a twenty-year-restoration in just two. Proudly, she showcases the new Billiard Room, with its carved oak fireplace and over-mantel, dating to the mid-19th century. She shows off some of the hundreds of original paintings she acquired and hung. She's proud of the retouched cartouche on the ceiling. And the shelves filled with tomes and bildungsromans from the Rare & Recent bookstore (almost single-highhandedly, she has kept this independent book seller in the pink. Applause to her!)
With nightfall Toni translates me to the panel-walled George V dining room, beneath Waterford Crystal chandeliers. I elect the tasting menu, which uses all locally-sourced ingredients, and every dish has a story. It's like a parcel of Northern California dropped into County Mayo.
The sun rises bright the next day, as if rewarding good, inspired thoughts; good, roaring thoughts. As the morning begins to merge into day I bid adieu to Ashford Castle and make my way west to pick up the Wild Atlantic Way. My route is north, from where I left off a few years back when it didn't have a designation. I begin at Killary Fjord, on a boat which offers a money back guarantee if you get sea sick. We motor up nine-miles of tightening glacially-carved canyon, couched in granite cliffs streaked with vertical quartz veins, the effect of which makes it seem the mountains are crying. The smooth chug works up an appetite watching all the farmed salmon flopping around in their cages, and so with landing I head to the nearest bistro, The Bia Blas Café, which is filled with happy servers and a sign that says, "The beatings will continue until morale improves."
Then over to Ballina, into a yard bursting with yellow daffodils, and a check-in at the 19th century baronial estate Mount Falcon, on the west bank of the River Moy. With Alan Maloney, the owner, I take a walk along the two miles of private river bank, encasing one of Europe's most munificent salmon runs. "We have an annual rod catch of about 9000 salmon," Alan nods to the quiet ribbon. He has successfully gifted the idea to return during the season. As we step back down the driveway, the last light of the day makes the manor puff up like a sail, a boat dancing unmoored, ready to float off in search of wild fish.
It is again clear and sunny the morning next, the sky as if stolen from southern climes. It's up the golden coast to Sligo, along a road festooned with flaming yellow gorse and clouds of sheep. I wind up to Broc House overlooking Lough Gill, where I meet Damien Brennan, a man whose passion for poetry is only matched by that for bow ties….he is the Imelda Marcos of bow ties, with 80 in his closet (and one around his neck).
Damien is a self-taught authority on Irish poet W.B. Yeats. He serves up some coffee and scones, recites a few lines of Yeats, and then offers to show the famous grave at Drumcliffe, set against the backdrop of the Benbulben Mountains.
The grave is marked with a simple headstone with the inscription, "Cast a cold eye on life, on death. Horseman, pass by." This was Yeats' self-penned epitaph together with the instructions that the grave consist of "no marble, no conventional phrase."
Yeats lived in a space where history, myth, legend, magic, and reality all seemed to swirl around him as one big here and now, moving forward, and drawing the past into the present.
One of my favorite poems, when I was a lad, was "When You Are Old."  Even at a young age I seemed to recognize Yeats was gripped with the notion of mortality, but Damien fills in some flesh when he shares that in his advancing years, Yeats had monkey testicles implanted in his scrotum in the hopes they would prolong life and make him more virile. This earned him a reputation as Ireland's "Gland Old Man."  What a rough beast that must have been.
Afterwards I continue the drive up the Wild Atlantic Way, regularly marked with blue wavy signs, so the route never suffers from ambiguity. At Rossnowlagh, in south County Donegal, I pull into the Sandhouse Hotel for high tea, and meet Paul Diver, the 20-year-manager who tells me how he picked up the property for a song after the crash of 2008. It was a risky move, even at the huge discount, but it has paid off, as tourists are coming back in increasing numbers. He credits the Wild Atlantic Way for steering fresh folks his way. As I sip I look out the large Bay windows to watch a score of surfers play the waves…..some of the best big wave surfing in the world is right here, just past a broad beach that looks like it belongs in the Caribbean.
From here I head to the Solis Lough Eske Castle Hotel, dating back to the 1400s and the O'Donnell Clan, founding fathers of Donegal who enjoyed a long afternoon of power.  I pull in against the faltering light, and am thirsty, so head for the soigné bar. I've been told Irish whiskey is good for coming up with ideas; coffee is good for execution….so, to cover bases, I order an Irish Coffee. Dinner is once again exquisite. It used to be that a good Irish meal was one that was boiled for six hours or more. No longer. The fare served throughout this journey flourishes with Continental luxury, competes with the finest eateries of California, though I never did find Chilean sea bass on a menu.
The morning next I whorl up to Slieve League, highest coastal cliffs in Europe. Seven thousand years ago the inhabitants of this part of Ireland considered the eolian rock faces to be the end of the world, and as close to heaven as a mortal could get. Now gulls fly overhead, wheeling as if outlining something invisible with filaments of air.
We park at the newly-expanded lot, built to   handle the growing influx of tourists. Before the Wild Atlantic Way brand came to be, if Slieve League was mentioned in casual conversation the response was a yawn into the back of a hand. Now, it's a bucket list item.
I shoulder my pack and begin the hike upward. Looking down I watch the base assaulted by waves, grinding the rocks to sand. The sun reaches through to my skin, not to my bones, which have picked up a cold draught coming off the ocean of oceans. Stopping at an overview I feel like I've been slipped a mild tranquilizer. I swallow a set of tears. Is it the wind, or the view? The air is the freshest I've ever breathed, a salt wash for the soul.
"Americans never walk," said W.B. Yeats. Well, I'm sorry he isn't here, as there are busloads of Americans hiking up this stunning bluff. As the key northern attraction along the Wild Atlantic Way it has found prominence and celebrity, and visitation has increased to the point there is an ice-cream stand at the parking lot.
It's time for brew, and a bit of craic, so I head to the Diamond of Donegal (the downtown village square, shaped like the jewel) and stop in at a trio of bars to experience the legendary pub culture. The first is a lively hangout with singing, traditional music, modern music, darts, pool, card games, board games. Next is a place for a quiet pint with no diversions from singing, traditional music, modern music, darts, pool, card games, or board games. The third, a retreat for serious drinking with no unwelcome diversions from singing, traditional music, modern music, darts, pool, card games, or board games. All feature the Guinness tap, the Smithwicks tap, the lager taps and the neatly stacked rows of glasses. Mixed together, they swill the Irish pub culture.
Along the folded complexities of the continuing way, I crane to see the hammered sheen of water on one side, and brightly painted drystone houses on the other, climbing steeply towards the sky.
The single lane takes on several chevrons and furls as I roll pass Lough Swilly, Amazing Grace country, so cleped as these are the coordinates that inspired John Newton to write the legendary lyrics.  Just off the coast here, in 1748, a storm battered Newton's slave ship so severely that he called out to God for mercy, a moment that marked his spiritual conversion. While his boat was being repaired in Lough Swilly, he wrote the first verse, resonate with possible forgiveness and redemption, regardless of sins committed.
Now, with the song lapping in my head, I cross the border into Northern Ireland. They say the past is another country, and that's true here, but so is the present.
The riddle of a road now known as The Wild Atlantic Way has reached its designated end, and I am now on The Causeway Coastal Route, named for the Giant's Causeway, which has, for good reason, been the main attraction along this coast. But there is a new brand in town…Game of Thrones, filmed primarily throughout Northern Ireland, and whose studio is based in Belfast (Titantic Studios).
I'm a fan, so it is a thrill to spend a day matching up settings with shots from the series. I find The Dark Hedges, an avenue of melancholic 300-year-old beech trees, the backdrop of Arya Stark's escape from King's Landing. I make my way down to the slop of boats at Ballintoy, which doubled as Lordsport Harbour and hosted the homecoming of Theon Greyjoy after ten years in Winterfell.
Down a coastal path, the iodine tang of kelp hanging in the air, I come to the caves of Cushendun, where (in Season 2) Davos Seaworth, on the orders of Lord Stannis, took the sorceress Melisandre ashore where she gave birth to the shadow baby.
And in the hills above Cairncastle I find the rock where Ned Stark beheaded the Night's Watch deserter (is that dried blood on the rock, or a spot of moss?). A couple of paragliders land nearby as the blowy, cloud-swept evening shows cracks of sunset on the horizon. Seeing these sites somehow opens a door in the long-wall of fantasy as I knew it, never to be closed again, but a new respect for certain location scouts has crept in.
And for dinner, at the Causeway Hotel where the actors and crew sometimes camp, I choose from their Menu of Thrones something called The Kings Road (hearty pie with champ and veges), which is described as "A worthy meal for the Firstborn."
All these spots were barely visited a couple years back, but now all are major tourist attractions, fetching fans from around the world. A great brand shatters old constraints, and makes you want to follow life upward, to expand with it outward. Such is the draw of a potent marque.
I finish my road trip in Belfast, booking into the Merchant Hotel, former headquarters of the Ulster Bank, and now a house as perfect as a new coin. I call an old friend, Colin Cobb, who runs Titanic Walking Tours, showcasing the yards where the great boat was built over a century ago. With some very smart marketing, the remnants of the shipyards that built the doomed ship are now a very big tourist attraction. Over a gin & titanic at the bar, he asks where I've been on this trip. When I share that I was exploring the Wild Atlantic Way, he gives me a blank look.
"What's that? Never heard of it."
"You will…I promise."
The thing about marketing….it's never done, and you never reach everyone.
I explain the route and the new branding, and he smiles.
"You talk about branding…The Titanic….now, that's good branding."
If You Go
Ireland Tourism
www.ireland.com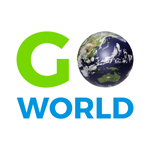 Latest posts by Go World Travel Magazine
(see all)