As I cycled around the small island, a historic spin through a forgotten time, it was not difficult to conjure up a mental picture of what the once-powerful trading hub was like in its heyday. The colonial capital of Portuguese East Africa, known as Ilha, Mozambique was a mini Lisbon with large government buildings, an impressive hospital complex, the villas of merchants, traders and colonial officers, and broad plazas with bronze statues.
Most Buildings Are Forgotten and Abandoned
Some structures have been taken over by Mozambican families. A small number have been restored and repurposed. Most, however, remain forgotten and abandoned, with disintegrating facades and ruined interiors. It is an evocative ghost city off the coast of central Mozambique haunted by the spirits of Portuguese colonists.
Best Tips & Tools to Plan Your Trip
There are few places in Sub-Saharan Africa with the historic atmosphere and lost sense of place of Ilha de Moçambique. Phonetically, it's pronounced ill-yah ghee mo-zam-bee-key, or Island of Mozambique. Known simply as Ilha, today some 14,000 Christians and Muslims live harmoniously here. There is also one Hindu priest who arrived recently to oversee the 400-year-old temple to the god Shiva.
The Two Ilhas
There are two Ilhas: imposing Stone Town, the Portuguese-built city, and vibrant Makuti Town, the village that grew up next door where most of the islanders live. Fishing is the staple industry, along with just a trickle of tourism.
Ilha is remote, difficult to reach and largely unknown. If it was accessible to more travelers, long ago it would have been developed into a flourishing destination. Ilha, instead, remains a bygone emotive enigma beckoning the curious and undaunted traveler. To get there, I rode sardine-packed in a vintage minibus, called a chapa. It was filled to triple its intended capacity, with the last leg on the back of a motorcycle.
Remote and Difficult to Get There
I flew from Mozambique's capital, Maputo, to the city of Nampula, where I found a chapa to Ilha. The problem was getting on board. It was already over-stuffed with people. But they squeezed me into a half seat in the back with my bag in my face. And they somehow got more people in as we sat for an hour to fully fill the minivan. It's common in Africa to not depart until the transport is completely full. Rambling along for the next five hours, stopping continuously to load and unload, I counted 30 passengers in the 10-seat vehicle.
The Mozambicans didn't mind the discomfort and passing travel hours, munching on snacks and exchanging animated banter and laughter. Finally arriving at the end of the road, I hopped on a "moto." It skirted too fast between cars and people, first on the one-lane causeway from the mainland. I came within inches of losing a knee a few times to passing vehicles, and then through Ilha's market streets dodging between customers and goods displayed on the road. Immediately, I knew it had been worth the discomfort and perils to get there. In the long amber rays of dusk, a haunting aura and a sense of time coming full circle infused and permeated Ilha. I had landed somewhere very special.
Portuguese Built Impressive Fortifications and City
East Africa's ancient settlement was established in the 1300s. It later served as the colonial capital of Portuguese East Africa in the 16th century. Beginning with the establishment of a port and naval base in 1507, the Portuguese went on to build impressive fortifications and a city that for hundreds of years was the seat of their power in this part of the world.
But Ilha began fading into decline with the opening of the Suez Canal and the emergence of Lourenco Marques (today's Maputo) as the new capital in 1898. And was eventually abandoned entirely with the rise of the nearby port of Nacala which has a far superior natural harbor ‒ leaving behind a phantom city.
Mozambique was Named for Ilha
But such was Ilha's influence that Mozambique, the country, was named for the island, which in turn was named for the Arab sultan in power when Portuguese explorer Vasco da Gama anchored here in 1498.
A Historic Sight at Every Turn
There is a historic sight at every turn in Stone Town. On one five-minute stretch, I came upon the old customs house with giant anchors on both sides of the entrance. The fading 17th-century town hall was obscured behind an overgrown garden of bougainvillea and palms. There were ruins of the extensive complex that was the colonial-era hospital, and arresting, white-washed, still-in-use Ingreja do Nossa Senhora da Saude (The Church of Our lady of Health), built in 1801.
A Destination of Superlatives
Ilha is a destination of superlatives: It is the only UNESCO World Heritage Site in Mozambique and one of only three on the entire east coast of Africa. The massive stone bastion protecting and dominating the island's northern tip, completely restored Fortaleza de São Sebastião, is the oldest and grandest still-standing colonial-era fortress in Africa. The Chapel of Nossa Senhora de Baluarte, built in 1522, is the oldest European building in the southern hemisphere. Its hospital was the largest in Sub-Saharan Africa.
Most of the few restored buildings ‒  some small hotels and restaurants, two banks, the governor's palace, and a church ‒ are painted in bright, bold hues, making them stand out even more.
Only a Handful of Hotels, Restaurants and Tour Operators
Most visitors arrange a private transfer from Nampula with their hotel (which I did for my departure) to avoid the hellish public transport. Once there, a handful of inns and lodges including several luxurious boutique properties that provide comfortable accommodations. Some had swimming pools, housed in demonstrative historic buildings. The half-dozen restaurants in Stone Town ‒ catering almost entirely to visitors ‒ serve well-prepared international and Mozambican dishes focusing on seafood.
Book your hotel in Ilha, Mozambique here
"It is so fresh it came from the sea only hours before you eat it at a restaurant," enthused the manager of Café Central.
A couple of small tour operators, along with some local boatmen, offer a variety of excursions including visits to nearby islands, sailing trips on a traditional dhow and whale-watching jaunts. A Spanish group told me they saw about 20 humpbacks, some even breaching for them.
Grand Lighthouse and Aquamarine Water of Goa Islet
Captain Reimuto, who pilots a 30-foot wooden boat, the typical simple craft of Mozambique, took me out to Goa Islet to hike, climb the enormous red-and-white striped lighthouse and swim in warm translucent aquamarine water. The sweeping panoramas from the lighthouse encompassed miles of Mozambique's coastline and myriad islands. Goa is ringed by sharp, treacherous coral rock. There was one sandy point, a sparkling swimming spot with a bottom of sea shells smoothed by erosion.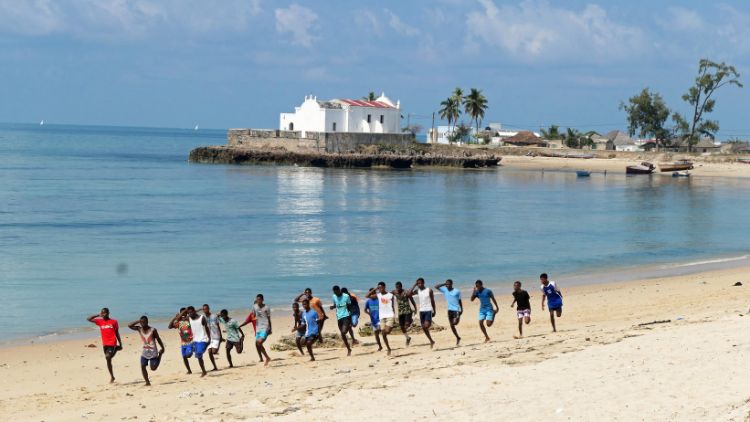 An Easy-Going, Welcoming Destination
Ilha is an easy-going, pleasant spot on the world map where the islanders welcome travelers with courtesy and warmth. The streets are completely safe at any time of the day or night. "It's so peaceful here," Parth told me, "that it's ideal for meditation and prayer."
Parth was sent from Gujarat, India, to administer Ilha's Hindu temple. This was forsaken like the Portuguese city when even the small Indian community abandoned the island for Nacala port, the new regional hub of commerce and business. Though holidays bring Indians from Nacala for prayer and ceremonies, it is a lonely life for Ilha's only Hindu. But he is looking ahead. An arranged wife will be sent from India next year, when he is 30 years old.
Read More
Author Bio: Freelance writer/photographer Edward Placidi discovered his passion for exploring the world ‒ and sampling its foods ‒ as a teenager and has rambled to the far corners of the planet, leaving behind footprints in 119 countries (so far). He has contributed articles and photographs to scores of newspapers, magazines and websites. When not traveling, he is whipping up delicious dishes inspired by his Tuscan grandmother who taught him to cook, with as many ingredients as possible coming from his vegetable and herb garden.