Everybody is looking for ways to offset the closures and loss of business and foot traffic. Every little bit helps.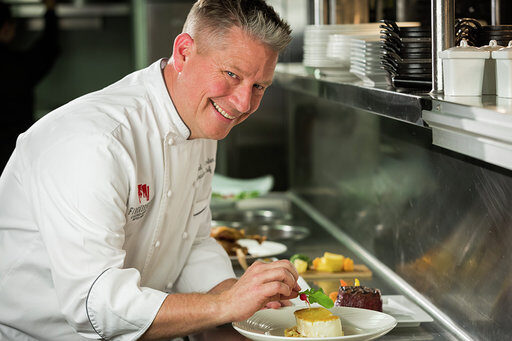 Chef Michael McFarlen
Michael McFarlen is a 5-star, 4-diamond executive chef who has spent over 30 years launching food and beverage openings for some of the travel world's most prominent properties such as Mandalay Bay in Las Vegas; Kerzner International/Atlantis Resorts in the Bahamas; and now FireKeepers Casino Resort Hotel in Michigan. That means his culinary career has encompassed all aspects of the industry including serving stars such as Michael Jordan and managing celebrity chef-driven outlets with the likes of Bobby Flay. But in terms of celebrities, New York Governor Andrew Cuomo has described the current health situation as "the great equalizer," meaning it has affected the mighty and the meager, including the likes of Tom Hanks, Prince Charles and Governor Cuomo's own brother, CNN anchor Chris Cuomo. Celebrity chefs and their endeavors, McFarlen notes, have not been excluded from the economic impact.
"As a diner I've experienced Chef Thomas Keller's famed French Laundry restaurant in Napa a couple of times. The food there is amazing and so right now I really feel for him and his restaurant group," said McFarlen, referring to the fact the operational limitations the Covid-19 restrictions and shutdowns have caused.
While some restaurants have continued serving carry-out food to go, The French Laundry's Michelin-starred, multiple-course, gourmet, molecular, pre-fix, tasting experience is a somewhat less artistic presentation when served out of a paper bag and cartons.
The tab for dinner for two at French Laundry runs between $850 and $2,500 and, by design, the very aesthetics of the restaurant's interior are designed to keep the focus entirely on the plated morsels.
A chef's tasting menu at The French Laundry would include the likes of a course such as Japanese Shima Aji Sashimi with compressed radishes, brokaw avocado mousse and Satsuma mandarin broth.
Business Interruption Insurance Relief?
Keller, who, like celebrity chef Wolfgang Puck, owns multiple restaurants, is among the culinary entrepreneurs who feel insurance companies should cover their losses under a "business interruption" clause.
"We looked into that concept at FireKeepers Casino Hotel, but the insurance agencies are saying that you needed specific type of insurance for this. That is expensive and most people don't carry it because of that…and because it its very rare, McFarlen conceded. "And I don't know how the insurance industry could even begin to try and process the amount of those claims. It would literally bankrupt the insurance industry."
McFarlen said he'd talked with many colleagues who are looking for ways to offset the closures and loss of business and foot traffic. Some have suggested perhaps a tax break which would allow corporations to once again deduct the full cost of meals and entertainment.
"Every little but helps but many businesses will fall through the cracks. Some restaurants are in serious limbo now. I am hearing that there are a lot of places that will not open. This is literally going to bankrupt some of them," McFarlen commented. "Once the pandemic ends and it's time to reopen they're not going to have the money to do it. They're not going to have the staff to do it. The entire industry is shaken right now – from the local people up to the Michelin-starred chefs. It's down to dollars and cents and how much cash you have on hand to try to sustain the business while you're closed."
Carryout Creativity
McFarlen's vast experience, plus supportive ownership, makes him well suited to help FireKeeepers Casino Hotel navigate the crisis. The Culinary Institute of America graduate is an expert in budgeting, capital expenditure forecasting, food safety compliance, and strategic planning.
"Food industry businesses, from casinos to some of the best restaurants in the world, are looking for ways to offset business losses," he said. The casino's multiple restaurants McFarlen opened and directs are closed, including the four-star, fine dining experience Nibi. Nibi, which means "falling water," serves high-end dishes such as oysters Rockefeller, sea bass, sweet potato gnocchi, bone-in ribeye, and vanilla bean crème brulee.
Firekeepers operates a range of restaurants from a tap house to a buffet, which are also temporarily closed, but an off-site, downtown community reinvestment restaurant FireKeepers Casino and McFarlen recently created and invested in remains open for carryout. The Fire Hub is still, via carryout, serving upscale flatbreads, soups, greenhouse garden-grown salads and fresh baked goods out of a circa-1904 classic brick firehouse FireKeepers renovated. Viewing the Victorian former Battle Creek Fire Station No. 4 is a treat to the eyes, too.
"We've been running specials for family-style pasta and we touchless delivery, so people pull up, pop-their trunk, and we bring the food out to the community, which we have been staying open to serve," said McFarlen. "Like a lot of restaurants, we've shifted our business model a little bit to keep up with demands that you normally wouldn't see in restaurants because the industry has shrunk so much and there are, so few restaurants open right now. We have three different family-style pasta orders that you get garlic bread and a salad with."
Carry-out service is better-suited from some restaurants than others. The famed Joe's Stone Crab Restaurant in Miami Beach, for instance, for years has operated and expanded a full-service, elaborate, stand-alone "Take Away Shop." In addition to the classic menu items served in the more than 100-year old classic restaurant, it functions as a specialty food store and souvenir stand. Joe's also ships orders nationwide overnight through an overnight online delivery system. Packaged dinners even include a logoed apron and a crab claw cracking hammer- and an entire key lime pie – all packed in a tidy, sophisticated ice system.
In lieu of travel, while under stay-at-home orders, it's possible to fight boredom by eating your way across the culinary world through mail order dinners from iconic regional experiences such as Zingerman's Deli in Ann Arbor, Michigan; Lou Malnati's deep dish pizza from Chicago; Central BBQ in Memphis, or even a live Maine lobster.
The northern region of Italy, including Venice, was one of the hardest hit areas. McFarlen, who has traveled the world in continuing his culinary education, suggested that, while house-bound, ordering up some prosecco might provide a taste of Italy and, in a small way, support the hard-hit Italian economy.
"Prosecco comes from Italy – near Venice – and it's a great change from champagne," he said. "It's a millennial, modern twist and a little more value oriented and a little lighter than traditional champagne. It's just as enjoyable and you are now seeing it in your mainstream restaurants and high-end restaurants."
Committed to the Community
Joe's Stone Crab has a special place in the Miami community, so longtime manager Brian Johnson made a personal delivery.
"I got the opportunity to drop off some our food to the emergency room staff. It was awesome to be able to do it," said Johnson, who also encouraged four other restaurants to do the same.
McFarlen, with the support and encouragement of FireKeepers, has also been using his resources and abilities along with furloughed staffers and volunteers through The Fire Hub. "The casino is closed but we're pretty busy. Food is a big part of our business and so we're doing what we can, as a large employer at a time of need, to help out the community," he explained, detailing how the Kendall Street Food Pantry operates out of the back of The Fire Hub and is providing meal components to families in need through cooperation with the South Michigan Food Bank. "On Monday evenings we're able to get fresh food donations to over 230 families via a drive-up system."
McFarlen is personally in The Fire Hub's parking lot every Monday physically, along with the other volunteers wearing masks and gloves, loading the vehicles and greeting those who come to receive the pantry's food donations. There's a smile behind that protective mask McFarlen and the other volunteers wear.
"We have everything from milk to eggs to meat with fresh vegetables and cut fruit. It's been an amazing outpouring of donations from our food community and some of our partners like Kellogg and Post cereal companies in the area," said McFarlen, who was pleased to be able to get that variety of food to people in need.
80-percent of The Fire Hub's restaurant profits are always donated to local charities.
"Though I can't say I anticipated being involved in this type of charitable project, I have found these efforts to be the most satisfying of my entire career in food service," said McFarlen, who balances his business demands as a casino VP and executive chef with his philanthropic endeavors. He has been designated "Volunteer of the Year" by the Governor's Service Awards.
Contact Travel Writer Michael Patrick Shiels at [email protected]