All travelers want a suitcase or carry-on which is spacious enough for their needs, light to carry, and durable enough to last at least a few years. Whether you like backpacks, carry-ons, or hard-shell or soft-fabric bags, we have got you covered.
In this article, we have reviewed the 10 best travel bags for your ease. But go for one that is the right size and weight for you in terms of your traveling needs.
Our Top Choice: After extensive research, we have concluded that the AWAY Expandable Carry-on is the best travel bag. Its durable and water-resistant exterior makes it perfect for any travel conditions. With 360 spinner wheels and internal pockets and divisions, it's the best choice for staying organized and keeping your clothes looking their best. The best part is the flexibility and compact strength of this bag so you can feel free to bring your travel memories home with you knowing it will still fit as a carry-on. No matter what type of trip you are taking, you will be set with the AWAY Expandable Carry-on.
Comparison Table of the Best Luggage Sets
Below is a list of the best hard-sided and soft-sided luggage sets for international travel. Click on the name to read reviews and check prices.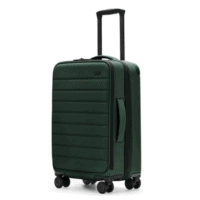 Our Top Picks
Dimensions: 21.7 x 13.7 x 9.2 inches
Weight: 9.28 lbs
Looking for a suitcase that you can take anywhere anytime? The AWAY Expandable carry-on is known for its flexibility and water-resistant exterior, which is made from water-resistant nylon. Not only is it durable, but it comes with spinner wheels which aid in a smooth ride. The interior compression makes packing more efficient, especially with the front pocket which is made for ease of access. In addition, it comes with a luggage tag made from black leather, as well as a laundry bag for your dirty clothes.
It has a capacity of 37L but is more when expanded. The interior of this suitcase expands by 1.75 inches, so you can pack it with even more belongings. It also meets the requirements as stated by most of the airlines for carry-ons. It is available in four colors: black, green, navy, and asphalt.
Buy this bag here.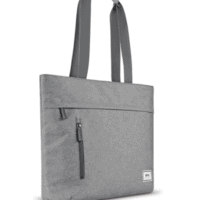 Dimensions: 15.2 x 17.2 x 1.8 inches
Weight: 1.04 lbs
If you are looking for an eco-friendly tote bag, then this Solo NY tote bag is for you. Made from recycled PET bottles, it is a sustainable, fully padded bag with compartments inside and can allow you to fit in a laptop of up to 15.6 inches. It protects it from getting damaged and is a good choice for you to take to work.
The sections inside help keep your bag organized and your belongings in place. The front pocket is great for quick access and is kept zip with a zipper. Each bag is carefully designed, free from defects, and featuring a sleek design for all environmentally conscious people.
Buy this bag here.
Dimensions: 22 × 14 × 9 inches
Weight: 6.39 lbs
This 20-inch Spinner from the Triumph NX series of American Tourister is a great carry-on that offers value for money. It comes with an expandable interior for when you have stuffed your bag but still not add a few belongings – a capacity that can be stretched by 1.5 inches more.
Made from 100 ABS material, it features four wheels for easy mobility. The interior is made of full-zip and luggage dividers and cross straps to maximize your organization while traveling. It is accepted by most airlines, although some do not allow it if the bag is overstuffed.
Buy this bag here.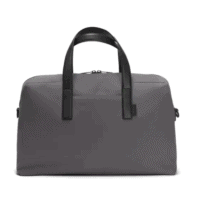 Dimensions: 16.3 x 7.3 x 10.2 inches
Weight: 2.6 lbs
This water-resistant bag by AWAY is available in two materials; nylon and leather. It is the perfect travel bag if you are an organized person as it has many compartments to keep your belongings in. Also, this bag comprises a 15-inch laptop compartment, an umbrella pocket, and more.
Therefore, it is the perfect-sized carry-on for your flight. In addition, it comes with a trolley sleeve, which helps you easily stow away your bag in the overhead compartment. It is, however, often used as a gym or work bag as well.
It is sometimes also available in limited edition special fabrics and comes in 5 different colors in Nylon and 2 in Leather.
Buy this bag here.
Dimensions: 27.95 × 19.6 × 13.4 inches
Weight: 8.48 lbs
If you're looking to travel with little effort, this is a perfect option. The Freeform Spinner is Samsonite's newest lightweight luggage addition for quick and easy travel. This expandable bag holds all of your travel essentials and souvenirs in a compact and durable form. Keep your packing organized as you travel with a cross ribbon, a divider and multi-pockets for easy access to what you need.
A more streamlined panel and double wheels make it quick to maneuver any obstacles or terrain on your adventure. Plus, this bag features a built-in ID tag and a TSA-approved 3-dial combination lock so you can feel comforted that your belongings will remain secure.
Buy this bag here.
Dimensions: 22 x 14 x 9-11 inches
Weight: 7.35 lbs
This Kenneth Cole Reaction bag is a lightweight expandable 8-wheeler carry-on. It is packed with several features, including interior zipper pockets, mesh pockets, garment-restraint panel, and elastic shoe pockets. It is based on the expandable feature and expands 2 inches more to increase its capacity when needed. The exterior comes with 4 corner guard reinforcements for maximum impact resistance, preventing the bag from excessive wear and tear.
Moreover, it comes with self-repairing Zippers, which easily glide around the bag, without any resistance. The 8 wheels are also multi-directional and rotate to a full 360 degree on any surface. It comes with a push-button for its trolley hand, which goes up to 41 inches and is great for single-hand use.
Overall, it is an excellent bag for travelers who look for both functionality and style.
Buy this bag here.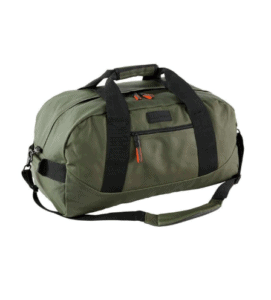 Dimensions: 11 x 23 x 11 inches
Weight: 1.7 lbs
Going on an adventure and want a duffle bag? L. L. Bean's Adventure Duffel bag is the perfect bag that will come in hand in the most rugged of places. The fabric is highly durable and water-resistant. It has a capacity of almost 2,024 cubic Inches. The 420-denier nylon and polyurethane coating, along with 600-denier polyester prints, make sure that the bag can undergo the roughest of handling. It also comes with cinch straps and zippers, which are extra-long.
It is made from handle wrap, and a strap for your comfort comes with padding, so it is easy on your hands and shoulders.
Buy this bag here.
Dimensions: 12 x 13 x 6 inches
Weight: 1.2 lbs
If you want a carry-on without wheels, then the stylish travel tote bag by Baggallini Avenue is a great choice. This lightweight bag is perfect for a quick trip with enough room to fit a pair of shoes, outfit change and toiletries.
Stay organized while you travel with all of the handy Baggallini features like the key leash, front phone/wallet pocket, laptop sleeve and water bottle pockets. There are also interior pockets to keep your passport, tickets and other knick-knacks.
Travel with the rest of your bags easily by utilizing the zippered luggage sleeve. The travel tote is water-resistant to handle any weather conditions or accidents along your journey. Not to mention it's machine washable so you can use it for years.
Buy this bag here.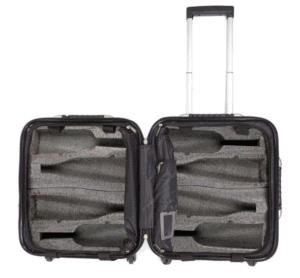 Dimensions: 17.5 x 13.5 x 27 inches
Weight: 14 lbs
An all-purpose, petite suitcase, the VinGardeValise is an ideal suitcase for alcohol lovers. It allows you to pack bottles ranging from 2 to 8. The large-format (750 ml bottles) alcohol lovers will love this for traveling, making it a versatile suitcase. The inserts can also be removed in case you need to make more room for other belongings. You can also buy additional inserts, which are sold separately, allowing you to control the temperature.
The material shell is a 100% proprietary compound that features a closed-cell made of foam. The wheels are asymmetrical Hinomoto wheels which are known for easy maneuvering. There is also an HomingPin locator in case you lose your luggage – which comes with a one-year-long subscription after activation.
Buy this bag here.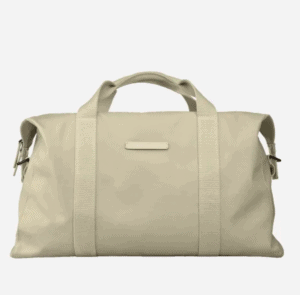 Dimensions: 20.5 × 12.20 × 7.8 inches
Weight: 2.1 lbs
A travel bag designed to be your go-to all weather duffel. This lightweight weekend duffel from HORIZN Studios is made from a waxed canvas that is both water-resistant and super durable. It has all of the convenient features you want in a travel bag including a luggage secure sleeve, padded handles and separated internal pockets to quickly reach your travel essentials.
What make this duffel stand out is the ultra-comfortable removable shoulder strap made from coated cotton and the tiny metal feet on the bottom to protect your bag and goods. Available in four stylish designs, HORIZN studios is known for their commitment sustainable travel and goods, so you can feel good on-the-go.
Buy this bag here.
And there you have it – the best luggage sets for men and women. No matter which one you choose from our list, you can rest easy knowing you have picked one of the best.