I am often asked, "How did you lose weight while traveling and being on the road?" It's an understandable question.
I looked down at the scale and held my breath before stepping on. Or, rather, I expelled all the air I had in hopes of an even lighter result. (I am clearly a travel writer and not a physicist; but I wasn't a fitness expert, either.)
Would this be the morning I would finally hit the milestone of losing 100 pounds?
I left nothing to chance. With not a stitch of clothing on and without drinking even a sip of water upon awakening, I went straight to the scale. (I even removed my watch and jewelry.) Again, for no logical reason, I gingerly put both my feet squarely on the scale and stared at the resulting readout. The digits were divine: I had done it! I had lost just over 100 lbs. in nine months.
On weigh-ins along the way, if I didn't like the result I'd sometimes step on and off the scale again. But I was taking this number to the bank. I stood there staring at the readout like the dog who caught the car.
It was not my life that flashed before my eyes, but instead mental pictures – a panel of places that propelled me to this point over the purposeful nine months of calorie counting and exercising.
Memories of the hotels, the weight rooms, the fitness centers, the beach walks, golf courses, and, yes, the restaurants all came flooding back to me…and I felt a debt of gratitude to each one of them.
Don't Worry, This is Not a Commercial
Now, I am not a "reformed smoker" type who is going to preach about fitness or shame anyone for digging into a Lou Malnati's Chicago deep dish pizza (I actually did that while "dieting"), so don't worry.
I am not advocating anything. I am a 53-year old, less-than-average Midwestern man of Irish descent with virtually no willpower. I'm an emotional eater, a closet cruncher, and also nibbles out of boredom.
I am still not a Californian flat-belly and I wouldn't know arugula from poison ivy. If you had asked me if I liked edamame, I would have told you I'd never been to Indonesia. (I still don't eat edamame, by the way, and incidentally have yet to get to Indonesia.)
I am not selling anything and did not spend a penny on supplements or private training during the weight loss, and I am totally aware I am perfectly capable of backsliding (God forbid.)
So How Did I Lose Weight?
My annual health physical was a typically solemn, shameful affair. It was like going to Catholic confession after saving up a year's worth of sins and receiving a hundred Hail Mary's as a penance. Or you know that moment of shame during your teeth cleaning when the hygienist asks you if you've been flossing? Imagine that feeling x 1,000.
"Just like I told you last year, you need to lose weight," said Dr. Bo Wu, my primary physician in Lansing, Michigan's Sparrow Health System. He was eyeing my chart which he would have loved had it been a financial report from his stockbroker. But the graph wasn't his portfolio full of climbing IPO's, it was my weight soaring like a not so Lucky Lindbergh.
So, in response, I began babbling words like "keto" and "Atkins" and "Scarsdale" until Dr. Wu put his hand up to halt me. What he actually did is throw me a lifeline. "Never mind all that. It's simple: eat less and exercise more."
Now all my life I have struggled with what President George W. Bush called "Fuzzy Math" (a variation of his Presidential father's phrase: "Voodoo Economics." But Dr. Wu mentioned an app in which you simply enter your weight loss goal, how aggressively you want to reach it, and follow the daily calorie limit the app prescribes.
If you exercise, you enter that as well. You put in what you did and for how long. You get credit, which allows you to eat more calories that day.
Most foods, even specific brands and carry-out types exist in the app and so the totaling is virtually automatic. It's simple "budgeting" and food awareness. You can eat anything you want.
If you want to spend half of your days' calories on a Big Mac Meal and a chocolate shake (1,460 calories), that's your business. If you want to try riced cauliflower instead of actual rice and save an astonishing number of calories, step right up.
Shrimp cocktail is very low in calories – just be careful with the cocktail sauce. FDA mandatory food nutrition labeling is very helpful…but also sometimes misleading unless you read the part about "servings per portion." But it's still very simple to see that a pint of Halo Top light ice cream is 300 calories…while a pint of Ben and Jerry's is well over 1,000.
With an app, you weigh yourself and enter your weight as often as you like so the app can track that for you. I understand there are several similar apps, but the one I happened to stumble across and use is called: "Lose It!"
Traveling and Eating and Exercising and Losing
I am often asked, "How did you lose weight while traveling and being on the road?"
It's an understandable question. Admittedly there were occasions which made me seem somewhat manic. For instance, on long drives, I quickly learned that there is absolutely nothing to eat in a gas station that is calorie friendly.
So, I carried with me Pop Secret or Orville Redenbacher 100-calorie snack-sized microwave popcorn bags, which I would take with me inside and pop in the gas station's microwave (which is typically meant for items purchased in the store). On only one occasion, somewhere along I-95 north of Savannah, Georgia, was I called out for it.
"I can smell that delicious popcorn through this whole place," the attendant called over to me from behind the counter.
"You want some?" I asked her.
She smiled and so I went over and gave her the freshly popped, still unopened bag…then went out to the car to get another to pop.
It wasn't all microwave popcorn, I assure you. Even though you surely grasp the concept of calorie counting and staying under the daily ceiling, it may still sound surprising when I tell you I dined during travel in renowned restaurants such as Columbia, in Tampa's Ybor City; Michael Mina's Bourbon Steak; and Joe's Stone Crab in Miami Beach.
I even had the famed fried grouper sandwich at Frenchy's in Clearwater and covered both the Michigan Restaurant Show and the South Beach Wine and Food Festival, which, admittedly, was like sticking my head into the lion's mouth.
Hotels and Habits
I may not be a man of willpower, but I am a man of habit, and daily exercise was key for two reasons. Burning off calories allowed me to eat more and still stay under the daily limit; and one can't really eat while exercising.
Often when I found myself unable to stop thinking about eating or snacking, I'd take a walk or swim, or go to the hotel gym to distract myself from the psychological cravings.
Once again, you'll be comforted to know the exercise I speak of was not complicated at all. I didn't do reps or use free weights or engage in any such fitness jargon.
I used only three forms of exercise: walking, swimming, or an elliptical machine. Each of these is commonly available at resorts, business hotels and even some motels.
I get bored very easily, so I varied the exercise and enjoyed the variety of places I got my steps in or swam or hit the fitness center. I recall so many intriguing experiences as I developed my surprising appetite for activity.
I found Swissotel Chicago's elaborate fitness center up on the 43rd floor-to-ceiling glass windows.
"A lot of hotels will put the fitness center in the basement with a couple of mirrors. Our has a view of the Chicago River and Lake Michigan and has all brand-new Peloton bikes and Technogym high-quality equipment," Ted Selogie, Swissotel's general manager told me after a workout.
"We've put in an entire floor with a lounge where you can end up working on your laptop. We've also got a private studio for lessons for people who want a more rigorous workout. There is video capability and it's all hooked up by QR code."
In addition to a fitness center, JW Marriott Miami at Turnberry Resort and Spa has a fitness center but the golf resort's Tidal Cove Waterpark was an astonishing place for an active day. The free-flowing center swimming pool, surrounded by palm trees and cabanas, was so massive it took a long time to swim back and forth across. After an hour swimming laps, I decided Tidal Cove's 60-foot tower with seven water slides was a great way to get more cardio and steps in by climbing up and sliding down…over and over. The FlowRider surf simulator made for a fun core workout, too.
Walking Where and When
Once I became almost addicted to maximizing the exercise – even on the go – opportunities presented themselves which hadn't occurred to me in the past. Instead of waiting in the lounge reading a magazine while waiting for a flight to Houston, I hit the airport concourse and walked up and down gate after gate. It made for good people watching sometimes and you'd be surprised how many miles you can log at the airports while walking the cavernous concourses of Atlanta, London, Minneapolis, and Amsterdam, to name a few.
Bundled up in Detroit I walked in the annual Thanksgiving Day Turkey Trot "run" up and down Woodward Avenue. The pre-parade atmosphere and crowds made the six miles more fun, and no one much seemed to mind that I walked the running route. Later that weekend, to beat the cold, I walked inside the Great Lakes Crossing Mall in suburban Detroit, and thanks to my I-phone pedometer I learned it is exactly one mile to walk the entire circular route of the mall.
I surprised myself when, at sunrise on a Sunday, I checked into the splendid Sandpearl Resort on Clearwater Beach. The property is popular, so I wasn't surprised when my suite wasn't ready. I gave the bellman my bags and the bacon on the breakfast buffet would normally have been my next stop, right? Instead I slipped on my sneakers and hit the sand walking two hours up the beach and back past Pier 60 and through the charter boat marina area the which gave me a very good lay of the land for the remainder of my stay.
Solitude and Serenity
One week I parked my car at Mission Inn Resort and Club in Howey in the Hills just north of Orlando…and never drove it again. It was a blissful week on foot – and the Spanish-style architecture and tree-filled grounds made me feel as if I were living on the grounds of a monastery.
A cup of the grits on the morning breakfast bar were my daily treat. I walked each day though the gardenlike grounds and along the golf holes over to the fitness center in the clubhouse. Amidst the El Campeon golf course the resort created two intertwining historical "Trails of the Conquistadors" through the flora and fauna, which I strolled every day. I played golf and swam in the warm pool. Mission Inn Resort was fabulous for my mental health and wellness, too.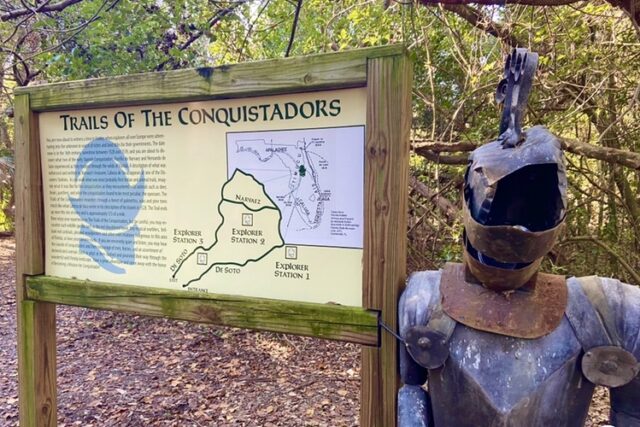 Speaking of pools, PGA National Resort and Spa, in Palm Beach Gardens, was a very health-minded experience in that the stand-alone gym facility is extensive and offered tennis, saltwater swimming, yoga, jacuzzi, and on its own would be a popular health club.
Naturally, they have all the golf you'd ever want, but after the round the main pool is the centerpiece of the resort. But it's the small mineral "Waters of the World" pools at the luxury spa which get lots of attention, including the Salies de Bearn pool with salts imported from the French Pyrenees.
Balmoral Resort, in Haines City near Disney World, rents homes which each have a private pool. The resort's big, main, zero-entry pool just steps from the small fitness room was perfect for hours of laps with piped-in music under the palm trees and sunshine and close to the outdoor jacuzzi to really unwind.
The full kitchens in Balmoral Resort's rental homes also ensured I could eat as I pleased and stick to my basic low-cal staples including, yes, microwave popcorn. Nearby I also did some walking around the lake adjacent to Walt Disney World's Epcot Center which connects to Disney's Hollywood Studios theme park via the Boardwalk Resort. Circling the lake (which is about a mile around) gives views of the Yacht and Beach Club; Caribbean Beach Resort; the Swan and Dolphin Hotels; and various colorful dining and shopping storefronts.
Footprints in the Sand
While Disney's beaches are man-made and mostly decorative, I walked countless miles in the surf of Sarasota's Crescent Beach on Siesta Key; on the firm, packed sand of Daytona Beach on the Atlantic side of Florida; Miami Beach (on the beach, on "Deco Drive" and on the boardwalk between the hotels and the beach; and nine miles between the piers on Panama City Beach.
I found it's all about keeping the exercise interesting – especially the walking. One of my favorite strolls – I hesitate to call it a hike because it might scare people off – was on the scenic, wooded grounds of the historic home of poet Carl Sandburg in Flat Rock, North Carolina at the southern end of the Appalachians.
I also walked in the steps of history on the Old Course at St. Andrews, Scotland – golf's first course – for a round of during the same trip I got to preview, step by step, the St. Andrews area's newest links course: Dumbarnie Links, a wild, natural seaside affair designed by professional golfer Clive Clark.
The point is there are plenty of places to get your steps in and there is no better way to experience a destination, whether it be the San Diego Zoo, the Louvre Museum, or downtown Chicago's Navy Pier, than by walking, watching and winnowing away weight.
Read more of Michael Patrick's work at The Travel Tattler. Contact travel writer Michael Patrick Shiels at [email protected]