I've never been a huge fan of cruises, but I've always loved the concept of traveling from place to place by boat with just my family or a group of friends for company. Sailing has always seemed way above my skill set, so when I heard about a company that lets you rent luxury houseboats and cruise around rivers, lakes and canals of Canada and Europe, I wanted to learn more.
Le Boat Cruise on the Rideau Canal
Le Boat invited me to experience their fleet — the world's largest — self-drive boats that require no license or experience to drive on a river cruise trip along the Rideau Canal in Ottawa. I was nervous at first about driving the 44-foot houseboat for a week, navigating major waterways, and was really surprised about how easy driving actually was.
The put-in for my adventure was Smiths Falls, which is about an hour drive from Ottawa and where Le Boat's North American headquarters are located. It is also in the middle of the Rideau Canal, making it a great place to start your trip.
Where is the Rideau Canal?
The Rideau Canal in Ottawa, Ontario, Canada is one of the 19th century's engineering great feats and is North America's oldest continuously operated canal system. Constructed between 1826 and 1832, it was built as a strategic military route, but was never used in that capacity.
Today the 125-mile-long canal, which runs from Ottawa to Kingston, is in its 187th season as a recreational waterway. There are 47 locks, and each is a unique park-like space to explore.
Upon arrival at Smiths Falls, I had an orientation with base manager Sandy Crothers who assured me that I was in good hands. After all Le Boat has been doing this for 50 years now.
Luxury Le Boat Houseboat
So I eagerly hopped on board the houseboat to learn how to drive. My nervousness eventually lessened, and I started to catch on and get the feel for driving the boat. And also parking it, which was made easy thanks to bow and stern thrusters, which make the process intuitive. I also felt good knowing that should I have any issues at all while on the water, Le Boat mans its phone lines 24 hours a day.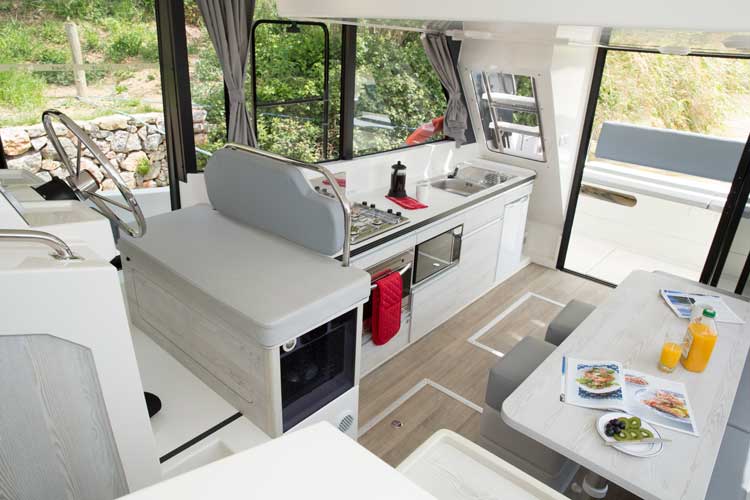 For this trip, I was in a super comfy four cabin boat called the Horizon 4. There were four bathrooms and the boat can sleep up to nine with a fold out bed in the kitchen.
The boats come in all sizes, however, which is great for different budgets and group sizes. The largest is the Horizon 5, which can sleep up to 12 people in five cabins. The smallest is the Horizon 2S, which has two cabins and two bathrooms.
What is also great about the boats is regardless of size they all come with sun decks, BBQs, fully equipped kitchens, air conditioning and heat and en-suite bathrooms in each cabin.  Note there is a three-night minimum for any rental.
Day 1 on the Rideau Canal
We spent our first night at Chaffey's Lock, between Induan Lake and Opinicon on the Opinicon isthmus. After chilling on our sun deck with sandwiches for a bit we went on a walk around the area and enjoyed dinner at the Opinicon Resort.
An Adirondack-style fishing lodge on the banks of Opinicon Lake, you'll find a pub, restaurant and ice cream shop onsite. Although we had a fully stocked fridge back on the boat, I made a point to eat at least one meal off the boat each day so I could get a feel for the towns I was passing through.
My meal at the Opinicon Pub was delicious. I started with a kale caesar salad with toppings like bacon jam, garlic vinaigrette, prosciutto and asiago. Then I went with the vegan burger for my main. It came with greens, tomato, avocado aioli, crispy leek, chive cashew cheese, brioche and was super tasty. The pub also serves some local Ontario wines, including an excellent pinot noir.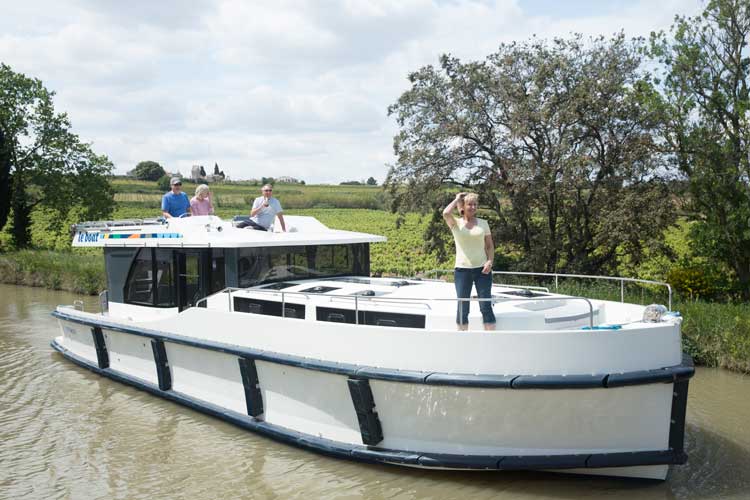 Day 2 on the Rideau Canal
We spent the night docked in town then cruised on to Westport in the morning. It was about a two-hour cruise down the river and the first time we crossed a lock. I was so impressed with how friendly the lock masters were helping guide me — I am sure they could tell I was nervous. From the lock, there is a section called the narrows, which was trickier for me to navigate, but also a fun challenge that made me feel more confident in the open water.
Once in Westport, it was time to lace up the hiking boots and hit the trail. A local told us to head to the Foley Mountain Nature Center, where we took a trail that led to a beautiful overlook with views across the town.
Afterwards it was time to check out the Westport brewery, a small village craft brewery on Main Street that is surrounded by water. The back porch overlooked Westport Harbor and the views were just stunning. I ordered a flight of beer to try the line up.
Some of the mainstay beers to try including the Upper Rideau Blonde ale, which is a balanced light ale; the Lakeside Lager, which is a golden German lager and the Rideau Lakes Red Ale, which has sweet caramel notes.
From beer it was time to move on to wine with a visit to Scheuermann's Vineyard and Winery. It is owned by husband and wife team Allison and Francois Scheuermann who are the heart and soul of the operation.
On our visit, Francois did the wine tasting. He is a French trained chef, which means there are also some outstanding food options here. The vineyard is part of the Scheuermann's home. They have five children's home who all pitch in to keep the operation bustling by doing everything from farming, waiting on guests and shucking oysters.
With one look at the menu we decided there was no way we were headed back to the boat before eating. We enjoyed wonderful wood fired pizzas cooked in an oven designed by Francois accompanied by wines from the vineyard which ranged from a Vidal 2015 to a Cab Franc.
Day 3 on the Rideau Canal
The next morning, we cruised four hours down the canal to Lower Beveridges to visit the town of Perth, which is about a 15-minute drive from where we parked the boat. The town is 200 years old and known for its limestone architecture.
Highlights include Perth Chocolate Works, which was a personal favorite for me and my sweet tooth. I was so excited to be able to see behind the scenes where the handmade chocolates are made. I even got to assist in making the chocolate myself — I added a truffle filling into espresso cups topped with dark chocolate coffee beans.
Don't forget to stop by the Perth Cheese Shop, where you can sample all different kinds. Or grab a charcuterie board to take back to the boat or enjoy in the town's leafy green Stewart Park. Some of my favorite cheeses: The Triple Chocolate Cheese from the UK, which tasted like cheesecake but wasn't nearly as sweet. I also loved the Black Truffle Mountain Oak Gouda, which is made near London, Ontario.
And then there is the Perth Pie CO owned by Kassy Boulay, who is self taught and used to work at Beaver Tails and opened the space alongside "business roommates" of Artizen Kombucha.
Here you'll find sweets and a kombucha made on site. There are six types of pies with flavors ranging from tart cherry to raspberry mint. There are also moonshine infused pies like rhubarb pie with strawberry moonshine, which was quite interesting.
Speaking of moonshine, we also checked out Top Shelf Distillers that makes everything from gin to vodka and whisky. They also sell 100 proof moonshine called Reunion, which come in a variety of flavors from maple to cherry. We did a tour and then had a house-made cocktail.
Day 4 on the Rideau Canal
On our last day on the boat we headed back towards Smiths Falls where we checked out the Eastern Ontario Railway Museum. The station building here was built in 1912 by the Canadian Northern Ontario Railway and is now a Canadian National Historic Site. The museum is home to an extensive collection of rolling stock and inspection vehicles with over 10,000 artifacts on display.
Next up was Merickville, which is about 15 minutes drive from the museum. It is a charming little town with a historic vibe and a Main Street filled with shops and restaurants. I had to pause at Stella Luna for some Italian-style gelato that is made onsite in small batches every day with some of the ingredients imported directly from Italy.
We also chose an Italian restaurant for our last dinner out. We went to DiLuCa, a family run place. You can't go wrong ordering any of the house made pastas. The lasagna is the real winner though. It is a bestseller made from a special family recipe. After dinner we sailed on to Smiths Falls and docked for the final night.
Day 5 on the Rideau Canal
I decided to spend a few days in Ottawa on the way out as I also wanted to experience Canada's capital city and this was a great combo. In Ottawa top attractions include Parliament Hill, the Byward Market and the Canadian Museum of Nature.
La Terrasse is a great dinner choice. Come at sunset where there is a triple bonus of a spectacular sunset, views of a lock station and Parliament Hill. The food was also amazing.
I started with the Burrata & Heirloom Tomato comprised from Burrata, Marinated Heirloom Tomatoes, Fresh Basil, Aged Balsamic, Spanish Olive Oil, Garlic Toast. And for a main I went with the Lobster Cobb Salad with four minute egg, crispy bacon, lobster, avocado, charred corn, blue cheese and Cobb dressing.
When it comes to sleeping, the Fairmont Chateau Laurier is a grand old hotel in a limestone building constructed in the style of a French chateau that faces the Rideau Canal in the heart of downtown Ottawa. It recently underwent a multi-million-dollar renovation that gave the rooms and suites a full makeover.
I spent two nights at the hotel before heading back to Denver. Traveling with Le Boat was a mesmerizing experience and I am already plotting a return, this time with my husband and son in tow.
Author Bio: Living across Europe and South America unlocked Carri's passion for traveling. Never shying away from a new adventure whether swimming with the pigs in the Bahamas, bird watching in the Galapagos or Heli-Hiking in British Columbia, you never know where you will catch Carri Wilbanks next. She resides in Colorado between freelance trips with her husband and son where they enjoy hiking, mountain biking and skiing.
Latest posts by Janna Graber
(see all)