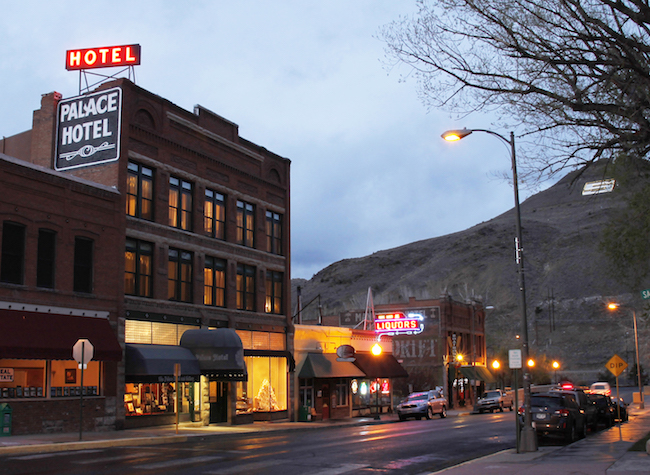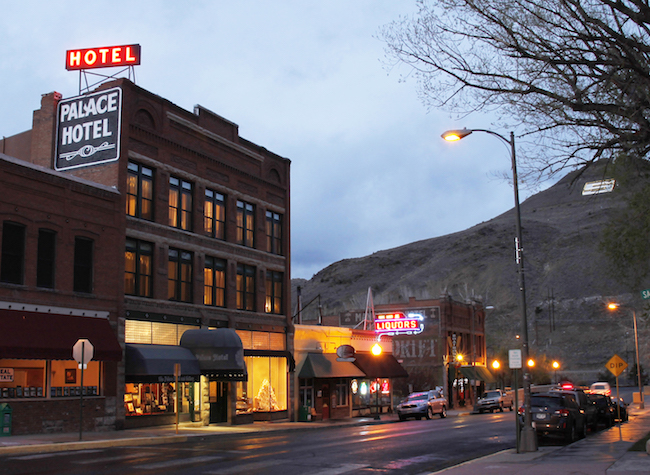 Note: As of Dec. 31, 2020, The Palace Hotel closed as a hotel and its suites have been sold as condos, some for private use and some for rentals. Check various vacation rental companies in Salida for inquiries.
History of the Palace Hotel
Like so many communities in Colorado, Salida started life as a railroad town. Shortly after its founding in 1880, Ambrose Ramsey began building the Palace Hotel in 1906. That was the same year an earthquake and fires devastated San Francisco, so he poured a solid concrete foundation seven feet below the basement. The hotel opened three years later to much fanfare.
That foundation worked, and today the Palace Hotel still stands. Its fifth owners, Fred and Vicki Klein, bought it in 2006 and did a complete renovation. "It's an honor to be a steward of this old building," said Vicki. "It was rough, but I knew I could make this place the palace that it is."
The Kleins filled it with Old West antiques and furniture found in Colorado and New Mexico and brought back the Victorian elegance of Ramsey's day. They kept the original front desk—a converted bank teller's cage—where a bullet is lodged, a throwback to Colorado's wild west days. Also interesting to see that Ramsey was repurposing and recycling back then! Today local artists display their artwork on the walls of the lobby. The Palace is the only hotel in downtown Salida.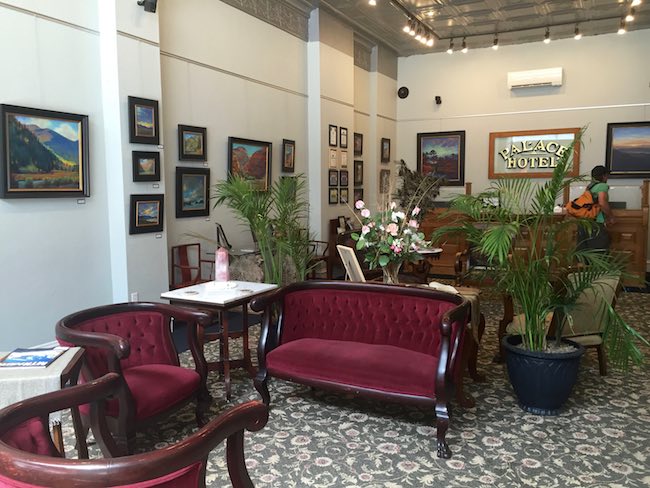 A long, wide staircase leads to the second and third stories. There is no elevator, but staff is available to schlepp luggage upstairs if you ask at check-in.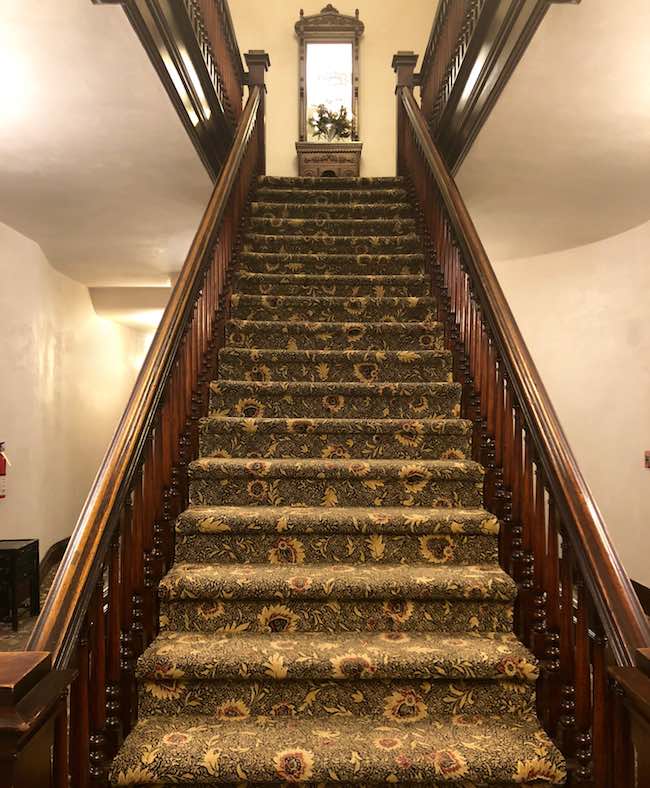 Rooms at the Palace Hotel
The Kleins converted 40 rooms into 15 large suites, each one different and each with a private bathroom and fully stocked kitchenette. Suites also have TVs, free WiFi, clock radios with ipod docs, climate control systems, artisan bath products, hair dryer, and lovely bed linens made from eucalyptus.
Each suite has a name pulled from history. This one is "Napestle," a Native American word for "red water" describing what the Arkansas River looked like to Spaniard Juan de Ulibarri who first named it. I know that tidbit because I read the framed little history lesson sitting on the antique dresser. A nice touch for an historic hotel.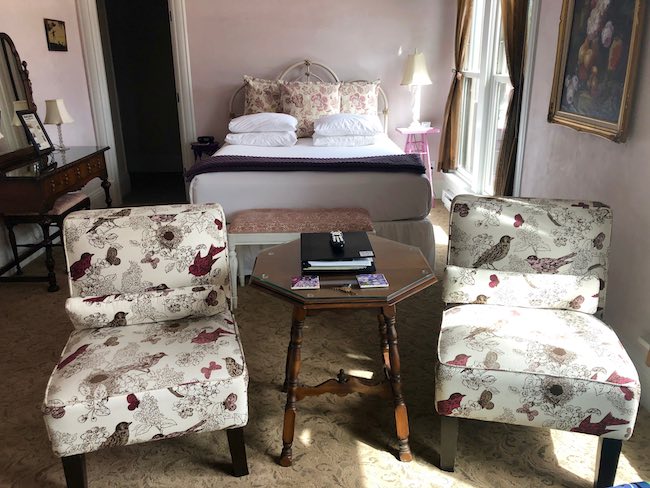 The kitchenettes are well stocked (organic coffee and tea included) and contain everything you need for cooking.
But you don't need to cook breakfast. At check-in, you tell them what time you wish to have your continental breakfast, and, Tah-Dah, it appears outside your door at precisely that time! On vintage dinnerware, of course! It consists of orange juice, fresh muffins and Palace Parfaits (yogurt with granola and fruit).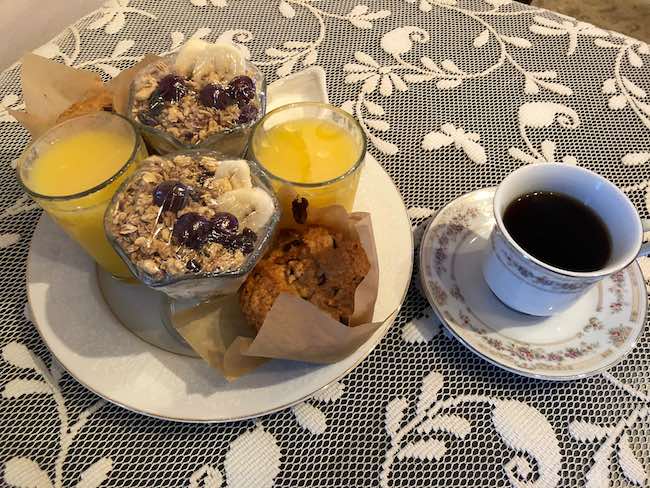 Other amenities include storage for bikes, skis and other large items and free laundry. There is one ground-level suite reserved for physically challenged guests, children younger than 12 and/or pets. (Families with small children are not allowed in the upstairs rooms.)
In addition, the Kleins have initiated green energy and sustainable practices in the building.
There are a couple of reserved parking spaces on the street available from 3 p.m. to 11 a.m. If these are filled, you can park in a lot a block away for free.
What To Do Close to the Palace Hotel
Location, location, location. . .the Palace Hotel sits in the best spot in town—across the street from Riverside Park and steps from the Arkansas River in old town Salida. The park is a beautiful tree-lined green space along the banks of the river. During the summer it's the venue for art shows, outdoor concerts and events, including FIBark, the longest running whitewater festival in the nation. Contestants vie for honors on the river while music and carnival rides make everyone happy in the fun four-day event.
Many of Salida's great restaurants, art galleries (it's ranked among the 100 Best Art Towns in America) and boutiques are within walking distance of the Palace, as is the Steam Plant Event Center, another multi-use venue.
Salida is also an outdoor lover's paradise in the midst of more 14,000-foot mountains than any other region in Colorado. It's homebase to every mountain sport, including wintersports, and activity. For more on Salida, visit salida.com.
Ambrose Ramsey would be happy to know his little gem is still the best place to stay in town.
The Palace Hotel, 204 North F Street, Salida, CO 81201; 719-207-4175; www.salidapalacehotel.com
Claudia Carbone is an award-winning travel writer based in Denver. Read about other hotels she's visited in Sleepin' Around.
Latest posts by Claudia Carbone
(see all)