In 1607, a group of English settlers arrived at Jamestown Island. Captain John Smith played a key role in the founding of Jamestown, the first permanent English settlement in North America. James Fort was soon built on this site and more settlers arrived.
However, Powhatan, the leader of the indigenous people who resided in this same area, was very wary of these "trespassers." So, there were a lot of disagreements and tactful negotiations between these two groups. 
The natives provided the new arrivals with maize, while the English offered beads and copper in return. As time passed, Captain John Smith was eventually captured by Powhatan, and his execution seemed imminent. However, John was eventually released, and a nice myth soon spread that Pocahontas, the daughter of Powhatan, had fallen in love with John and had asked her father to spare him.
The actual truth is somewhat different, but John survived this ordeal – and he eventually returned to England. Pocahontas actually married another Englishman, John Rolfe. This latter "guest", yet another John, was in Jamestown to introduce tobacco farming to the area. While there, he married Pocahontas in the Jamestown Church. They would later go to England as a married couple.
A Tour of the Fascinating Jamestown
Since I, John Smith, have the same name as this historically significant character about whom I've been writing, I've always been fascinated by his story and this important slice of American history – and I've often thought about visiting this historic area.
Well, my wife and I finally went to Jamestown this year, and we soon discovered that the ongoing excavations continue to reveal what life was like here back in the 1600s. A trip back in time, via a walking tour with a history interpreter, provided insight into this fascinating past.
The original James Fort is long gone now. The 17th-century church tower is the last surviving above-ground structure from the days when Jamestown was the capital of Virginia.  A newer church, the 1907 Memorial Church, was erected for the 300th anniversary of the settlement.
The glass panels on the floor allowed us to look down and view the brick foundations of the 17th-century church. This was where the colonists had met back in 1619 for the first representative assembly in English North America. 
Best Tips & Tools to Plan Your Trip
Archaeological remains are still plentiful throughout this settlement area. Many of these are on display in the Archaearium Museum now found on site. In the Visitor Center, we discovered a fascinating video about the early days of settlement at Jamestown, with its barracks, taverns, blacksmith's shop, storehouse, etc.
There's still a nearby Glasshouse, where we could observe artisans producing glass by hand in a similar way to what the original Jamestown colonists did over 400 years ago. We also discovered a number of re-created foundations on the grounds, for the original settlement was lost in a fire – and the Virginia capital was moved to Williamsburg in 1699.
Read More: Mount Vernon: George Washington's Legacy on the Potomac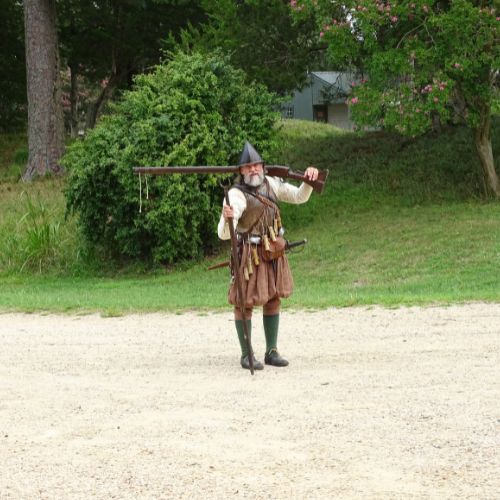 John Smith and Anas Todkill
While we explored this fascinating site, we saw statues of both John Smith and Pocahontas on the grounds. I learned that John could be rather cruel and very strict and he expected lots of work to be done.
One of his most famous sayings, now available on t-shirts, is "He that will not worke, shall not eat." Many words were spelled with an "e" at the end back then. This area was originally referred to as Jamestowne.
Find your Williamsburg hotel here.
While there, I also met up with the Director of Living History and Historic Trades, Willie Balderson. He was dressed in costume to portray Anas Todkill, a compatriot of the historic John Smith. He told me that John had been a bit of a scallywag, for "he represented both the best and the worst"; however, "he was the glue that saved the place". Therefore, he concluded that Captain John Smith played an integral part in the creation and continuance of Jamestown.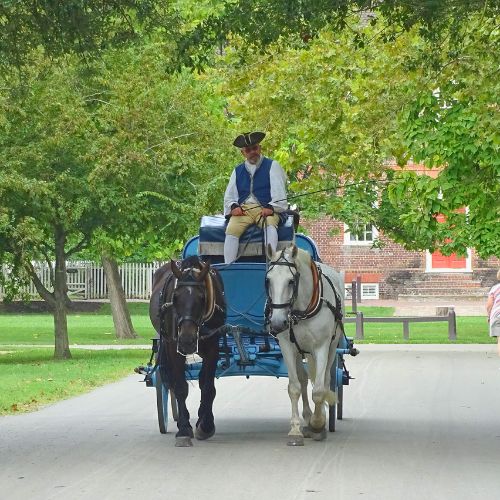 Exploring Colonial Williamsburg
After our educational exploration of Historic Jamestowne, we drove on the Colonial Parkway to what became the next Virginia capital, Williamsburg. Here, we took a walking tour of Colonial Williamsburg.
We encountered many costumed interpreters from a slightly later time period (during the period of the American Revolution). We observed many merchants working away at their 18th-century trades, including apothecary, shoemaker, blacksmith, silversmith, and wigmaker. Then, we passed by many taverns and historic sites. We discovered that there were many horse and carriage rides available there.
Book a tour of Colonial Williamsburg here or a tour with Williamsburg Walking Tours.
We strolled past the statue of Thomas Jefferson, the Bruton Parish Church, the Courthouse, the Capitol, and the Governor's Palace. One of the side streets off the main Duke of Gloucester Street even gave us a glimpse of the beautiful Williamsburg Inn, where several presidents and celebrities have stayed.
We were also told that Colonial Williamsburg was home to many ghosts, so we added a night ghost tour to our agenda. We of of eerie experiences at historic houses like the George Wythe House and the Peyton Randolph House.
Read More: Exploring the Historic Oregon Trail and Its Legacy
Another John Smith Link
After exploring Colonial Williamsburg by foot, we again took to the road and completed the Colonial Parkway and the Colonial National Historical Park by driving to Yorktown.
As we headed east, we viewed the York River and learned that the Captain John Smith Chesapeake National Historic Trail had become the nation's first water-based historic trail back in 2006. It travels over 3,000 miles from Jamestown, Virginia to Cooperstown, New York.
Touring Yorktown, Virginia
My wife's maiden name was Yorke. It seemed especially fitting that if I was finding out more about this John Smith character by my visit to this area, my wife should learn more about Yorktown, too.
The United States won its independence from the British at the Battle of Yorktown in 1781. The war actually came to an end by 1783. Therefore, a visit to Yorktown's American Revolution Museum, the Yorktown Battlefield (including Surrender Field), and the Yorktown Victory Monument are musts while visiting here. We'd also recommend a visit to the Mobjack Bay Coffee Roasters (on Historic Main Street) and a stroll through Yorktown's Riverwalk Landing.
Visiting the Williamsburg Area
A visit to this area is not only of immense historical significance, but it's also a place to actually experience history. Not only could we walk through an archaeological dig site from the 17th century at Jamestown and experience an 18th-century visit to Colonial Williamsburg, but we could also check out Yorktown's Revolutionary War battle sites – and all were linked by the 23-mile Colonial Parkway. It's a very worthwhile vacation destination.
For More Information: www.visitwilliamsburg.com
Author Bio: John is a freelance travel writer and photographer who enjoys traveling the world and writing about his adventures. He has written weekly travel features for a group of community newspapers, presented several travelogues, and is the author of two major cycling books: "Cycling Canada" and "Cycling the USA"
Read More: