Summer vacation in Colorado often means hiking and mountain adventure. But in Grand Lake, Colorado, it also means time on the lake.
Grand Lake is a small mountain town with a population of 516. At 8,369 feet, it is nestled in the Rockies along the shores of Grand Lake, Colorado's deepest lake, making it a popular summer destination.
Grand Lake's clear waters are perfect for boating, fishing, kayaking, paddle boarding and more. Best of all, Rocky Mountain National Park, one of America's top national parks, is just minutes away.
What makes a Grand Lake vacation so memorable? On a recent visit with my friend, I had the chance to find out.
Summer Weather in the Rocky Mountains
As a Coloradan, I love being in the Rocky Mountains all year round, but summertime is my favorite. That's because summer weather in the Colorado Rockies is almost perfect. The days are warm and sunny, and the nights cool down just enough for a light sweater.
Best of all, we have bright blue skies and there are fewer crowds. You'll have plenty of that mountain Zen all to yourself.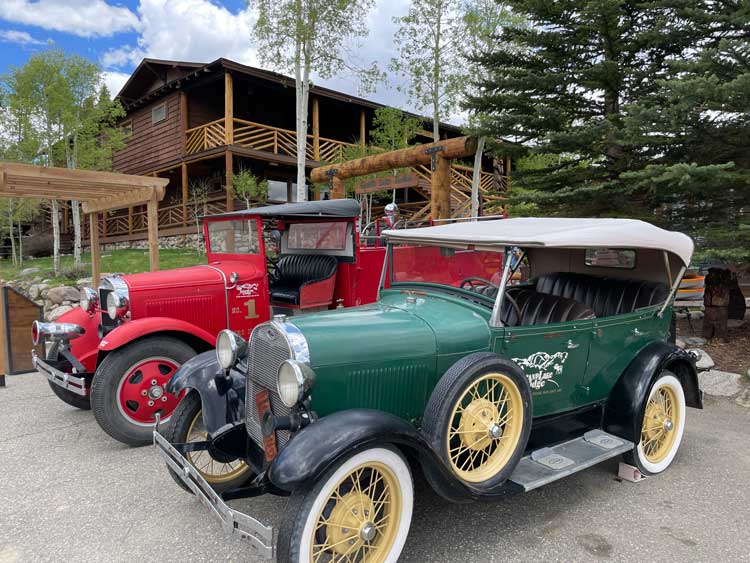 Grand Lake Lodge
The perfect base for your visit to the region is Grand Lake Lodge. Located on a hill overlooking the valley, the Grand Lake Lodge is a beloved icon. It was built in 1920, and recently underwent a complete restoration, which retained its historic charm.
We stayed in one of the pet-friendly, cozy cabins tucked into the woods around the lodge. It was so enjoyable getting up to have coffee in the morning on our little deck.
Most guests also spend time in the main lodge, which is the heart of the property.
The lodge is home to Huntington House Tavern, which serves brunch and lunch, as well as a Prix Fixe three-course menu for dinner ($65/person). Sitting at the historic Lodge Bar, it's easy to imagine you've stepped back in time.
Outside, there's a swimming pool and outdoor fireplaces with comfortable chairs. Our favorite spot was the wide porch with swings and an amazing view of Grand Lake.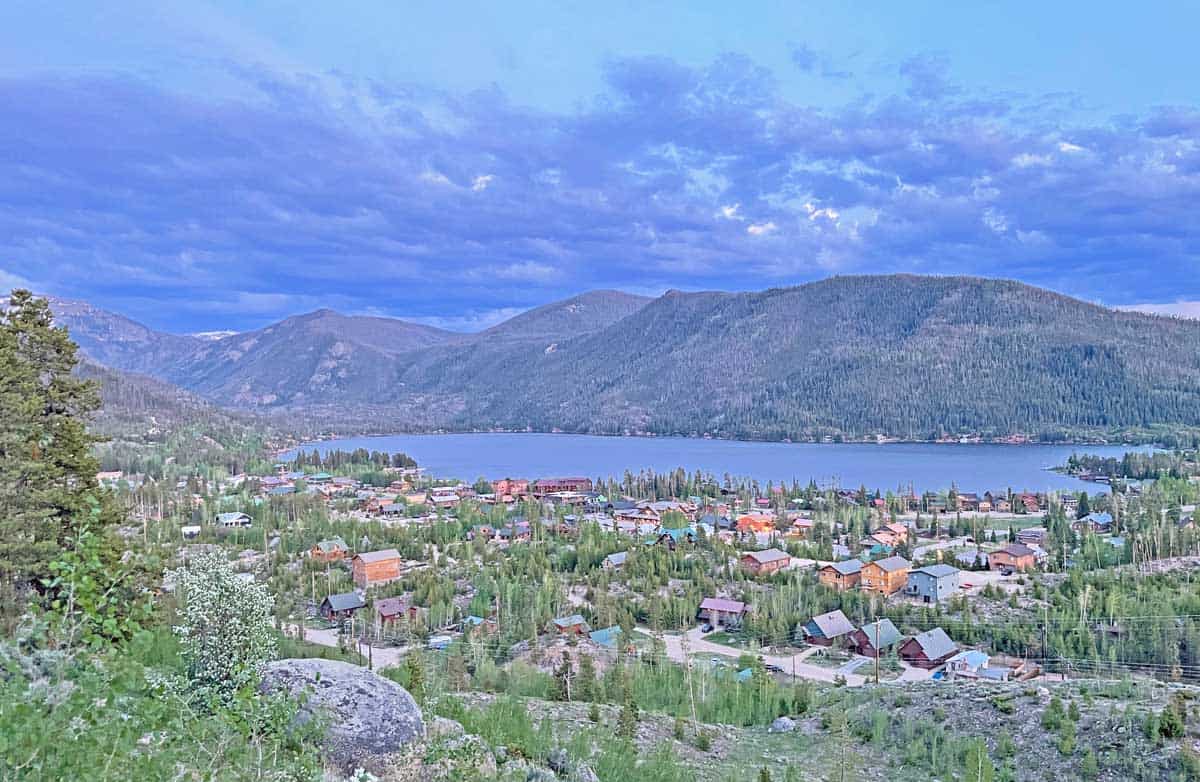 Miracle Save
Grand Lake Lodge and the town of Grand Lake itself were almost lost during the fast-moving East Troublesome Wildfire in October of 2020.
A mix of paid and volunteer firefighters from a few small Grand County departments bravely fought to save their town and the surrounding region, including Rocky Mountain National Park.
The smoke and fire were so intense that it was hard to see what had been lost. For two days, the staff of Grand Lake Lodge thought their beloved historic lodge was gone. Indeed, more than 300 homes and structures in the region were lost.
The fire came dangerously close to the town, but then a miracle happened – it snowed. A storm dropped a wet blanket of snow on the area and the town and Grand Lake Lodge were saved.
When you visit today, you can still see burn scars in Rocky Mountain National Park and near Grand Lake Lodge. Even diners at Sloopy's, one of our favorite local eateries, can view burn scars right outside the restaurant.
Today, however, the sky is bright blue, and life has gone on. Mother Nature is decidedly resilient. Green signs of life are springing up in the burn areas on the hillside, and visitors once again fill the town's historic boardwalk.
You can capture the different terrains and fun memories in the Rocky Mountains with a Canon camera. The pocket-sized PowerShot ELPH 190 IS is ideal for snapping pictures on hikes around Grand Lake. Check out more cameras and deals here.
What to Do in Grand Lake
The lake takes center stage during the summer. Kids play on the beach along the waterfront, while others picnic on the shore, fish, kayak or go standup paddleboarding.
On our first afternoon on the lake, we took a one-hour boat tour on Grand Lake with Headwaters Marina.
Captain Rick, who can often be found at the helm, gave us a fun narrative filled with a bit of history and a little bit of current-day culture (such as where actor Tim Allen used to live and where he got married on the lake). The day was sunny, and the lake a deep blue. It was a fun introduction to the lake and its lakeside community.  
Headwaters Marina also rents pontoons and boats by the hour for those who want a family lake outing or time to fish.
Standup paddleboards and pedal boats can also be rented on the lakefront.
Kayaking on Grand Lake
The next morning, we were up bright and early to go kayaking on the lake. Early morning is the best time to go, as afternoon winds can make the lake choppy. Mountain Paddlers is a family-owned company that rents kayaks right along the shore.
After a little instruction (it was my friend's first time kayaking), we went out onto the lake. Wow, what a fantastic way to experience the lake. The water was as smooth as glass as we paddled along the shoreline, taking in the grand homes and their huge boathouses along the lake.
My friend quickly learned how to maneuver the kayak, so we ventured across the lake to see more of the mountain scenery. By the time we paddled back into shore, we were tired but thrilled with our experience.
Check out Sierra Trading Post to find everything from swimsuits and beach towels to boots and camp gear here.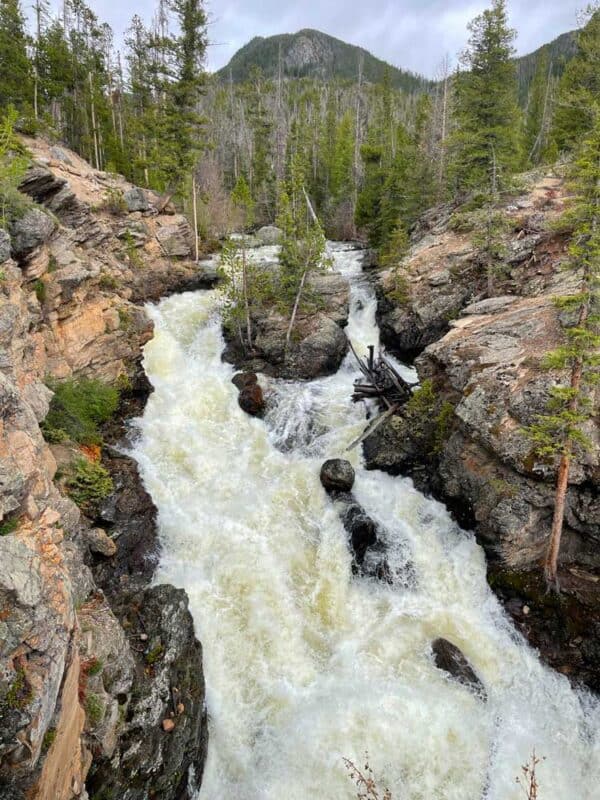 Hiking in Rocky Mountain National Park
The crown jewel of the region is undoubtedly Rocky Mountain National Park, and hiking in RMNP is a must-do if you visit the region.
These days, Rocky Mountain National Park requires all visitors to have a reservation, and the entrance fee is now $35 per car.
Happily, there is one way to experience RMNP without a reservation or entrance fee. If you visit RMNP from Grand Lake after 3 pm, you don't need a reservation or to pay the fee.
At the edge of Grand Lake is the trailhead to Adam Falls Trail in Rocky Mountain National Park, a 0.8-mile trail that leads to a waterfall.
After 3 pm, we drove to the trailhead and hiked to beautiful, roaring Adam Falls. It was an easy trek, so we continued on the trail for a few more miles. We passed small lakes and marshes, where we saw beaver dams and lots of birds. We were almost the only ones on the trail at that point, and it was quiet and peaceful walking through the trees.
The trail is best used from June until November.
Other Activities in Grand Lake
If you have time, take in a show at the Rocky Mountain Repertory Theater in Grand Lake. This small, but mighty performing-arts venue presents professional productions of Broadway musicals every summer.
If it's raining, the Kaufmann House Museum along the lakeshore is the perfect place to spend the afternoon. Built by Ezra Kauffman, it was a hotel from 1892 to 1973 and has been nicely preserved.
Shopping in Grand Lake
You'll want to plan plenty of time to peruse the historic boardwalk in Grand Lake, which has more than 60 stores, restaurants, saloons and art galleries. We found several unique home décor items to take home.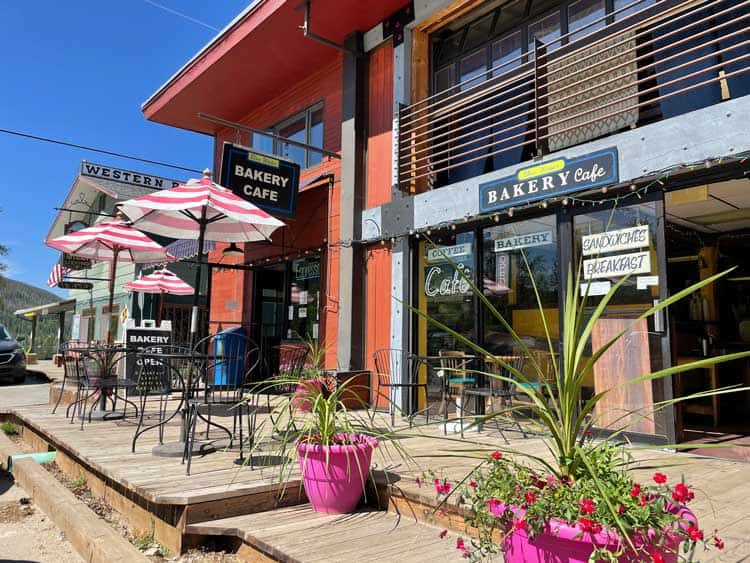 Where to Eat in Grand Lake, Colorado
Whether you want something quick or a leisurely upscale dinner, Grand Lake has plenty of options to choose from. Some of the town's most popular dining destinations include the One Love Rum Kitchen, Sloopy's Grill, and Charlies Bar and Grill.
For great BBQ, head to Sagebrush. Blue Water Bakery Café has yummy pastries, good coffee and a nice vibe. Miyauchi's Snack Bar, located along the shore near the beach, is the go-to place for ice cream when you're relaxing at the lake.
If You Go to Grand Lake
Many guests fly into Denver, which is a 2-hour drive from Grand Lake.
Read our Colorado Travel Guide and more articles on travel in Colorado.
For more information on visiting Grand Lake, Colorado, see visitgrandcounty.com and gograndlake.com
Book This Trip
Ready to have your own Rocky Mountain vacation at Grand Lake, Colorado? Then start planning your trip by checking out hotel and VRBO reservations, local restaurant reviews, inside tips on the best hikes and more on TripAdvisor and Travelocity.
When you're ready to book dates, check out CheapOair for exclusive flight deals and ground transportation options. Be sure to protect your trip from flight changes, lost luggage and other unforeseen events with TravelGuard.