Whidbey Island is a well-known destination for Seattle area residents, as well as for visitors to Washington State. As the state's largest island, Whidbey joins nearby Camano Island to form Island County. The county has about 85,000 residents currently.
Planning a last-minute trip to Washington?
Top Experiences and Tours in Washington:
Where to stay and transportation in Washington:
How to Reach Whidbey Island
Located just 27 miles north of Seattle, yet world's away, Whidbey can be reached via car or ferry. Some visitors opt to do both in the same trip for a change of scenery. They typically drive north over Deception Pass to explore the island from north to south, then return via the Clinton ferry to Mukilteo and back down to the city.
Allow about 90 minutes if driving one way, versus roughly an hour plus for the drive/ferry route. Ferries run approximately every thirty minutes. Build in extra room to your trip if you're planning to take the ferry on weekends or holidays, as these are typically peak times and often very busy.
Idyllic Whidbey
With its mix of bucolic and coastal landscape, Whidbey makes for an enchanting getaway. The island is an outdoor paradise, with plenty of opportunities to hike, bike, kayak and sail. But it's a cultural mecca, too, as artists, writers and other creative types are drawn to this peaceful haven. Add in a vibrant culinary scene for the complete trifecta.
Best Tips & Tools to Plan Your Trip
Plenty of Parks to Explore
Outdoor aficionados will particularly enjoy the ample amount of greenspace the island offers. Head to Fort Ebey, Fort Casey, Fort Warden or Keystone State Parks for miles of hiking trails, lighthouses and historic remnants, along with unforgettable vistas of the water and mountains.
Add Deception Pass State Park to your list, as this is Washington's favorite state park. From here, you'll see spectacular, stomach-dropping Deception Pass Bridge and if you're lucky, you might spy a pod of orcas passing by or a family of seals frolicking in the waves. The rugged cliffs and coves add to the dramatic panorama.
Don't Miss Langley!
The small town of Langley on the southern end of the island is also a visitor magnet. Just minutes from the ferry to mainland WA, it charms visitors with its galleries, antique stores, eclectic boutiques, cozy cafes and brew pubs. Stroll the picturesque streets along the waterfront, peek into flower bedecked courtyards and keep your eyes open for bald eagles and great blue herons. You'll most likely be serenaded by a barking sea lion or two.
Price Sculpture Forest
What's also fun about Whidbey is discovering its lesser-known treasures. Like Price Sculpture Forest, for example. This community park, which is located near the town of Coupeville, is a gem. And it's free to the public. Here, nature and outdoor art converge in a unique interactive museum.
The Sculpture Forest was created by Scott Price in collaboration with other partners. Price was inspired by his own personal travels, which often combined an appreciation for the natural world with the joy of exploring and discovering sculpture within the outdoors. Years of planning and effort went into creating the park, which finally opened in October 2020.
Enter the park under a wooden archway that encourages visitors to "Wander and Roam." Pathways wind through the forest and the sculptures provide delightful surprises along the way. Each is identified with its title and the name of the artist who created it.
Find Abstract and Realistic Creations
"Wind Shear" by Jeff Kahn is a large-scale kinetic installation made from aluminum and stainless steel. Watch it move in the breeze and marvel at its elegant grace.
Artist Jeff Neal's "Attacking Eagle" depicts an eagle in predatory mode. Though constructed from stainless steel, the bird appears realistic and full of power and motion. You can just imagine its fierce determination and single focus as it goes after its prey.
Kirk Seese's colorful, geometric "Feather" looks like it's made of stained glass, though it's not. The epoxy resin outer coating on the panels acts like a mirror and reflects everything around it.
My Personal Fave at Price Sculpture Forest
One of my favorite pieces is "The Foundation of Animalia and Fungi" by David D'Ostilio. The sculpture consists of two human legs in a walking position. Made from oak logs, the legs are coated in beeswax and have white bumps all over them to give the appearance of fungi.
In Jenni Ward's piece, "Lichen Series: Spore Patterns," fungus also takes centerstage. The over three hundred ceramic wedge-shaped pieces of the sculpture are based on a type of fungus that has a leathery surface and is known to anchor itself to the side of decaying trees. They are spread out in a mushroom-like formation across the forest floor.
Artist Jeff Tangen's "Playa Flowers," provides pops of color in the woods. Made of reused materials, it sparkles when the sun shines through the glass forms. The piece actually began life as a Burning Man installation, on display at the annual festival in Nevada. It has now "blossomed" here in the Forest.
Watch Out for T-Rex in Price Sculpture Forest
Get ready for "Tyrannosaurus Rex," who waits behind an old stump, hidden by foliage. He's ready to pounce on you and just look at the size of his teeth! Artist Joe Treat specializes in driftwood and bark sculptures and his inspiration for creating this fearsome creature was a little plastic T Rex – the kind he played with as a child. This sculpture originally sat in Treat's front yard, where it attracted much attention.
Aliens Have Landed at Price Sculpture Forest
"Pentillium" by Gary Gunderson reminds me of one of those gigantic, sci-fi movie creatures come to destroy all life on earth. My traveling companion, on the other hand, thought it resembled an upside-down flower. Gunderson is a metal sculptor who focuses on art and kinetic sculpture, with the intention to create a "wow" experience for viewers.
"Vertebrae" by Sarah Fetterman is a twenty-foot-long steel and fabric creation that's suspended among trees. The inspiration for this work came from a section of elk vertebrae the artist came across while walking in the woods.
"Nature's Keystone" by Anthony Heinz May was constructed from a tree that fell in a windstorm in the forest just weeks before the sculptor arrived to work onsite. The tree has been pixelated and is in the form of connected blocks that spill out from both sides of the main trunk. All of the blocks were re-constructed back in the exact order that they came from the original whole tree.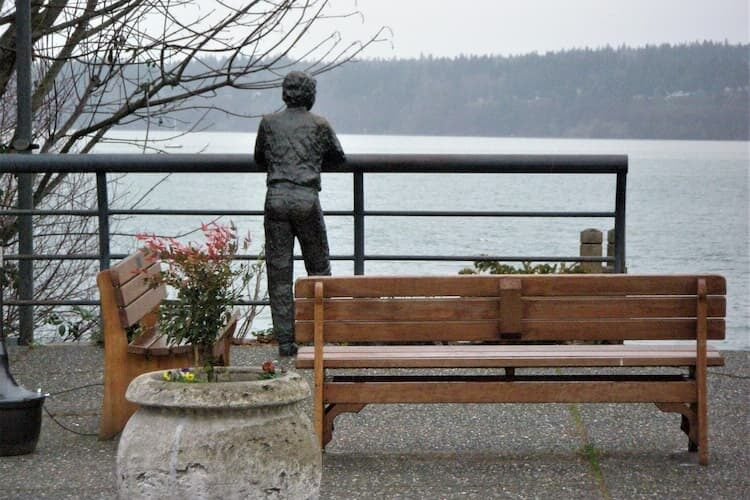 Mythology Inspires This Artist at Price Sculpture Forest
Another favorite of mine is "Icarus Was Here." Artist Pat McVay has used the character of Icarus in Greek mythology for inspiration. Scattered among the branches and on the ground are large feathers representing the remains of Icarus, who is said to have fallen to his death after ignoring his father's warning not to fly too close to the sun. The feathers are carved from previously-fallen cedar trees and then painted and varnished.
Discover Historic Coupeville
When you're finished exploring Price Sculpture Forest, make a beeline to Coupeville and continue your meanderings in this quaint seaside town. This is Washington State's second-oldest community and hundred-year-old buildings that were once livery stables and barber shops are now eclectic shops, cafes and winetasting rooms.
The town sits along the shores of Penn Cove and jutting prominently from the water is the Coupeville wharf. This iconic, red building is hard to miss. Grab a cup of coffee and a delicious, homemade goodie at the Little Red Hen Bakery. Then enjoy your treat on the outside deck, as you soak up the ambiance.
Greenbank Farm
Just south of Coupeville is Greenbank Farm. Host to several working farms, a demonstration garden, pet-friendly trails and several specialty shops Greenbank is an island treasure. Peruse, taste and sample the goodies, and don't leave without stopping in at Old Spots Bistro for a slice of pie from Whidbey Pies. Yum!
For more information, see www.whidbeycamanoislands.com and www.sculptureforest.org 
Inspire your next adventure with our articles below:
Author Bio: Debbie Stone is an established travel writer and columnist, who crosses the globe in search of unique destinations and experiences to share with her readers and listeners. She's an avid explorer who welcomes new opportunities to increase awareness and enthusiasm for places, culture, food, history, nature, outdoor adventure, wellness and more. Her travels have taken her to nearly 100 countries spanning all seven continents, and her stories appear in numerous print and digital publications.