158 acres of meadows mixed with masterworks: 200 striking sculptures blended in with the flora, fauna, woodlands and wetlands.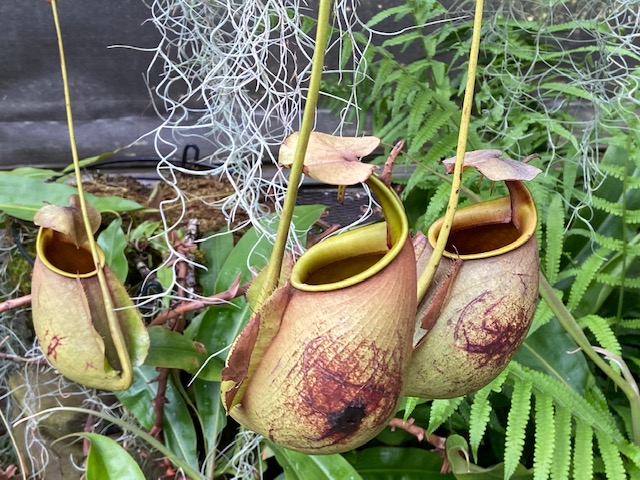 It's a "garden party" singer Ricky Nelson surely would have agreed pleases everyone…and himself, despite the lyric to his hit tune "Garden Party."
Frederik Meijer Gardens and Sculpture Park
Frederik Meijer Gardens and Sculpture Park is located on the east side of Grand Rapids. If you're looking for a good stretch of the legs on paved paths in the fresh air – conveniently located but away from the road noise of life – it's the attraction is for you.
If you're looking for a culturally rich art world experience, Frederik Meijer Gardens will satisfy you.
Nature lovers will discover a wide variety of marked trees, plants, flowers, bushes, grasses and even crops.
If you need somewhere to take the children to run off some steam in a safe environment where they will use their senses to see, hear, touch, feel and even smell, Meijer Gardens is a quality, fun experience. Young children gain admission for less than $5 and adults less than $15.
All these elements: art, horticulture, exercise, fun, and international culture are blended on a campus the size of an amusement park.
Sighs and Scope – Admiring the Art on Foot
It took three hours of meandering for me to cover most of the park's 158 acres of meadows mixed with masterworks: 200 striking sculptures blended in with the flora, fauna, woodlands and wetlands. The pieces, some giant and others subtle, are open to interpretation and worth pondering even when one keeps walking by on the wide, even trails.
Sure, you can follow the detailed map provided, but it's also pure fun and safe to simply wander the park and allow yourself to be surprised by what's around the bend.
If it should rain there are intriguing indoor greenhouse exhibits, as well, including a spooky section called "Plants with an Appetite:" carnivorous, insect-eating plants such as the infamous Venus Flytrap and the Fanged Pitcher Plant.
The flytrap's leaves snap shut on an insect and stay shut until the bug is fully digested a week later. Yikes! The pitcher has sticky but lethal leaves inside what would otherwise seem to be a good respite spot. The harmless Cacao Tree on display nearby is a much sweeter sight.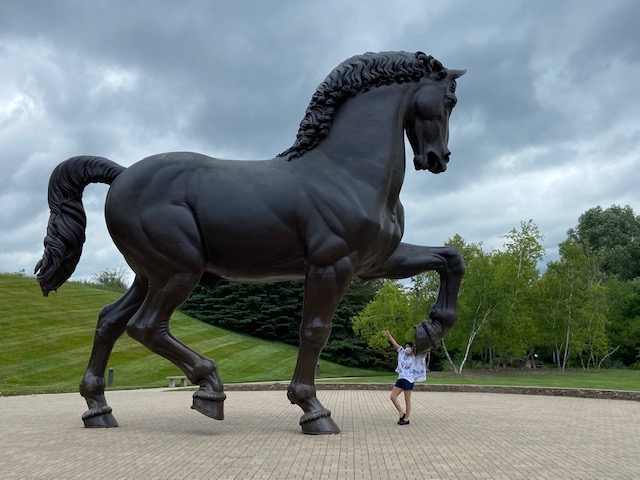 Guests Appetite and Amidst Art
Meijer Gardens and Sculpture Park remains in seemingly permanent expansion mode and, in addition to increased learning opportunities, welcomes business conferences and events seeking a little extra inspiration just out the windows or doors of their meeting spaces.
There are picnic and snacking patio areas, as well, in addition to the Balk Café, where you can even sip a locally brewed craft beer under a Dale Chihuly chandelier.
There is education mixed in with the beauty and fun since kids and adults can enjoy open-air science activities including a geographical Great Lakes pool display in the Children's Garden.
A variety of folks – from families to first dates – will enjoy the ornate, eight-acre Helen and Richard DeVos Japanese Garden with its traditional tea house and bonsai trees and Buddha bust beyond which they will find a farm: a 1930's-era Michigan barn, windmill, and farmhouse overseeing heirloom vegetables, livestock sculptures, and even a timeless outhouse…which thankfully, whether by design or not, is within a whiff of an herb garden.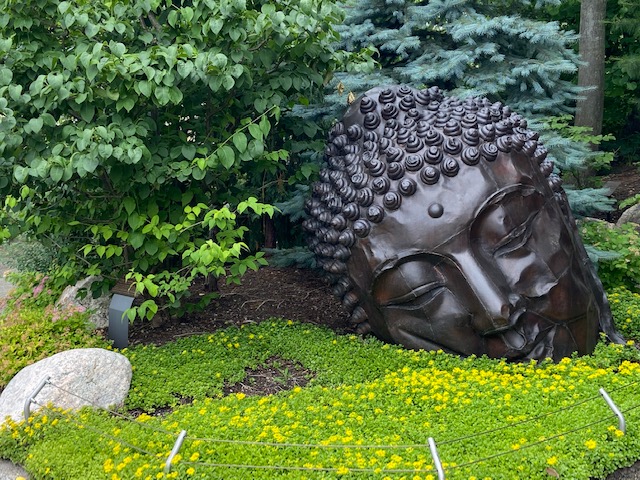 Ride and Revel
It's all a "Disney-esque" experience and as such the entire property is also viewable via a shuttle tram ride for those who prefer to a garden glide.
My three hours of walking the grounds in almost continuous motion in order to at least glance at everything was a serious stroll since you cannot rollerblade, bicycle, jog or bring your pets…but you certainly will get your steps in as you are put through your paces.
The Frederick Meijer Gardens, natural but also amusing and artistic, are very close to the Grand Rapids Gerald R. Ford Airport and open almost every day of the year. Find more information at MeijerGardens.org
Contact Travel Writer Michael Patrick Shiels at [email protected]