Playful autumn wind touches my face, and my jacket is billowing so much that I'm afraid it will blow away. I'm flying on my bike down Paroda hill in my home city, Kaunas, Lithuania.
It is a very early morning, and the reason I'm hurrying down the hill is that I want to catch the golden hour – a period right after the sunrise when the sun is the most suitable for taking photos.
And it is easy to see why.
Kaunas, Lithuania
In front of my eyes, wonderful and breathtaking views emerge. Everything, from the white church of Soboras to ordinary electric poles, is covered with golden light, a mixture of orange and yellow.
I press my bike's brakes and take my DSLR out of my backpack. Another wonderful picture comes to life.
I cycle further, through the medieval Old Town, past ongoing celebrations (it was Saturday morning) and early dog walkers, taking pictures of my city.
"Excuse me," someone says to me as I am taking a picture of probably the best-known street art piece in the whole country:
"After you are done with that graffiti, can you take a picture of these boots for me, please?"
Still a little bit sleepy and confused, I turn around and see some strange dog walker pointing at a pair of boots someone has left on a bench. I take the photo and we exchange contacts so I can send her that image.
These early morning photo shoots are full of nearly endless discoveries. Giving me an ability to take a new look at the city itself, its architecture and people, they also show that my Kaunas, being a UNESCO City of Design and preparing to be the European Capital of Culture in 2022, is just now beginning to discover its own potential.
To put it simply, we are currently at this stage: 'Oh wait, we have some really great things that are worth showing to others!'
The Disaster for Lithuania, Which Turned Out to Be Luck for Kaunas
The modern Lithuania state has its origins in the Grand Dutchy from the XII to XVIII centuries. However, after Russian occupation, the country was under Moscow's rule for about a hundred years.
Our independence was reinstated after WWI, in 1918, declaring Lithuania as a country at the limits of ethnographic Lithuania, with Vilnius as the capital.
Nonetheless, during conflict with Poland, Vilnius was occupied and considered part of Poland. A new capital was needed, and Kaunas was chosen as the biggest city in the country.
Even though it was the biggest, at that time, Kaunas was still a small provincial town with shadows from Russia's Empire past. The streets were unpaved and dirty, the buildings were old, built from wood and low-rise. The city was small, neglected, muddy, dusty and unsuitable for being the capital.
And then a miracle happened.
Two Lithuanians, both architects, who had been studying modern architecture trends in Rome, London and Paris, understood the need to reinvent and rebuild Kaunas. For such a small and young country, it was an enormous task.
Despite that, it was met with huge enthusiasm. Kaunas citizens needed to speed things up, they needed to invest, to be united and most importantly, to believe in modernizing the city.
Over the next 20 years, Kaunas expanded seven times, and 12,000 new elegant interwar-style buildings were built. The ugly provincial town became a modern world-class city. The style which I called interwar was actually a mixture of styles.
The Lithuanian architects, who came back after their studies abroad, brought many styles and ideas: Bauhaus from Germany, art deco from Paris and variations of those from other countries. Melted down with the national style, it created what we now call "the modernism of Kaunas."
The other name, introduced by art historian Marija Drėmaitė, is the architecture of optimism. The reason why I love this name is that in it, the very essence is crystallized – optimism, a belief in progress and future, wonderfully describes the reason why all those buildings were built.
While Kaunas only served as the temporary capital of Lithuania in the interwar years, it remained the historical center of Lithuanian economic, academic, and cultural life.
Kaunas, Lithuania 
Cycling in the New Town, I can still feel that spirit of optimism shining from interwar buildings. Even though they are attributed to one architectural style, it is possible to see some small differences.
The power-showing neoclassical state buildings, like Bank of Lithuania (it is still a bank – go and check the stunning interior) and Ministry of Justice, both on Putvinskio Street, clearly differ from functionalistic ones like the round-cornered headquarters of Pieno Centras Company on Laisvės Avenue or Library of KTU University.
Modernism and national style connect in Central Post Office or in the palace of Pažanga Company, while architecture and diplomacy meet in V.Putvinskio Street, where a majority of embassies are located.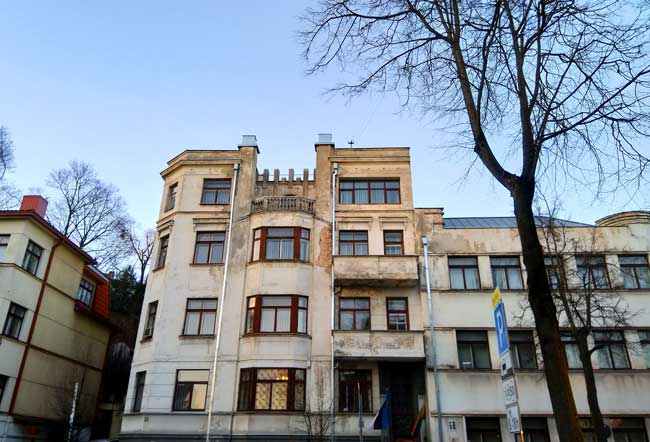 But it is not the official and representative architecture that makes Kaunas so appealing. The spirit of interwar modernism is best reflected in almost 10,000 individual houses and residential buildings. They are the true indicators of the forward-looking nation.
My personal favorite is also from this sphere: it's a small house, which was owned by Aleksandra Iljiniene. With its playful and innovative window arrangement and elegant lines, plus being recently renovated, the house is waiting for you at K.Donelaitis Street.
Kaunas Museums: Quirky, Wonderful and Interesting
To name the best museum in Kaunas is a hard task – the city has plenty of them. But when it comes to naming the strangest and the quirkiest, the absolute winner is Devil's Museum.
One of the most unique museums in Europe, this museum, which is now three stories high and packed with devils from different cultures, started as a private collection of a local artist in the interwar period. Besides the museum, you can visit the artist's original apartment, which has a beautiful art deco interior.
Another museum, or more precisely, an art gallery called The Yard Gallery is also hardly beatable when it comes to originality. Located in the yard of one apartment block on Ožeškienės Street, the gallery is open 24/7 all year round.
Started as artist's Vytenis Jakas attempt to unite the local community by decorating the yard, the gallery now holds hundreds of street art pieces and is constantly updated.
Another good thing – it's totally free. Make sure to visit and take great pictures or, if you are lucky, even meet the initiator himself.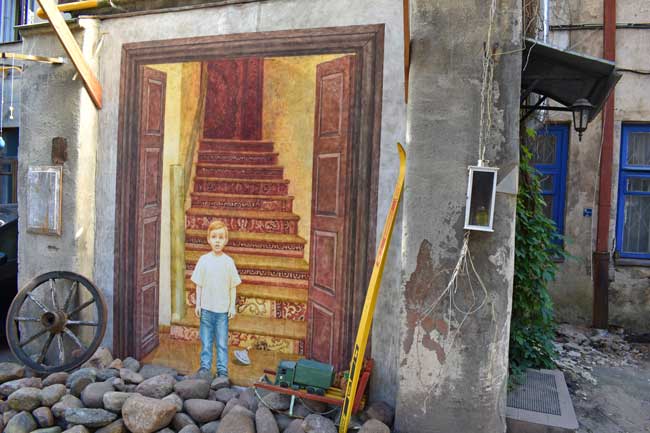 See, Eat and Feel in Kaunas
While the city cannot be fully word-painted in such a relatively small article, what I want to give you at the end is a feeling of the city.
I ask you not to be those tourists who just walk in the Old Town with their guides in hand and after a few hours and a portion of traditional cepelinai leave the city.
Be travelers; while walking in Kaunas, notice at least one of hundreds of street art pieces, distributed all over the city, like the zen-rabbit, sitting on the wall of an underground pedestrian crossing near Vilnius Street or the Monument for Routine near the Townhall Square.
Lose yourself in the streets of modernist Kaunas, not only in the city center but also in other areas – full of villas and parks – in Vaižganto, Trakų, Radastų, Tulpių and Frykas Streets and ride a magical retro Žaliakalnis funicular to get to the top of the hill at the breathtaking white Christ's Resurrection church.
Eat some kaunastic (same as fantastic, but found just in Kaunas) food – a modern interpretation of Lithuanian home cooking in Višta Puode, close to all interwar masterpieces, or surprisingly wonderful Mexican food in Agave, hiding in an old town cellar near the Townhall.
It's about 9 o'clock and I am cycling back home after my photo shooting expedition. After riding up the hill with the funicular and greeting the always-happy ticket inspector, I sit on my bike, feeling a little tired, and look at the sunlight-flooded panorama of the city.
While seeing construction cranes cramming part of the skyline and bustle, slowly starting to fill the streets, I can feel it – my city is breathing optimism again.
Author Bio: Justas Petrauskas is a freelance writer, photographer, and passionate traveler. He lives in Kaunas, Lithuania with his family. He writes popular science articles and travel stories, accompanying them with his photos.