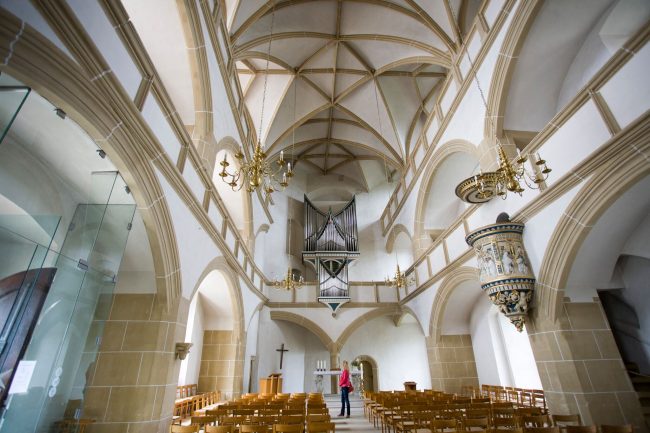 And inside the simple castle church in Torgau, it was another organ concert that stirred me. This town where Russian and American troops first shook hands in the waning days of World War II is yet another architectural gem with hundreds of medieval and Renaissance structures, including the spectacular Hartenfels Castle with its very plain chapel.
It was there I found myself having another connection with Luther — It's deemed the first Protestant church and was consecrated by Luther himself in 1544. Torgau also has associations with Luther's wife, Katarina von Bora, who died here after an accident in a horse cart. I learned of the Luthers' happy marriage, his devotion to his children, his playful side — he referred to his wife as "Herr Käthe," Mr. Katie, since she supposedly wore the pants in the family.
Oddly though, the churches of Wittenberg, the city where Luther spent the bulk of his life and career, left me untouched. Yes, there's that famous door at All Saints Church where he nailed the 95 theses, but the door itself is long gone, destroyed in a fire in 1760. What's been rebuilt is a monument — huge bronze doors with the 95 theses inscribed on them.
The nearby St. Mary's Church, where Luther preached as many as 3,000 sermons, also gave me no sense of connection with the man, in spite of the beautiful artwork by Lucas Cranach that depicts Luther and his contemporaries as participants in the Last Supper.
Similarly, the Luther House, his Wittenberg home, didn't much resonate with me. It's gigantic — he lived there with as many as 50 other people, including relatives, servants, and student boarders. But there's little sense of it being a family home, mostly because it's now the world's largest museum devoted to Reformation history, filled with hundreds of fascinating documents and artifacts — even a chest for the collection of money to purchase indulgences, the very issue that got the Reformation rolling. I learned so much there about how the Reformation began and then spread like wildfire from its source in Wittenberg.
Still, I just couldn't imagine the Luther family inhabiting these rooms. The Lutherstube (Luther Room) came the closest. It's the chamber where he retreated after dinner to discuss important matters of the day with students and guests. The windows, paneling, and flooring are of the period, but there's not much furniture, making it hard to visualize a room full of people hanging on the Great Reformer's words.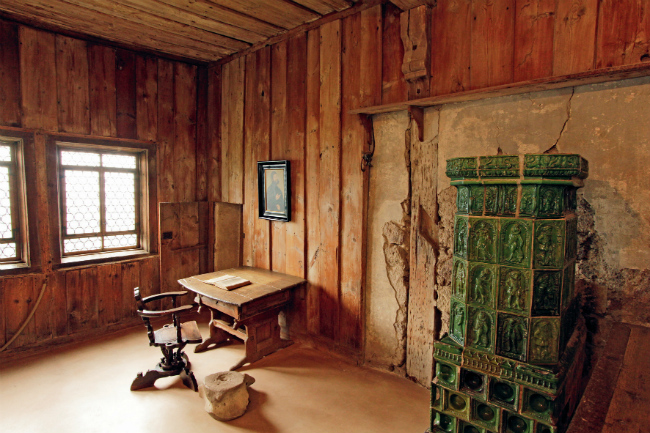 But afterwards, when I went to an adjacent building to see a special exhibit called "95 Treasures, 95 People" I felt like I met Martin Luther himself. The exhibition is indeed filled with treasures —  Luther's writing set, his will, even the pulpit from St. Mary's Church where he preached those thousands of sermons. Many of these artifacts will be moved back inside the Luther House when the exhibit closes in November.
And then I found myself standing in front of Luther's monk's cowl, perhaps the one he was wearing when he refused to recant at the Diet of Worms. Looking at it, I began to visualize a human form inside that plain garment.
I felt as though I were face to face with the complicated individual whose conscience and convictions allowed him to take a stand against one of the most powerful institutions of his day. I'd learned so much in the preceding days that I was seeing him as far more than the learned scholar people traveled hundreds of miles to hear, a man dedicated to bringing the spiritual into the lives of everyday people.
He was also a lover of music, a devoted father, even a gregarious teller of bawdy jokes whom I'd been told left a substantial unpaid tab at his favorite bar when he died. So I knew him to be as complex a human being as any of us, not just a towering faceless figure who changed history.
So mission accomplished. I'd gone to Germany for an immersion into its captivating culture. I'd seen the towns that are like time capsules into the past. I'd had the many bratwursts and dark beers I'd hoped for. And quite without meaning to, I'd become a convert — I was enthralled, and likely always will be, by the story of a man who made life different for all us simply by nailing some world-changing documents on a church's door.
If You Go
October 31, 2017 is the actual date of the 500th anniversary of the day Martin Luther nailed his 95 theses to the church door in Wittenberg, traditionally understood to be the date the Reformation began. A variety of special exhibits and events have been taking place throughout Germany this year to mark this event, with many of the exhibits closing in early November.
However, the sites associated with Luther will continue to be available for visits by tourists, and other events will be opening during what the Germans are now calling "The Luther Decade" as other events during the Reformation celebrate their 500th anniversary. Since Martin Luther lived and worked in a variety of cities in east-central Germany, a couple websites serve as "one-stop shops" to get information across the region. These include:
http://www.germany.travel/en/specials/spiritual-travel/luther/places-associated-with-luther/places-associated-with-luther.html
The bulk of the cities of the cities significant to Luther are in the German states of Thuringia, Saxony, and Saxony-Anhalt. For more information on cities and attractions in these states, go to:
Author Bio: Ohio-based travel writer Rich Warren travels the country and the world looking for offbeat and off-the-beaten-path stories. He's a graduate of the Elf School of Iceland and also has searched for leprechauns in Ireland and gone on a ghost hunt in the house where the Lizzie Borden murders took place. His work has been published in the Chicago Tribune, Dallas Morning News, Cleveland Plain Dealer, National Geographic Traveler, AAA Home and Away, AAA Highroads, Ohio Magazine, Country Living, American Way, The Saturday Evening Post, and others.