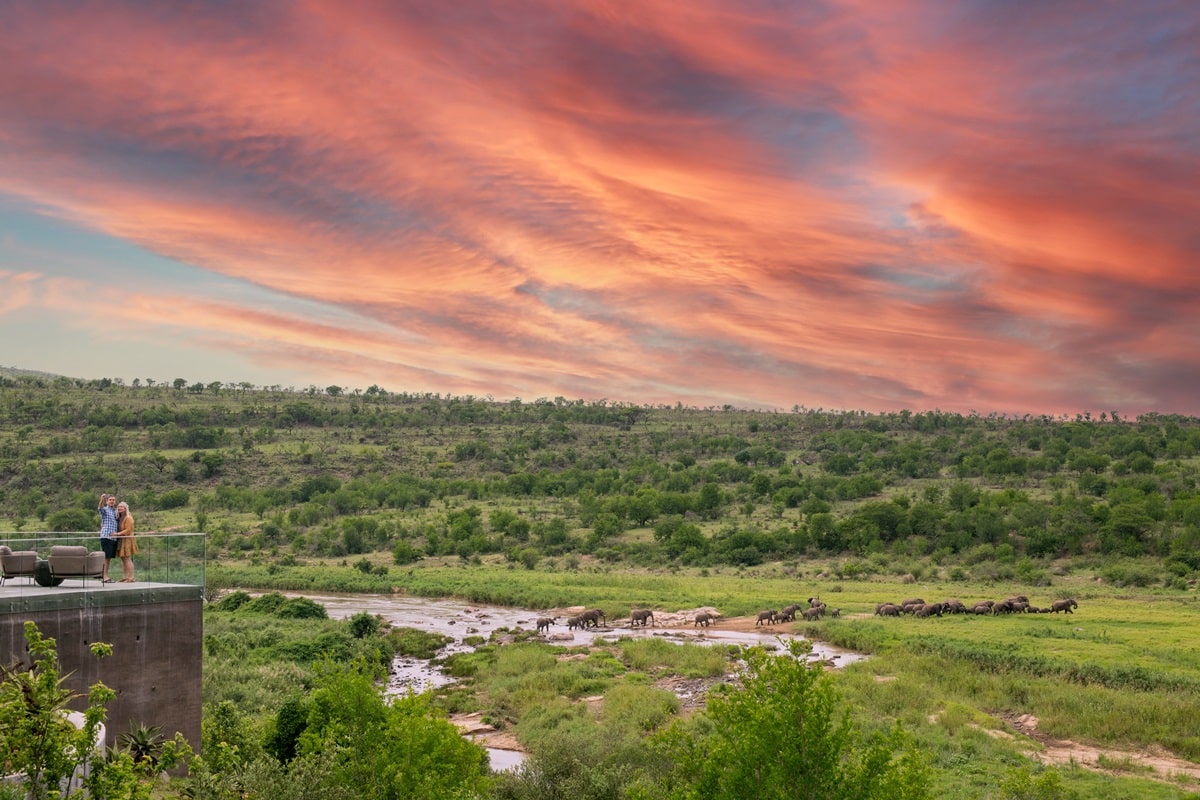 What's In a Name?
mFulaWozi (mfulluhworzee) is an isiZulu word meaning "the sound the reeds make in the wind". The reeds in this instance are those growing along the White iMfolozi River in Northern KwaZulu-Natal, South Africa- about two and a half hours from the port city of Durban. This is Zululand, the heart of traditional Zulu culture, and you know you've left Kansas, Dorothy, as you wind your way up from the coast. And I mean this in a good way- a very good way.
Even before reaching mFulaWozi Wilderness Game Reserve, an ineffable sense of relaxation and opening up to a different rhythm pervades. Big skies, undulating vistas, rural scenes and wilderness can do that. Then, you're there, onto an open game vehicle and ultimately descending toward one of two established lodges- four star Mthembu or five star Biyela.
Backing up
Aidan Hill backed up down the dirt track in the dense bus in the dark, surrounded by wild game, made a three-point turn when he could and headed back the way we'd come- all because of a spider web.
The spider in question was a bark spider, which can never produce more web material (it reabsorbs its web before spinning another), so damaging its web would severely impact its livelihood.
A Dawning Realization
I can't say exactly when it dawned on me that we were somewhere special, but there were signposts aplenty along the way. It was definitely by the time I met owner/managers Barry and Sonja Theunissen on a river sandbank for superb sundowners and snacks.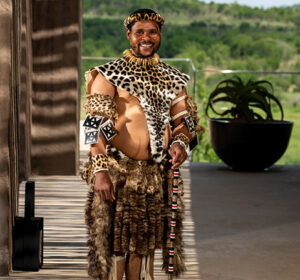 First impressions of Biyela lodge were quite something. First impressions of our super enthusiastic game guide, Aidan Hill, similar. But it was what I had read- and what Hill expanded on as we drove, that gave me the sense that the entire undertaking encompassed more than met the eye. Conversations with the Theunissens and others reinforced that impression.
In 2010 Theunissen was approached by five Zulu chiefs, all descendants of the Shaka dynasty, with a proposal which led to an agreement to unlock 39537 acres of untouched African bushveld. To date, 14826 acres have been incorporated into the Hluhluwe iMfolozi Park- the oldest game reserve on the continent- increasing it to over 247105 acres. As a result of the dividing game fences coming down, wildlife now traverses freely across all the parks.
The chiefs proudly entrust their land to be used under the custodianship of the lodge and are very involved. In return the community are benefitting enormously from assisting in the actual construction, to providing the fresh produce and staffing, but most of all in the carefully controlled supervision of the conservation of one of the few remaining areas of untouched wilderness.
Backing up further
"Chartreuse- I love chartreuse", mumbled Hilary as she woke and looked around at our Biyela Lodge suite. Trust me, even if chartreuse isn't your favorite color, the décor and design of Biyela is quite something. The blend of greens, charcoal, straw colours are a superb antidote to ye olde safari style lodge. The colours and textures are gentle and subtle, yet decadently sophisticated and the finished product is supreme. This is a five-star lodge where attention to every little detail has been perfected, with no restraints.
Our suite was aloft lanky, steel giraffe legs, raising us up above the trees and shrubs. But we were already perched high on the side of the steep cliff above the river, so we were more like vultures soaring and gazing down onto the river with its sandbanks and islands, splits and pools. Undiscovered caves in the cliffs and elsewhere on this game reserve make just being in this valley of the White iMfolozi river extremely exciting.
The suites are a dream; everything is deluxe from the outside shower to the private plunge pool hanging on the edge of the cliff, to every other detail one could dream of. The lighting is extremely clever and magically enhances the aesthetics.
Certainly, a lot of foreign materials have been introduced (glass, concrete, metals) but the architecture and style have achieved a level where everything blends and almost enhances the natural environment.
Probably the most striking beauty of this lodge is the happiness of its staff; oh so uplifting and infectious. Everything seems happy.
From the warm welcome every time one arrives at the lodge, to the free-flow of the spaces leading between the various living areas, to the seating for meals, one feels utterly comfortable. The meals are exciting and of tip-top quality, all discussed personally with Bongo Xabela, the internationally experienced head chef. Waitrons are locals, superbly proud of Biyela.
One could ooze around this tranquil lodge timelessly and there's an inviting spa below the main lodge with one-way glass views onto the river, but there's a compelling drive to now get out there and learn more about what makes this all so perfect. Besides, Hilary is a birder. That means we were out, listening and looking, at every opportunity, although we did enjoy a leisurely breakfast and walkabout at Mthembu lodge.
Tomayto, tomahto- Pick Both
Aidan Hill, hit the nail on the head with his comparisons of the two lodges. "Mthembu feels like a warm, comfort8ing home from home- like someone built it to share with others" he said, "Biyela feels like it was built for others to experience luxury- a pinnacle experience". Mthembu Lodge is configured on the circle and represents notions of wholeness and perfection. Hand-built by members of the Mthembu clan, stone by stone, it is a wonderful place to relax and regenerate.
When you visit, I do recommend staying at both lodges, starting with Mthembu. Here, South Africa's preeminent conservationist, Dr Ian Player- who secured the conservation of the mFolozi River- stayed and conducted rhino research and the rondavels (round, thatched mud huts) he stayed in are used for spa treatments and for consults with the resident sangoma (witchdoctor/herbalist), Mzobanzi Madlala.
The stables remain too and there are plans to convert them into a museum to the great man.
Dr Player had no vehicle tracks to follow for sure, and guests have the opportunity to do much the same. mFulaWozi head guide/conservation manager Rogan Fourie operates walking trails through the uncharted wilderness areas. Here, no vehicles will go. You won't have to rough it, however, as a mobile "fly camp" with all the necessary is provided.
Our guides, Aidan Hill and Lungelo Mzulwnini, may not have Rogan's Master's degree in Botany/Ecology (he is currently pursuing a Phd in Zoology), but were super eager to show and share what is championed here, from the history to the intricate relationships that exist in nature.
I have been on at least 150 guided game drives- and plenty self-guided drives (Hilary is a qualified field guide) and these "junior" guides outshine many supposedly senior guides. Hilary asked higher grade questions and, what they weren't sure of they researched and provided the answers when next we met.
And that sums up the "no such thing as can't" ethos that prevails at mFulaWozi.
What About the Main Attraction?
The game! I haven't even mentioned the wildlife which, for most, is the reason to visit. mFulaWozi has the Big 5 that people yearn to see- elephant, black and white rhino, lion, leopard, Cape buffalo (always a few lounging along the river)- and much more besides.
We slept with sliding doors and curtains open and the night-time soundtrack included squabbling baboons, laughing hyenas and owls.
The diversity of habitats here that attract a huge variety of birds. The area supports over 400 bird species, nearly half of the total bird species found in the southern African sub-region. Several bird species that are rare in the rest of South Africa, and species that are globally and regionally threatened are frequently sighted here.
In a word?
Superb
Getting There
There are direct flights from around the world to OR Tambo International Airport in Johannesburg, with flights from there to Durban. British Airways flies direct to Durban from Heathrow Airport, Fly Emirates from Dubai, Qatar Airways from Doha and Turkish Airlines from Istabul. mFulaWozi partners with arguably South Africa's premier hotel, The Oyster Box, in Durban, which affords visitors the best of the bushveld and KwaZulu-Natal's glorious coast, where locals call 59F cold.
Visit mFulaWozi Wilderness Private Game Reserve
Latest posts by Adrian Rorvik
(see all)