The best family vacations can take place in the most unexpected destinations. All it takes is time spent together and fun experiences to create memories that will last a lifetime.
Best Winter Family Vacations

Though the weather may turn colder, many destinations around the world make it their mission to create the ultimate winter wonderland, and it would be a shame to miss out on them this season.   
So get busy planning your next winter vacation. Best of all, planning a winter family holiday doesn't have to break the bank. Travel tip: Book your winter vacation on Ebates.com, and you'll get up to 10% cash back on car rentals, hotels, and more. Even better, if you book your travel on a Thursday, you'll get 10% back on all hotel bookings.
5 Kid-Friendly Winter Destinations
 We've put together a list of five unique and kid-friendly winter destinations. We hope you'll discover some new snowy activities and places you didn't even know existed. Wherever you go, you'll want to find a nice balance of time outside in the snow and cozy time in front of a fire.
Here are five of our favorite winter destinations.
Crested Butte, Colorado, USA
 Crested Butte is a skier's paradise, located 227 miles southwest of Denver, Colorado, with a population of 1,487 (as of 2010). Known as "the last great Colorado ski town," Crested Butte entertains thousands of outdoor-lovers year-round, and the ski slopes get plenty of love and attention in the winter.
Crested Butte Mountain has 15 chairlifts with a variety of green, blue and black ski runs. You can buy passes for half a day, one day, two days or six days. Prices climb as it gets closer to ski season, so buy tickets early to avoid steep prices.
After spending a day exploring the 12,162-foot-tall peak via ski or snowboard, the town of Crested Butte itself offers numerous other family activities. Downtown has a Winter Adventure Park for kids. The park is open year-round, and in the winter, you can buy tickets at the Adventure Center or the Evolution Bike Shop.
The Adventure Park features bungee trampolines, a Coke Zero Gravity bag jump, a climbing pinnacle and more. Kids ages 4-12 can also enjoy a night out while parents head to dinner. Kids' Night Out will provide dinner and games for children from 4:00-8:00 pm every night while you head out for some quality Mom and Dad time.
The whole family can also experience sleigh rides, snowshoe tours, cross country skiing, uphill skiing, snow biking, a winter zipline and even winter trail rides on horseback in Crested Butte. Fireworks will light up the sky on holiday evenings, and after a day in the snow, what could be better than snuggling with your loved ones and a cup of hot chocolate while watching the fireworks in Colorado?
Where to stay: The Wood Creek Lodge by Crested Butte Lodging, Lodge at Mountaineer Square, The Inn at Crested Butte
Quebec City, Canada
Quebec City hosts numerous winter celebrations each year, making this city one of the ultimate family getaways during the holidays. From Christmas to the Quebec Winter Carnival, Quebec City is hopping all winter long.
Of course, downhill skiing and snowboarding are offered at four different resorts near Quebec City, and families should have no trouble finding their preferred level of difficulty at Mont Sainte-Anne, Le Massif de Charlevoix, Stoneham Mountain Resort and Le Relais Centre.
You can also rent a giant innertube sled and take the family for a mega-sledding trip at Valcartier Vacation Village, the North America's biggest winter playground.
After a day of hardcore skiing or snowshoeing, you'll probably want to take a dip in one of Quebec City's Nordic spas. Outdoor hot tubs allow you to take in the beauty of a snowy winter while staying warm and relaxed. Numerous thermotherapy treatments are also available.
Prime ice activities like ice skating, ice climbing and ice fishing are located at Parc de la Chute-Montmorency and natural surface lakes and rivers outside the city. You can even try dog sledding on your own at Mont Sainte-Anne or Parc National de la Jacques-Cartier.
Where to stay: Hôtel Alt Québec, Chateau Mont Sainte-Anne, Auberge Saint-Antoine by Relais & Chateaux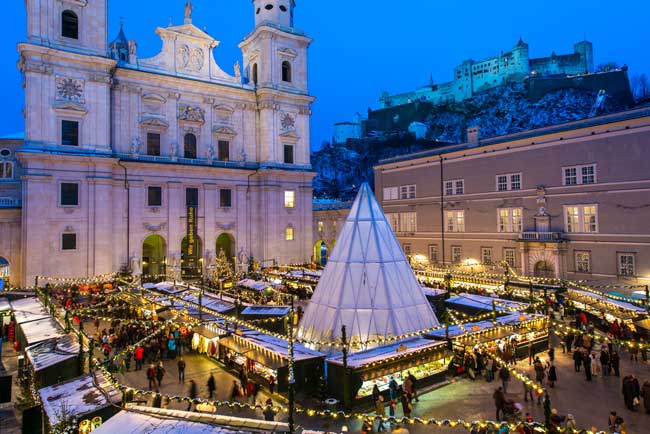 Salzburg, Austria
In the birthplace of "Silent Night," arguably the most famous Christmas carol of all-time, families are sure to have an unforgettable holiday season experience in Salzburg. Numerous lodging and adventure opportunities are in the Austrian Alps just waiting to share their beauty with you and your family.
Kids can take ski lessons with specially trained ski instructors at The Kogel-Mogel Kids Club, where they will spend their days on the slopes and even participate in a ski race where they could win a medal or certificate through the Neukirchen Ski School.
The city of Salzburg also has numerous holiday-themed activities right downtown. Try some traditional Austrian gingerbread cookies, known as Lebkuchen, and pair them with hot chocolate or mulled Austrian wine known as Glühwein. Numerous bakeries and Christmas markets will be open all season long for shopping and food wherever you may find yourself. There are also several spas and saunas in Salzburg where families can relax after a day of walking through the cold city.
On New Year's Eve, there is fireworks show called "Silvester," where locals will be waltzing and drinking champagne to welcome the New Year. The city also has numerous cultural children's plays and choral performances, as well as a Perchtenlauf ceremony.
This is an ancient Pagan tradition where men dress as demons and lead a procession to symbolize the fate of the souls of the dead. These demonstrations are not recommended for the light-hearted but are a key aspect of the folklore of the Alps dating back to pre-Christian Europe.
 Where to stay: Hotel Hubertushof, Holiday Inn Salzburg City, Hotel Sacher Salzburg
Ottawa, Canada
Canada's capital region boasts some of the best skiing, ice skating and outdoor winter sports in the Americas. Between playing in the snow and soaking in Ottawa's wintertime cultural activities, you'll have no time for boredom on this vacation.
In early February, Ottawa celebrates its annual Winterlude, a winter festival for the whole family. Kids of all ages love the Snowflake Kingdom in Jacques-Cartier Park for its huge snowslides and International Ice Carving Competition. The city also hosts the Ice Dragon Boat Festival, where dragon boats race down the frozen Rideau Canal Skateway.
Gatineau Park is a prime location for cross-country skiers and winter sport enthusiasts. Located just across the river from downtown Ottawa, the park features over 200 km (124 miles) of groomed trails for skiing and hiking. This is the site of the Canadian Ski Marathon, which will take place on Feb. 9-11, as well as numerous other events. Dog sledding is also available at Escapade Eskimo in the Outaouais region, which is only 75 minutes outside of Ottawa.
Winter camping and cabin rentals can be booked at Gatineau Park. You can make a reservation and rent snowshoes or skis and hike to a yurt or cabin in the wilderness.
Where to stay: Four Points By Sheraton Gatineau-Ottawa, The Westin Ottawa, Ottawa Marriott Hotel
Warsaw, Poland
Though it may not be top of mind, Warsaw, Poland is an excellent winter family destination. At the National Stadium, kids can zoom down an 11-meter hill in a sled or innertube, take ski classes and go ice skating at one of the more than 20 ice rinks in Warsaw.
While strolling through the city, make sure to stop at Lazienki Park, home of numerous museums and monuments of Polish culture. The city, especially Old Town, will be ablaze with holiday lights through February.  
In Old Town, the Market Square will be illuminated by Christmas lights and nightlife during the holiday season. Here, you can shop, find traditional Polish food and even visit Santa before Christmas. Near the market, the Museum of Warsaw explains the city's history, including its difficult days during WWII.
Families can visit the Copernicus Science Center, named after the Polish astronomer Nicolaus Copernicus (1473-1543). Most of the exhibits can be touched, moved or played with, and kids can ask any questions they like to help them learn more about Copernicus and his studies. The museum's main purpose is to develop the imagination and curiosity that brings out the Copernicus in all of us.
Kids will also go crazy over the Lollipop Factory, Warsaw's largest candy store. Kids and adults alike enjoy watching the staff make the candies. Sampling the treats is even better!
And don't forget to try traditional Polish foods like zurek, a warm soup with sausage and hard-boiled eggs, and pierogi, fried or boiled dumplings that come with either sweet or spicy filling. Also try authentic Polish hot chocolate (it comes in white, milk and dark chocolate), and real German chocolate and cheesecake at the Cafe Wedel.
Where to stay: Polonia Palace Hotel, Sofitel Warsaw Victoria Hotel, Ibis Warszawa Stare Miasto in Old Town