We share places, products and activities we recommend. If you make a purchase using a link on our site, we may earn a commission.
From American comfort food to fine dining, dessert and ethnic variations, you'll have lots to choose from as you pay attention to how your dining affects the environment.
Get started with our vegan's dining guide where we review nine vegan restaurants in New York City sure to fill your plant-based food cravings.
Vegan Restaurants in NYC by Chef Guy Vaknin
Make sure you see all the sights with a New York Pass by Go City.
Willow
Created by Guy and Tali Vaknin, the couple behind the city's popular Beyond Sushi, Willow is your "green" go-to for American comfort food favorites. At the new Chelsea bistro, you'll find the comfort favorites that felt so right during the pandemic but without meat.
Think porcini chick'n Marsala, steak frites (made with grilled seitan steak), scallop cacio e pepe made with oyster mushroom scallops and semolina linguine, cheeseburger sliders, cauliflower wings, taquitos and calamari. A don't-miss is their signature Willow flatbread with "ricotta," pistachios, artichokes figs and baby arugula.
You can also order vegan sandwiches like the "tuna" melt or cherrywood smoked pastrami made with seitan. Comfort food never tasted this healthy!
Beyond Sushi
The name says it all: this fast-casual restaurant goes beyond sushi to provide a varied vegan menu with flavors from around the world. Adhering to a fully plant-based and kosher ingredient list, Chef Guy Vaknin's Beyond Sushi has proven so popular that it is now a mini-chain with five Manhattan locations.
In addition to veggie-filled sushi rolls and dumplings, the adobo mushroom tacos, butternut squash tortellini and jackfruit crab cakes are also standouts.
Casual Vegan Dining in NYC
Galioto's
New York City has its first plant-based Italian delicatessen with Galioto's. Setting up shop in Little Italy, the deli and market is an Old Country throwback with a modern take.
You can order vegan meatball subs and Impossible™ meatball parm at the deli counter or shop the market for seasonal produce, Italian specialties, and grab-and-go foods like pasta salads, sandwiches and giardiniera.
Le Botaniste
Taking style inspiration from its "pharmacy" setting in Ghent, Le Botaniste is the first carbon-neutral certified organic plant-based restaurant in New York City. And while that sounds like a mouthful, the vegetable-forward, organic food is truly "good for the planet and good for your body."
Offering a fully plant-based, 99% organic food and wine menu, Le Botaniste lives its philosophy: Le Botaniste is building its own forest in Peru in partnership with GoForest, and diners can choose to "add" a tree to their orders, increasing the sustainability of their meal.
Going one step further, carbon emission values are indicated for each dish on the menu.
Lest we neglect the dining experience, the fast-casual menu includes the likes of spicy chili sin carne, Moroccan tajine with quinoa and lemon harissa dressing, seaweed tartare and a sushi roll with turmeric onions, marinated tofu and red sauerkraut.
Fine-Dining Vegan Restaurants in New York City
Reserve by Amor y Amargo
Reserve by Amor y Amargo is an exclusive plant-based pairing concept. Hidden through a door behind the counter of General Store by Amor y Amargo, the intimate speakeasy-restaurant from Chef and Master Mixologist Sother Teague is reserved for ten diners only.
The prix fixe menu pairs stirred small plates and cocktails celebrating spirits and bitters such as a martini with olive bitters and Aquavit with cured carrot "lox" with tofu scallion cream cheese.
The "improved" Negroni is made with overproof rum with pimento bitters and is accompanied by "scallops" of jerk-seasoned king trumpet mushrooms. Dishes and drinks change every two months to reflect what Teague calls "micro" seasons.
Read also our Guide to Eating Vegan at Disney World
AbcV
"Plant based, sustainable, artisanal, and organic whenever possible," promises AbcV, Jean-Georges Vongerichten's high-end plant-based restaurant. The restaurant is an homage to vegetables with presentation an equally important part of the concept.
The gardenlike setting is a smart backdrop for dishes that exemplify intriguing flavor combinations. Green chickpea hummus or a "pasta course" of mushroom walnut Bolognese kicks off the meal. Follow with smoky tandoor white yam with coconut yogurt.
Each pair well with organic, alcoholic beverages or tonic "vibrations" with instructive names like "joy" and "grounding."
Because this is a restaurant from Jean-Georges, after all, you should select the chef's tasting menu which comes with elaborate explanations of the largely unfamiliar platings.
Vegan Dining in NYC's East Village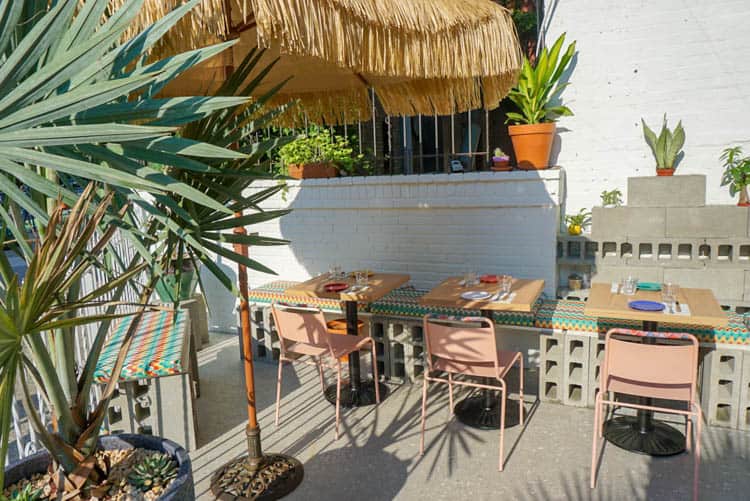 Jajaja Plantas Mexicana
The East Village's Jajaja Plantas Mexicana keeps the party healthy with a menu of plant-based Mexican street food, Mexican beers and an extensive tequila and mezcal program.
The "culture-and-community through comida and cocktails" concept encourages selection from familiar-yet-unusual dishes like tacos with chipotle sweet potato, or gorditas with serrano and shiitake bacon. A Mexican fiesta buzz sets the tone with the vegan restaurant in New York City.
Cadence
Also in the East Village, Cadence meanders north of the border bringing plant-based versions of Southern and soul food together with wines from Black-owned vineyards. Executive Chef Shenarri Freeman has prepared family faves through the lens of sustainability and healthfulness.
Re-imagined dishes from her Virginia upbringing like smoked grits made with chickpeas, heart of palm and chipotle aioli slaw; black-eyed pea garlic pancakes; or collard greens stuffed with Aleppo rice, shiitake mushrooms and poached pears appear on the menu, perfect with one of the global wine
Vegan Dessert in NYC
Whipped-Urban Dessert Lab
Whipped–Urban Dessert Lab fills the vegan dessert void as the world's first oat-milk ice crème shoppe. The company, opened at the start of the pandemic, has been a blessing for health-conscious ice cream lovers, with fans now converted to the dairy-free way of life.
Whipped's modern ice crème desserts have two signature bases — sweet crème with a touch of vanilla or chocolate – all free of dairy, eggs, nuts, soy and gluten. Toppings are dairy-free as well and can be added to create "hand-selected fusions."
The newest flavors include strawberry shortcake, mint chocolate cookie, cinnamon apple crisp, peanut butter chocolate cookie, and chocolate, adding to the already cultish list of favorites.
The best part? All are made with oat milk, which, in addition to being 100% plant-based and dairy-free, adds richness both in taste and texture. If you can visit the Lower East Side store, you'll have the benefit of soft-serve cones with mix-ins or toppings like salted pecan, pretzels, or strawberry crumble.
To go and blissfully available for delivery, the new hard-scoop Oate line is something you'll want to keep in your freezer for late-night snacking.
Book This Trip
Want to experience all of the delicious vegan flavors of NYC? Start planning your trip by checking out the best airline rates for your dates here. Next, you can find hotel or VRBO options, favorite local shops and more through Travelocity and TripAdvisor.
Latest posts by Meryl Pearlstein
(see all)