It's just after 10 p.m., but the poolside deck of the Disney Magic is full of life. A rock band plays on stage for the dancing crowd, while others watch from deck chairs, content in the evening's enjoyment.
My family and I are tucked away on the side, where we can watch the activity. My children's eyes are glued on the band, while mine are set on the twinkling lights of Cozumel, Mexico, which grow smaller as we sail from port.
Little do we know, however, that a shipboard assault is in the works. In a dark corner of the ship, Captain Hook plots with his pirates, intent on taking over the ship. At just the right moment, the scoundrels pull their swords. With a yell, they storm the deck and rappel down the walls into our midst.
But just when the pirates seem to have gained the upper hand, Captain Mickey and his friends arrive. Full of bravado, they chase out the rogues and get the party back on track. To celebrate her victory at sea, the Disney Magic sends streams of fireworks into the air that boom and flash overhead.
Disney has been entertaining children for decades, and Disney Cruise Line's "Pirates in the Caribbean" party is no exception.
While the company offers a variety of excellent itineraries in the eastern and western Caribbean, it's this passion for pleasing little ones that sets the cruise line apart.
What do families like about sailing with Disney?
Since returning from our trip, I've polled numerous Disney Cruise Line passengers, my family included. Here are their top 10 favorite things about cruising with Disney:
Family time onboard
Sometimes it's hard to find activities that both parents and children enjoy, but there are plenty of options onboard with Disney. My 14-year-old relished beating me at Ping-Pong on the top deck, while our youngest, age 7, found his groove at the family dances. Some guests competed in the game shows for all ages, while others spent time in the ship's three age-specific pools. My favorite family diversion? Going to Disney's first-run movies in the ship's large theater.
Cool excursions
While sailing is enjoyable, it's just as fun to explore the cruise line's Caribbean ports, with each offering something different. If you're adventurous, you can explore the ports on your own. Our family took a taxi to Seven Mile Beach in Grand Cayman, the largest of the three Cayman Islands in the Caribbean Sea, where we found the best snorkeling of our whole trip just off shore. Since we'd brought our own snorkel gear from home, the only cost for our adventure was taxi fare.
In Florida's Key West, a little Internet research before our trip led us to Ski Key West, a beachside company that took us on a Jet Ski tour of the islands — for a very affordable price.
At other ports, though, we chose to purchase Disney's shore excursions. The cruise line has strict guidelines for all the tour companies they work with, so we knew we were in good hands when we went on an off-road jeep safari in Cozumel, Mexico, and diving in Grand Cayman.
No worries
Most of today's parents grew up with Disney, so it's a name we trust. Though it's often more expensive than other large cruise brands, Disney Cruise Line offers peace of mind. There's something to be said for safe, clean fun — and like many other parents, I know that I can usually find that with Disney, whether it's their theme parks, children's films or Disney Cruise Line.
Our favorite characters
For a child, there's nothing like seeing your favorite story characters come to life. And there are plenty of opportunities to get up close and personal with the likes of Pluto, Mickey and Cinderella aboard theDisney Magic and Disney Wonder, the company's two ships. Even our teenager gathered autographs at the Disney Character Breakfast. Disney characters are also available during designated greeting times.
Friendly faces and helpful hands
"Do you like children?" It's one of the first questions potential Disney employees are asked. We found that the cruise staff knew just how to make children and their parents happy. This was especially true of the two wait staff who served us during our cruise.
Ivan entertained our children with tricks, while Paola kept us on our feet with funny jokes. By day two, we already looked forward to seeing them. Their true test came when our youngest became sick — at the table, no less. Their quick management of our problem was gracious and caring, and something we won't forget.
Kids clubs
Whether they're 3 or 17, kids have plenty to entertain them aboard the Disney Magic and Disney Wonder. Children ages 3 to 7 have their own play area in the Oceaneer Club, where they can dress up at the Captain's Closet, listen to stories or make a special craft.
Older kids, ages 8 to 12, have the Oceaneer Lab, a space-themed room filled with computers, an interactive science lab and a movie area.
Teens may not always want to hang out with their parents, so Disney created The Stack (Disney Magic) and Aloft (Disney Wonder) just for them. This teens-only pad has comfy couches, Internet access, big-screen TVs and a full soda bar. Counselors arrange a full schedule of cool teen activities, including dance parties and excursions.
For children under 3, babysitting is available for an extra fee at Flounder's Nursery. While children under 12 are involved in their activities, parents can enjoy the ship worry free. An onboard paging system alerts parents to any needs or allows kids to contact their families at any time.
Adult escapes
Let's face it. Even adults want their own playtime. Other times, they simply need some peace and quiet. I couldn't help but make a daily visit to the Cove Café, a gourmet coffee shop in the adults-only area of the Magic where I could feed my addiction to frappuccinos and catch up on the latest news. Other adults favored Beat Street (aboard the Disney Wonder) or Route 66 (Disney Magic), the adults-only entertainment district that is home to three different night clubs. Several passengers I spoke with made the 9,000-square-foot (836 m²) Vista Spa and Salon — a full-service salon, spa and fitness center — a priority.
Family-themed entertainment
Nightly stage shows are part of many cruise experiences, but often those productions aren't appropriate for children. This is an area when Disney truly shines — their full-fledged stage productions and family variety shows are geared for kids, but still entertaining for parents. Several Broadway-style musicals offer new takes on beloved Disney stories. In Twice Charmed, the now married Cinderella must overcome new evil plots of her stepmother's, while in Disney Dreams, Peter Pan helps yet another young girl follow her dreams.
Eat like a king!
Dining was at the top of the list for every person I polled — and for good reason. The cuisine is excellent, and served with style. Passengers rotate through three themed restaurants. Lumiere's (Disney Magic) offers French cuisine and elegance, while Triton's, on the Wonder, specializes in seafood. Parrot Cay (both ships) is a Caribbean-style eatery.
The adults-only Palo restaurant serves Northern Italian cuisine. Animator's Palate (on both ships) was the hands-down favorite restaurant with kids. Scenes from Disney stories cover the walls. During dinner, they "magically" turn from black-and-white drawings to full-color animations.
Private island paradise
Ever dreamed of having your own private isle in the Caribbean? At Castaway Cay, you can — at least for a day. Disney's slip of paradise in the Bahamas has its own dock (no need for tender boats), and different areas set aside for play, relaxation or adventure. Castaway Cay is just what you'd imagine — clear blue waters, hammocks stretched under coconut trees and miles of quiet shoreline.
The 1,000-acre (4 km²) island has an adults-only beach, but we never made it there. My hubby and I were too busy snorkeling with the kids in the 12-acre (0.04 km²) snorkel park, playing on the white sand of the family beach and lounging in our beach chairs, sipping piña coladas.
And as far as memorable family adventures go, it doesn't get much better than that.
If You Go
A weeklong Caribbean cruise for a family of five runs around US$ 5,000. Shorter cruises are also available. The cruise line has itineraries in both the western and eastern Caribbean. Caribbean cruises depart from Port Canaveral, Florida. The Port of Los Angeles is the West Coast port for Disney Cruise Line.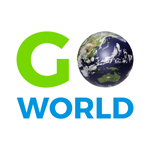 Latest posts by Go World Travel Magazine
(see all)