Standing high atop one of the popular rooftop vistas here in Florence (Firenze, in Italian), the famous Duomo stands erect in one direction and the Ponte Vecchio Bridge is visible in the other.
With the Arno River gracefully snaking through a panoramic vista of historic and cultural jewels, this city is especially magical as the sun begins to set and casts a golden-rose-hued glow on everything below.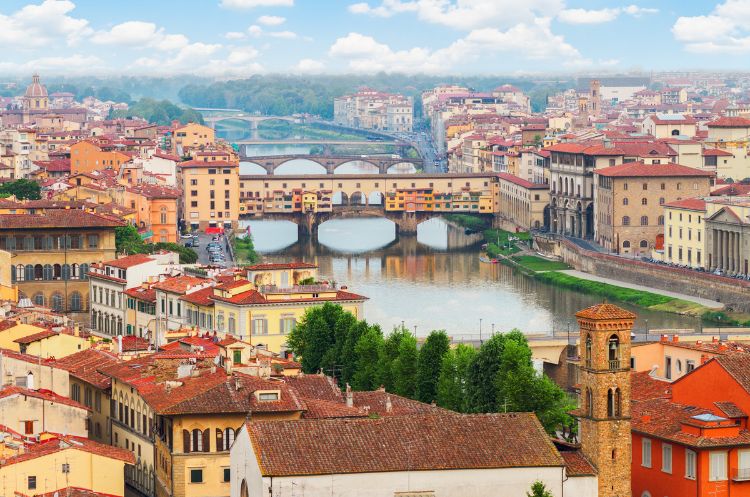 First Night in Florence
Tired from countless hours of travel, I enjoy a leisurely first walk along the Arno River to unwind and discover my neighborhood for the next few days.
A popular musician is singing Guanatanamera out on Ponte Vecchio Bridge, hordes of visitors are out walking while looking for a good trattoria to land for dinner, and the crowd's energy is infectious.
I chose to spend my first night safely ensconced in my room with dinner from my hotel's restaurant. Focusing on the area's popular cuisine, truffles are classified as mushrooms that grow underground, specifically around the roots of trees. They prefer to grow in the nearby hills, well covered with oaks, hazelnuts, and other dense coverings.
Best Tips & Tools to Plan Your Trip
I indulge in Crostini Toscana (chicken liver topping), Fossa Cheese ravioli with fresh truffle shavings, and a traditional Florentine cheesecake. Paired with a light white wine (Vermentino) from the region, I am delighted with my first encounter with Florentine cuisine.
Other popular favorites in the region include Bistecca alla Fiorentina (Florentine beefsteak) and lampredotto (beef tripe).
Read More: Beyond the Amalfi Coast: A Hidden Gem of the Tyrrhenian Sea
Piazza della Signoria Pride
Starting out fresh and well-rested the next morning, I enter the nearby Piazza della Signoria which is overwhelming in the most delightful of ways. I stop, take a deep breath, and slowly scan the vastness of all it encompasses.
The stories are old and intriguing. Statues stand proud around each turn. My favorite is Neptune, a popular fountain commissioned by Cosimo I de' Medici in 1559. He was the Duke of Florence from 1537-1569 and was responsible for a vast number of architectural and artistic treasures in Florence that still exist today.
Ordering a steaming cappuccino, and colorful fruit-topped delicacy from a famed chocolate shop, who has been here since 1872, I find it fascinating to sit for a while and watch a host of international visitors pass by.
It is also nice to rest tired feet that walk for miles in this city, often on uneven cobblestone surfaces. It is, however, the best way to travel these intriguing narrow streets that I yearn to explore.
Uffizi Gallery and Galileo
The nearby Uffizi Gallery is just one of the world-class museums this city proudly hosts. Outside is a group of accomplished artisans selling their artwork and I buy two colorful watercolors of the skylines from a popular vendor.
Famous worldwide for its ancient sculptures and paintings, Uffizi collections include everything from the 14th century to the Renaissance period. Giotto, Botticelli, Leonardo da Vinci, Michelangelo, and Caravaggio are among the most popular artists featured.
While the Galleria dell Accademia (Michelangelo's David) is another popular museum, I am especially intrigued with Museo Galileo displaying his telescopes, compasses, and microscopes. Living in and around Florence throughout much of his life, he is buried in the nearby Basilica of San Croce.
It is highly recommended to purchase museum tickets online beforehand if you wish to stay out of long lines. On another note, do not overbook the museums.
Save time to merely wander the streets as that is where you will find the heart and soul of Florence. Intriguing street musicians, artisans, and food vendors eagerly await around every bend.
Ponte Vecchio Vibe
Just around another corner lies the famed Ponte Vecchio (Old Bridge), a medieval stone arch bridge spanning over the Arno River. While butchers, tanners, and farmers originally occupied the small shops, today gold jewelry sellers, art dealers and souvenir shops have taken over. Two of the neighboring bridges are Ponte Santa Trinita and Ponte alle Grazie.
Heading across the Ponte Vecchio to the Oltrarno (the other side) there becomes a more local flavor the further you wander. I step into needlework, ceramic and wooden toy shops and purchase authentic gifts to bring back home.
Basilica di Santo Spirito, designed by architect Brunelleschi (15th century), Pitti Palace, former home of the Medici family, and its world-famous gardens (Gardini di Boboli) are all located on this side. Piazza Michelangelo is an especially popular destination for the best views of the city, especially at sunset.
The Iconic Florence Cathedral, Duomo
Another morning, after a brief rain shower, I visit the Cathedral of Santa Maria del Fiore, the Florence cathedral affectionately called the Duomo di Firenze.
Considered the city's central landmark, impressive pink, white and green striped marble wraps the exterior. I slowly walk around the entire exterior and meander down nearby side streets to fully embrace its immense, powerful size and gothic architectural allure.
Piazza della Repubblica
I also walk through nearby Piazza della Repubblica, one of the city's main squares, which has been the center of the city since Roman times. Colonna della Dovizia (Column of Abundance) stands proud and there has been a beloved merry-go-round in the square since 1871.
Heading back down to the river I pass through the Il Porcellino (the little pig), a popular 1634 bronze fountain near one of the leather markets. I purchase a pair of goldenrod-colored leather gloves nearby from a local family-owned store that has been in the area for over 50 years.
The Duomo bells start tolling and that signals noon. It's a lovely sound that permeates the city's busy streets as many stop to listen in appreciation of this melodic sound. It captures my attention as my stomach begins to rumble.
There is an abundance of gelaterias, pizzerias, and small trattorias to sample from. I purchase a lemon and raspberry gelato, a turkey panini, two chocolate-filled croissants and locally made samples of pecorino cheese.
Later I stop for an Aperol Spritz, a popular, refreshing beverage here along with the famous Negroni. I meet a lovely Canadian couple and another from Germany, a reminder that this is an international favorite due to its delectable cuisine, art, architecture, and friendly appeal.
Exploring Tuscany
Heading south next to the heart of Tuscany for a women's writing retreat, the greenery, old-world architecture, and peacefulness that encompasses this area captures my attention. Passing through Chianti, this region offers a unique landscape, with green, gentle hills covered with wide fields of vineyards and olive groves and small stone villages. Chianti wines, each one with its own taste and flavor: Classico, Chianti Rufina, Chianti Colli Fiorentini and others are available to taste and savor.
As I open my window the first morning in the Tuscan countryside with the sounds of chirping birds, I later listen to the thunderstorms move through the valley during an afternoon storm. It is quite magical and even more tranquil than I might have imagined. A walk around the villa I am staying at for the week reveals acres of olive trees, grape vines, orange and lemon trees, old chapels, and ivy-covered villas and gates.
Read More: 48 Hours in Bologna, Italy
The Delightful Siena Scene
An afternoon trip to Siena reveals its unique charm and history. Historically linked to commercial and banking activities, it is home to the world's oldest bank still in business (1472) and the University of Siena (1240).
Named a UNESCOs World Heritage Site, the famed Palio horse race takes place twice a year in the main square, Piazza del Campo. It is just one of the popular hilltop cities found in this region along with Montepulciano, San Gimignano, and Cortona.
Soaking Up One Last Day in Florence, Italy
Driving back north and enjoying one last day in Florence lands me in the Santa Maria Novella neighborhood. The first great basilica in Florence, it is the city's principal Dominican church. This neighborhood also boasts the oldest still-operating perfume house in Italy since 1221 (Officina Profumo Farmaceutica di Santa Maria Novella).
Walking back down toward the Arno River, I again see the Duomo as well as a host of local fashion giants including Gucci and Salvatore Ferragamo. This city is proud of its fashion status and wears it well.
A final meal of Tuscan bean soup, a tomato, mozzarella, and basil caprese sandwich, pasta al limone and pistachio gelato completes this journey. In gratitude, I raise a final glass of limoncello to this city and entire region who captures so many hearts along the way.
"Grazie mille, I hope to see you again soon."
Get all the resources for affordable flights, rental cars, hotels and more here.
More helpful articles:
Author Bio: Leslie Jones lives and writes along California's scenic central coast. With a passion for history and cultural travel, her adventures have taken her to favorite destinations including Italy, Spain, Portugal, Morocco, Costa Rica, the Caribbean, and Mexico's Yucatan Peninsula. She also has two books in the museums and heritage centers of Hawaii Island focusing on her family's deep roots in the sugar plantation industry.