I'm not ashamed to admit that I'm one of those people who can't (won't) change the channel when clicking around and Dirty Dancing is on the television. And I know I'm not the only one.
Even if you don't love the movie (like I do), there are legions of fans out there who know exactly where the line "Nobody puts Baby in the corner" comes from and have no trouble envisioning the classic "Come Here Lover Boy" scene between Baby (Jennifer Grey) and Johnny (Patrick Swayze) in the fictional Catskills resort's dance studio. Many of them weren't even born when the 1987 movie premiered. No matter.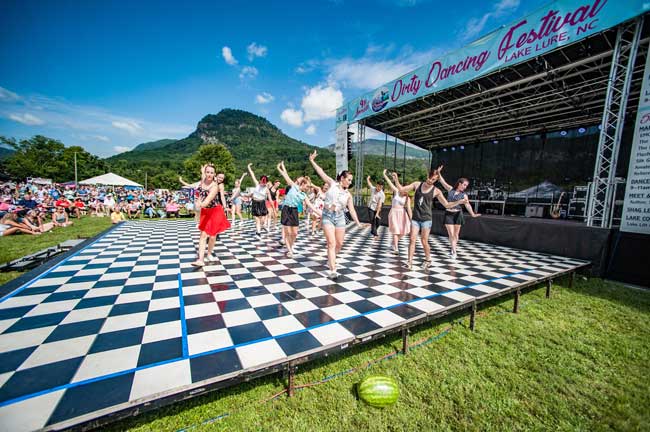 Dirty Dancing Festival, North Carolina
The annual Dirty Dancing Festival, celebrating its 10th anniversary in 2019, is generally held in mid-September. Held in Lake Lure, North Carolina, one of the movie's location sites, the sweet tribute event offers everything a fan could want: watermelon races, dance lessons, re-enactments, a screening of the movie, the Kellerman's Talent Show, and of course, a festival highlight, the popular Lake Lift competition, attempted by eager volunteers.
Lake Lure is tiny, with a population of just about 1,100 people, but it at least triples or quadruples in size during the festival, with people coming from as far away as Germany to pay tribute to their favorite film. In truth, there aren't that many physical spots that remain from the movie that you can visit, which makes sense because no one ever thought the film would be any sort of success, let alone that anyone would want to visit its location sites.
The North Carolina boys' camp that served as resort staff cabins was torn down long ago and the Virginia lake where Swayze and Grey rehearsed their famous lift is also gone (Virginia and North Carolina have a friendly rivalry over which state was home to the lake lift scene), but it doesn't matter, the spirit lives on in these places in the minds of fans.
Lake Lure Inn & Spa
One place that does remain, though it wasn't seen in the film, is the 1927 Lake Lure Inn & Spa, which housed the cast and crew during filming. The dancers practiced in the inn's Roosevelt Hall and visitors can book the rooms in which Swayze and Grey stayed.
A few other important Dirty Dancing spots remain in Lake Lure, such as the dance floor that was in place at the boys' camp gym where the talent show took place, and the boathouse stairs that Baby carried a watermelon down and later practice danced.
You can find the floor at the Esmeralda Inn, rescued from the camp and serving as the floor in the lobby and dining room, but you can't access the stairs (they are on private property now), though you can see them from a boat. Local tour companies run trips and will point them out to you.
One of the best parts of the festival is the joyful audience participation. You can take part in an amateur shag competition, after taking lessons with professional instructors; participate in the Kellerman's Talent Show, after training with Asheville Ballet dancers to earn your spot on stage (yes, Lisa's Hula dance and the Kellerman's Anthem are always performed); or see if you can lift your partner over your head in the Lake Lift competition.
Lake Lift in Morse Park
This crowd favorite is held in the lake cove of Morse Park, around the corner from where Johnny and Baby practiced one of their most iconic scenes. Asheville Ballet dancers show the crowd how it is done first (arms out! legs up!), then couples enter the water and get two practice lifts before making the third try count. The year I attended the festival, one man proposed to his girlfriend after their lift, bringing the crowd to its feet with cheers.
Here's hoping they have the time of their lives, forever!
The Dirty Dancing Festival is a non-profit fundraising event managed and executed by a team of volunteers to raise awareness, support and resources for the Pancreatic Cancer Action Network (PanCAN) and the Chamber of Hickory Nut Gorge. A percentage of all ticket sales, as well as onsite fundraising efforts each year, are donated to help find a cure for pancreatic cancer. Dirty Dancing star Patrick Swayze died of pancreatic cancer in 2009.
Author Bio: Kim Foley MacKinnon is a Boston-based freelance food and travel writer who loves to travel the globe but is equally happy to come home and write about all her favorite places in New England. Writing credits include the Boston Globe, Food Network, Forbes Travel, Cruise Critic, Global Traveler, USA Today, and her most recent book, 100 Things to Do in Boston Before You Die. Follow Kim on her adventures on Twitter and Instagram @escapewithkim.