It wasn't driving the truck or identifying dozens of wildlife species with barely a glimpse that was the most challenging aspect of safari guide training school for Tshepiso (Vivian) Diphupu.
It was the snakes.
One of 16 modules the aspiring guide had to successfully complete in order to earn her certification from the Botswana Wildlife Training Institute was "reptiles." Included in that instruction is snake handling.
READ MORE: This 10-Day Land and Cruise Safari is the Perfect Introduction to Southern Africa
A good safari guide has to not only be able to identify Botswana's 58 snake species, but she or he must also be able to remove them when the snakes roam into areas too near to guests.
"Sometimes we get called that there is a puff adder in front of the guest rooms or even in the restaurant," Diphupu said. "We have to (capture) it and take it to a safer area."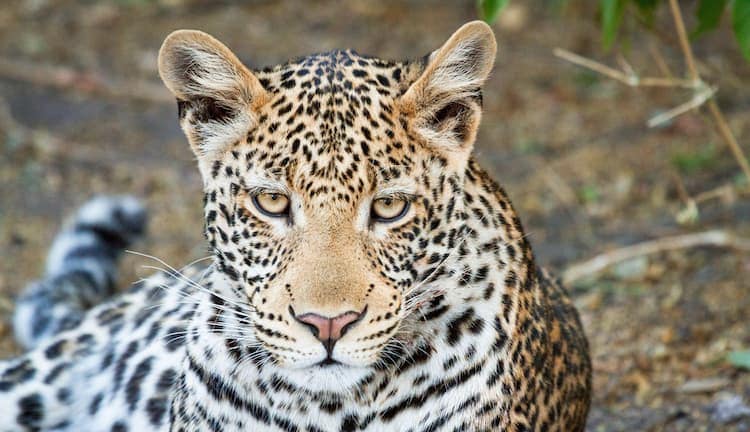 Chobe National Park
The removal is non-lethal. Chobe Game Lodge, where Diphupu guides, sits inside the Chobe National Park. The snake is home here, tourists are visitors. Puff adders are chunky, ambush hunters. The perfectly camouflaged vipers can lie stone still for weeks before striking their prey. Humans experience severe tissue damage from a bite.
"You have to know how to handle different snakes because they're all different, different venoms," Diphupu explains.
Among Botswana's snake species, 36 are poisonous, nine considered deadly. The black mamba. The Mozambique spitting cobra. Interactions with guests are increasingly rare, but they do happen, and this is hardly a job for the guy cooking breakfast or the lady making up the beds.
Chobe Game Lodge
No, it's a job for the safari guide, and at Chobe Game Lodge, that means one of 18 Chobe Angels, a first – and still only of its kind – all female guide team. In a profession not only dominated, but almost exclusive to men since its founding, the Chobe Angels shattered myths along the way to demonstrate the potential of equality and opportunity even in the African bush.
Women Safari Guides
As recently as the early 2000s, among the thousands of safari guides working across Africa, women accounted for such a small percentage of their numbers no one even bothered counting. A few dozen, maybe, across an entire continent.
Chobe Game Lodge hired its first woman guide, Florence Kagiso, in 2004. At that time, woman guides in Botswana could be counted on two hands. Today, there are more than 60.
Their numbers have flourished because of the great work each one of those scant few guides put in on each and every game drive.
Chobe Game Lodge Director Johan Bruwer noticed this. Kagiso's guests continually raved about her performance. He encouraged the parent company Chobe Holdings to hire more female guides. Time and again, the positive guest feedback directed toward the women exceeded that of the men.
This couldn't be a coincidence.
To further the experiment, Chobe Game Lodge next approached the Botswana Wildlife Training Institute, asking it to send all woman graduates its way.
The woman guides continued outperforming the men. By 2012, despite the critics, despite outright ridicule, all Chobe Game Lodge safari guides were women.
The Chobe Angels were born.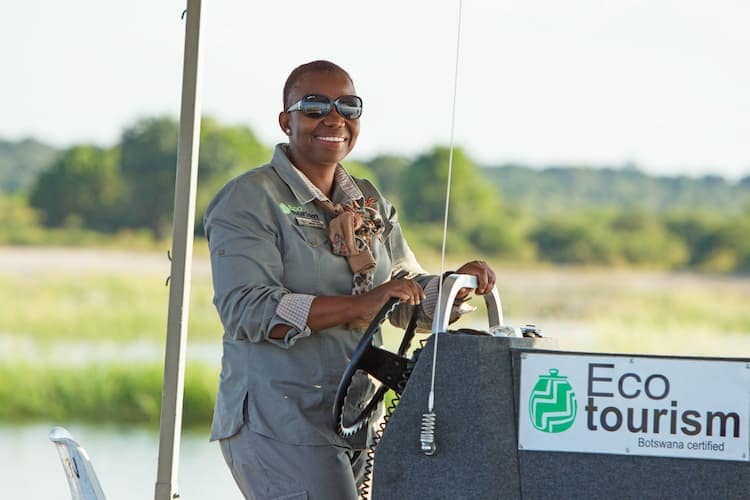 Chobe Game Lodge
Launching a women's empowerment movement at Chobe Game Lodge may have seemed particularly risky to naysayers. Chobe Game Lodge is the only permanent guest accommodation located inside of Chobe National Park. It is a five-star property where guests routinely spend over $1,000 USD per night for the privilege of staying there. Guests like Elizabeth Taylor and Richard Burton honeymooned on the property.
Second best doesn't cut it at Chobe Game Lodge. With visitors spending that much money and traveling from all over the world to experience Botswana's unsurpassed wildlife viewing on what may be a once-in-a-lifetime visit saved up for over many years, the highlight of the trip – the safari drives – have to be better than best. The Chobe Angels make sure they are.
Gender is the last thing on anyone's mind as the Chobe Angels drive visitors to within 10 feet of the park's lions. Elephants so close you can see their eyelashes without binoculars or zoom.
The Best of the Best
Diphupu learned of the opportunity to become a safari guide in 2005 through an advertisement placed by Chobe Game Lodge in the Botswana Daily News. The ad specified that women were encouraged to apply for openings at BWTI. And so she did, along with 21,000 others, men and women.
Following an initial screening of applicants which required a written essay about why each individual wanted to serve as a guide, Diphupu was among 31 invited to the BWTI. A .0015% chance.
In beating these odds and successfully breaking through in one of Africa's most male-dominated professions, Diphupu and the other Chobe Angels haven't merely blazed a trail for women and girls in Botswana and around the continent to pursue another profession, another means of independence, an opportunity to experience life outside of their homes and villages to learn and travel if they so choose, they've given women and girls a new dream. New role models. Aspirations they were forbidden from possessing as recently as the beginning of this millennium.
Same as the first female pilots or doctors or astronauts in the United States and elsewhere around the world, they blew up deeply ingrained limitations on what women could be and do. Limitations that would never be placed upon them again, freeing up a subsequent generation of women for the work of breaking new barriers.
Welcoming the World to Botswana
For all the hard skills safari guides must possess – identifying animals, handling snakes, driving the truck – the soft skills are no less important.
Safari guides must be perpetually cheerful. Cheerful at 5 AM when guests start trickling into the lodge for coffee and tea in anticipation of another drive. The guides have long since been there preparing. Cheerful in 110-degree Fahrenheit heat. Cheerful when guests bellyache about what bucket list animal they haven't seen.
In addition to the hundreds of pictures visitors take back from safari to their home countries, they take back perceptions of the local people they meet. This is almost always limited to the tourism employees encountered along the way, with more time being spent with the safari guides than anyone else.
At Chobe Game Lodge, that's three or four hours every morning and afternoon with an optional one- or two-hour midday water excursion. A Chobe Angel is there every step of the way.
Most guests will never see a Chobe Angel effectively diffuse a snake encounter, but every one of them will see them drive that truck. It's a beast. Thirteen-seater Toyota Land Cruisers nearly 20-feet long and weighing over 8,000 pounds. Four-wheel drive with manual transmission.
Nothing more immediately defies any preexisting guest stereotypes about women's work than watching the Chobe Angels deftly and confidently maneuver these vehicles through sand, over rocks, under trees – all within feet of lions, elephants, cape buffalo, hippos and crocodiles.
All with a smile.
All cheerfully.
No matter how cranky or entitled the guest.
"Meeting people from all over the world, taking them out (in Chobe) and putting the guests on my shoulders to make sure they're happy and when they leave here with a smile say, 'Wow, thanks Lebo for showing me all of this,'" Chobe Angel Lebo Mangwegape said of what she likes most about the job.
The Chobe Angels understand they are representing all of Botswana on the job, not only the women. Perhaps all of Africa.
"(Many guests) think of Africa as just one country," Diphupu explains. "By them coming here, they realize Africa is a continent and Botswana is one of the countries in Africa, and the continent has 54 countries. To share that knowledge with guests is an amazing thing to do. To share our culture – just in Botswana we have more than 10 (distinct Indigenous) cultures, in Africa, you have thousands of cultures."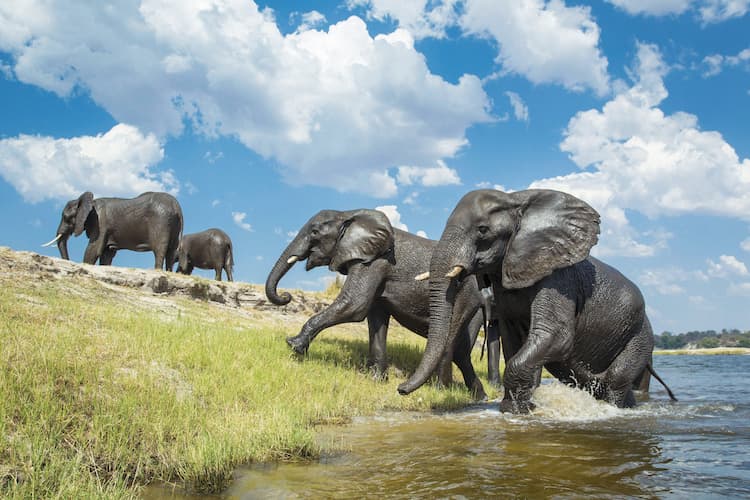 Chobe Holdings
Diphupu is heading into her 10th year working at Chobe Game Lodge for Chobe Holdings, which also owns Desert & Delta Safaris, a first-class collection of seven other properties located in Botswana and one across the Chobe River in Namibia. She no longer guides regularly having been promoted into a managerial position three years ago.
Along with the groundbreaking Chobe Angels, Chobe Holdings years ago made it a corporate priority to promote women and native Botswanans throughout the company. Every lodge it operates has people native to the country in leadership positions, a percentage that grows annually. Roughly 50% of senior management at the camps are women.
Promising employees are targeted early in their careers with Chobe Holdings for additional training and mentorship. Stories of advancement to management from entry-level groundskeeping positions are numerous.
Unlike many other safari operators in Botswana and throughout Africa, Chobe Holdings no longer imports its general managers and executives, leaving only lower-tier jobs for local people.
Chobe Holdings is based in Botswana, publicly traded on the Botswana stock exchange, and profoundly committed to improving the lives of Botswanans. Money made by Chobe Holdings in Botswana doesn't leave the country to fill coffers in London or Berlin as is the case with international safari operators, a long-standing bone of contention about safari tourism with the Botswana government and citizens.
Consider Chobe Game Lodge and the Desert & Delta Safaris camps the "shop local" safari experience. Or the "equity" safari experience. Or the "women's empowerment" safari experience. Or just simply the best safari experience. All apply.
If You Go
Information on Chobe Game Lodge.
International travel to Botswana for safari typically involves flying into Johannesburg, South Africa and then onto either Kasane International Airport, a 30-minute drive from Chobe Game Lodge, or Maun International Airport, both in Botswana.
Visas are not required for entry into South Africa or Botswana from the United States. A negative COVID test is not required for entry into either country either, although proof of COVID vaccination is.
Additional vaccinations are not required for travel into South Africa or Botswana from the United States, although the Centers for Disease Control offers these suggestions for vaccines and medicines when going there.
Consider bringing a Jase Medical Kit with you on your next trip.
Inspire your next adventure with our articles below:
Author bio: Chadd Scott is a freelance arts and travel writer based in Fernandina Beach, FL. He is the founder of www.seegreatart.art and co-host of the "Welcome to Florida" podcast. You can find him on Twitter, Instagram, YouTube and Facebook @seegreatart.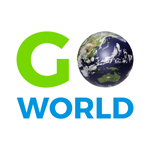 Latest posts by Go World Travel Magazine
(see all)