Editor's Note: Travel is complicated right now. Please check local regulations and location openings before you go. We share places, products and activities we recommend. If you make a purchase using a link on our site, we may earn a commission.
CHRISTMAS SPIRIT
The view from our windows every December never changes. As festively adorned as the stores are in Pasadena, California (home of the annual Tournament of Roses Parade), it's hard to embrace a holiday mindset in the midst of perpetually blue skies, palm trees, and neighbors in shorts and tank tops. Desperate to catch some seasonal spirit (and to remind our winter clothes they're still loved), we've adopted the tradition of spending a pre-Christmas week in a seaport setting that's been honing its yuletide spirit for over 250 years: Alexandria, Virginia.
It was here that a young surveyor named George Washington first imagined the potential of a fledgling government across the Potomac. Here that the city fathers surrendered Alexandria to the British to spare it from torching in 1812. Here that its occupation by Union armies during the Civil War enabled its harbor, colonial rowhouses and cobblestone streets to survive, unscathed.
It's here that we find our Christmas bliss in over a hundred shops, an equal number of culturally diverse eateries, and historic home tours that feel as if the original owners just stepped out but will be returning momentarily.
DECK THE HALLS
As you stroll the residential streets of what is America's third oldest historic district, you'd be hard-pressed to find a single house that's not stylishly decorated. The custom of hanging wreaths on doors and in windows not only dates back to ancient Rome as a display of victory but is also typically observed in climates with long winters.
What better way to brighten a bleak day than with evergreen boughs, red berries, golden ribbons and weather-resistant ornaments? Poinsettias – often placed on balconies, stairs and in foyers – provide an additional burst of Christmas color and were initially brought to the U.S. in the 1820's by its first ambassador to Mexico. Looking to be kissed? While early Britons hung mistletoe in a doorway to ward off evil, its modern yuletide symbolism is to make every guest feel warmly welcomed.
Alexandria takes historic preservation seriously and nowhere is this better reflected than in its annual docent-led candlelight tours of Gadsby's Tavern Museum (https://www.gadsbystavern.org), Carlyle House (https://www.nvrpa.org/park/carlyle_house_historic_park) and the Lee-Fendall House and Gardens (https://www.leefendallhouse.org). Purchase tickets at shop.alexandriava.gov. Though the candlelight tours are only held the second weekend of December, this trio of historic venues is open to visitors year-round.
Another event you won't want to miss if you're in town a week earlier is the Scottish Christmas Walk Weekend and Parade (https://www.campagnacenter.org/events/scottish-christmas-walk-weekend). This lively festival celebrates Alexandria's Scottish heritage with over 100 marching clans represented, a holiday marketplace of arts and crafts, a Taste of Scotland, and plenty of bagpipe music!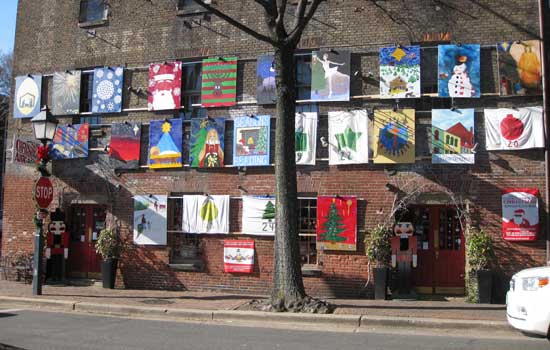 Alexandria Christmas SHOPPING
Since we're often only buying presents for each other, we like to budget for serious shopping while on vacation and have everything shipped, thus extending the holiday joy past our return. Insider tip: If you take business cards with your name, home address and phone number, busy merchants appreciate not having to hand-write your shipping information. Here are our top picks for distinctive gifts:
Old Town Coffee, Tea and Spice
215 South Union
Every imaginable flavor of coffee and tea plus an amazing array of hot sauces, condiments, chocolates, spices, teapots and mugs.
Torpedo Factory Art Center
105 North Union
With over 80 working artists' studios, you'll find something original in jewelry, ceramics, woodworking, textiles, painting and photography.
The Christmas Attic
125 South Union
"Christmas Shops" which exclusively sell ornaments, garlands, nativities, nutcrackers, Advent calendars and wreaths year-round are unique to New England and Eastern Seaboard states.
Patrick's
118 North Asaph
Elegant home décor, crystal, linens, soaps, antiques and furniture fill this beautifully appointed two-story shop. Our favorite draw, however, is the owner's gaggle of Bedlington terriers. Bring them treats from The Dog Park (705 King Street) and they'll follow you everywhere.
The Silver Parrot
113 King Street
Specializing in handcrafted sterling silver jewelry, accessories and decorative masks, it's one of the few places I've found that sells clip-on earrings.
The Virginia Shop
104 South Union
An old-fashioned country store featuring Virginia foods, wines, CDs, books and local souvenirs.
Alexandria DATE NIGHT
Culinary choices abound in Alexandria and – foodies that we are – we've become regulars at Bastille, Vermillion, The Wharf, Sam Phao Thai, and Gadsby's Tavern – all of which deck themselves out for holiday merriment. If you're dining out on Christmas Day, however, only a handful of Alexandria restaurants are open: Chart House, Il Porto, La Tasca, and Virtue Feed and Grain. All four require reservations.
Want to catch a show? It's an American Christmastime tradition that every city with a regional theater likely serves up productions of The Nutcracker, A Christmas Carol, How the Grinch Stole Christmas, and Messiah sing-along's.
If you're looking for something a bit wacky that blends Dickens' classic about Ebenezer Scrooge with parodies of popular show tunes, you can't go wrong with Metrostage's A Broadway Christmas Carol. Evening performances are Wednesday-Sunday; weekend matinees are at 3 p.m.
IF YOU GO
You have a choice of three airports – Reagan, Dulles and Baltimore. Reagan is the easiest to navigate as well as the closest to Alexandria.
Alexandria's nearest park-and-ride Metro station is at 1900 King Street. Passes and farecards are economical and the system is easy to use.
Stop by the Alexandria Visitors Center (221 King Street) for maps, brochures, ticket purchases, special events calendars, and sightseeing recommendations.
Alexandria's cobblestone streets can be slick in wet weather so take walking shoes with good traction.
Author's Bio: Former actress and theater director Christina Hamlett is an award-winning author whose credits to date include 31 books, 156 plays, 5 optioned feature films, and hundreds of articles and interviews. She is also a script consultant for the film business (which means she stops a lot of really bad movies from coming to theaters near you) and a professional ghostwriter (which does not mean she talks to dead people). https://www.authorhamlett.com