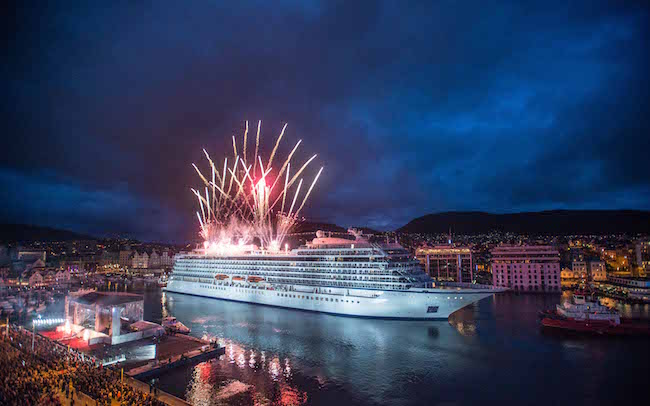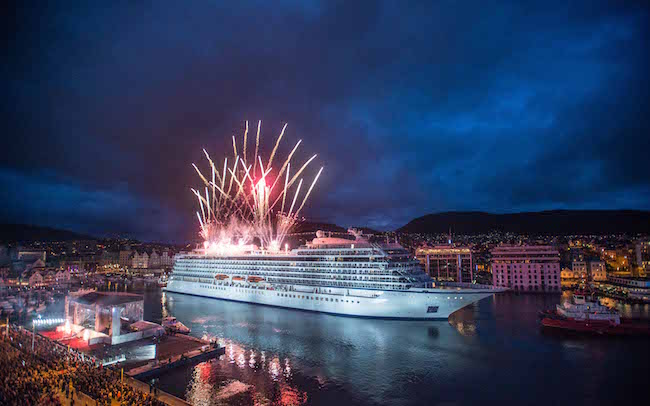 They say a cruise ship is a good place to read a book. I never crack mine open on my first cruise on Viking Star, the award-winning ship that debuted in the Viking fleet in 2015. There is just so much to do, so much to see, so many things to discover! Here's what you need to know.
Booking with the Viking Star
From the time I book our trip online to our return flight home (yes, they even handle air and land transfers), the Viking folks guide me through the process. And there is a process. You must create an account on MyVikingJourney.com.
There you book your type of stateroom (there are five), on-shore excursions (there are many), sign up for unlimited beverage package (or not), track your expenditures, learn all about the ship and everything else pertaining to your trip.
The excursion options guarantee one at each port covered in the price as well as optional tours for an extra cost. You can spend as little as two hours on shore or all day, depending on what you choose. Of course, there's always exploring on your own, too. Just don't miss the sailing!
Aboard the Viking Star
After a Viking-dispatched bus ride from our hotel in Berlin to the terminal a few hours away, the crew greets us with glasses of Champagne to start our journey. The Viking Star is in the "small ship" class carrying no more than 930 people. In order to navigate around the ship, we need to learn the lingo.
For example, the staff is called the crew. Viking Star has 14 decks. Aft is the back of the ship (also called the stern); Bow is the front of the ship; Port is the left-hand side when you're facing the bow; Starboard, right-hand side. At the elevators, the public spaces are listed accordingly, so it's helpful to learn the directions. You'll want to spend a lot of time in the Explorers' Lounge. It's a lovely space in the bow and a great place for viewing the open water.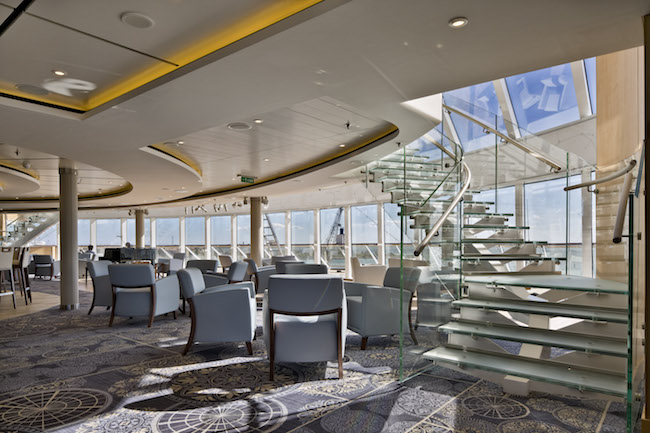 We find our stateroom on the fifth deck where the crew delivers our luggage. Our "deluxe veranda stateroom" with king bed is as spacious as any luxury hotel room. Like every stateroom on the ship, it has a private veranda where we sit with sun on our faces, wind in our hair—feeling the experience of sailing the seas!
The bathroom in our stateroom has a large shower, lots of shelf space, hairdryer, 110/220 volt outlets, and a heated floor. WiFi is free but spotty. A desk doubles as a mirrored vanity table, there's a safe in the closet along with robes and slippers, and a large-screen TV broadcasts our personal agenda, what's going on aboard ship, weather. . .every useful bit of information we need, as well as regular programming and movies. In addition, a Viking Daily newsletter comes to our stateroom every day with news about our next port, where to meet for excursions, and a schedule of the day's activities, including immersion into the destination's culture through talks, cooking demos and performances. Honestly, there's really no need to ask anyone questions. . .Viking covers everything!
One thing noticeably absent is children. Viking does not allow kids younger than 18, so guests are typically older adults who love to travel. Many of them are seasoned cruise fans who tell me how much they appreciate the absence of kids, casinos, annoying ship photographers, and formal nights that other cruise ships have. They also appreciate the inclusive aspect where everything is paid up front; there's no "nickel-and-diming." One thing they rave about over and over is the impeccable service from the international English-speaking crew. From the wait staffs at the restaurants to the person who hands you a warm towel when you embark, everyone treats you like royalty. The experience is refined and sophisticated but never stuffy or stiff.
Art on Viking Star
Our trip takes us to Norway, a fitting first trip since that country is the homeland of 20-year-old Viking Cruises.
The ship celebrates its Nordic heritage with Viking-inspired wood grains, rugs and tapestries in beautiful public spaces splashed with light plentiful from windows and skylights. Artwork from mostly Norwegian artists is found throughout in paintings, sculptures and photographs. The famous Bayeux Tapestry that tells the Viking story is replicated on the stairway walls. There's a nice exhibit of Viking-era artifacts, and you can always find books on the subject in library nooks around the ship that invite you to curl up and open the pages. There's even an app for a self-guided tour of the art on board. Cultural enrichment continues in the theatre where resident historians, guest lecturers and performers give insight into the next destination, as do Port Talks, a multimedia presentation by the ship's director. The Nordic Shop sells Scandinavian clothing and handicrafts. There's also duty-free shopping in the jewelry store.
Dining on Viking Star
Eight very different restaurants offer lots of choices for dining, as well as 24-hour room service. Our favorite is The Restaurant, a large airy space offering regional cuisines along with American classics like steak and potatoes. The only two that require reservations are Manfredi's, a delightful Italian trattoria, and Chef's Table, a set menu featuring various ethnic cuisines. In every one, the fresh-baked European-style breads and pastries are fantastic! My companion celebrates a birthday aboard, so a delicious chocolate cake shows up in our stateroom!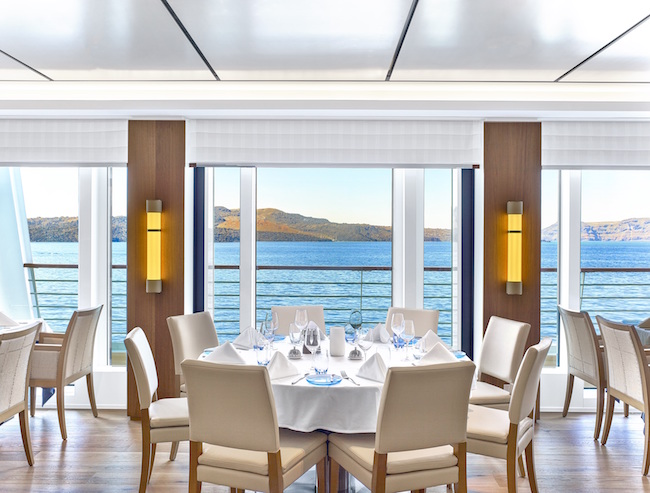 An elegant afternoon tea is served every day in a beautiful space called Wintergarden. And if you have the stamina, there is night life at various lounges on board. I can't describe it because I am out by 10 p.m.!
Spa and Pools on Viking Star
I knew every cruise ship has a pool (Viking Star has two, an outdoor infinity pool and an indoor one with retractable roof), but I was most surprised by the spa LivNordic on the ship. Not only does it have a hot pool and sauna available to every guest, but there's a snow grotto for practicing the age-old Scandinavian tradition of hot-to-cold therapy. After my sauna, I step inside, briefly. Yes, it is ccccold! I follow that with a lovely massage, which is an extra charge, as it is at any day spa.
In addition, there's a fitness center, a sports deck with bocce ball, and medical center with a 24-hour phone line for medical emergencies. And speaking of that, having never cruised before, I was a tad worried about sea-sickness. It never happened. The three-year-old Viking Star is built with state-of-the-art underwater stabilizers that provide a smooth ride no matter what the weather. Even when we cross the raging North Sea, the little bit of rockin' & rollin' we experience is like driving on a bumpy road, and it ends quickly in the night.
Excursions From Viking Star
I won't detail our port excursions in this post, but I want to explain how they work. Included tours meet local tour guides on the pier; paid ones meet at designated places on the ship. You must scan your room keycard when disembarking and show it upon embarking where you have to go through a security scanner. Some of the tours use QuietVox headsets, which enable you to hear the guide, even when lingering at something of interest. I find it to be very helpful.
I will absolutely take another Viking cruise; next time I may even read a book!
Viking Cruises travel the world. For more information, visit www.vikingcruises.com.
Claudia Carbone is an award-winning travel writer based in Denver. Read about other hotels she's visited in Sleepin' Around.
Latest posts by Claudia Carbone
(see all)