Beer in Brittany
Speaking of which, there are 500 different named beers made in Brittany; we visited one shop that apologized for only carrying 195. Local beers are strong and with many Belgian and sour style varieties. To me the labels — colorful, crazy and artistic — were more interesting than the beers. There are some Breton wines, but since Brittany borders the Loire Valley, one of the most outstanding wine producing areas of the country, there are many reasonably priced local white wines from nearby.
Historic Towns of Brittany

Because Brittany is a rural area with simple pleasures and few cities, my brother, who has visited many times, suggested staying in historic towns rather than cities. These towns offer free parking, are perfect for day trips to nearby villages and the coast, and are easy to navigate, yet offer ample choices for dining in the evening. Since the sun doesn't set in Brittany in June and July until 10 p.m., it's wise to remember when strolling around that many restaurants stop serving at 9:30 p.m.  We stayed two nights in four places, each very different.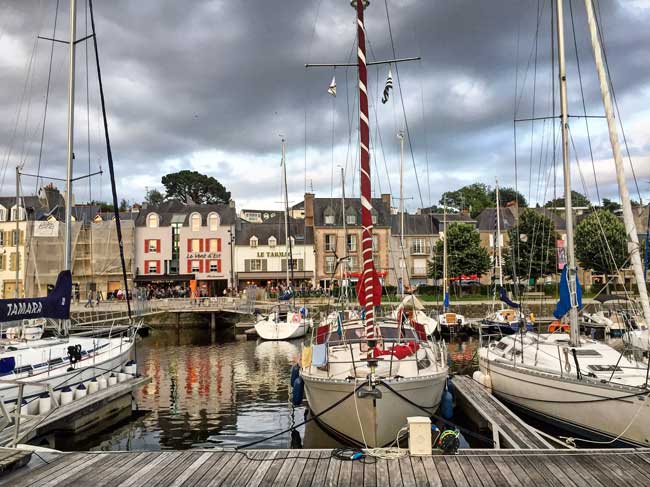 Vannes
On a beautiful bay on the south coast, Vannes boasts of having 2,000 years of history. And while the town is filled with city walls, medieval half-timbered houses, and wonderful cobblestone streets, it is also a youthful place, with contemporary looking cafes, attractive young couples, and a huge downtown marina lined with boats and bars. The castle moat is now a flower garden with a stream flowing through it. There are hundreds of boats to enjoy, and the night we were there, a pipe band was practicing, filling the air with Breton Celtic music (with a few Scottish and Irish tunes thrown in. They all sound pretty much alike, but wonderful.).
Concarneau
France is filled with literally hundreds of castles, fortresses and ruins of city walls, but it is rarity to find an intact fortified island that still has a town inside it. Concarneau is just that. The towering ramparts are surrounded (at high tide) by water.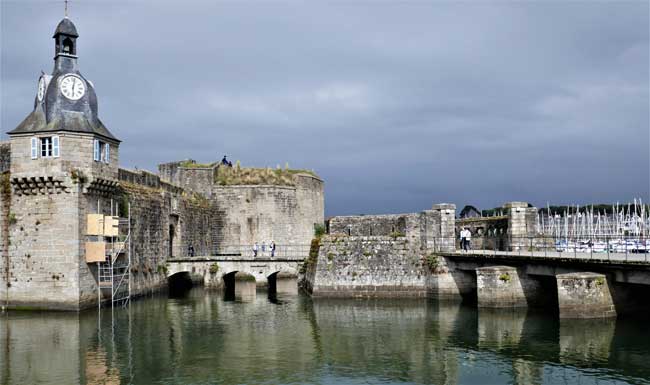 You enter the fortified city across a long drawbridge, pass through two impressive gates, and wander into an historic wonderland of half-timbered buildings, cafes and backstreets. By day, it's of course a little touristy, as any place this preserved would be. But come evening, the shops close, the cafes dwindle down (most of the town's restaurants are located outside around the bay), and you can have the rampart walls pretty much to yourself.
The town looks quite a bit like Canada's Quebec City, which of course, it should since it's from the same time period and built by essentially the same people. Most castles and fortresses are closed at night, but this one is open 24-7, so you can enjoy the town center by moonlight.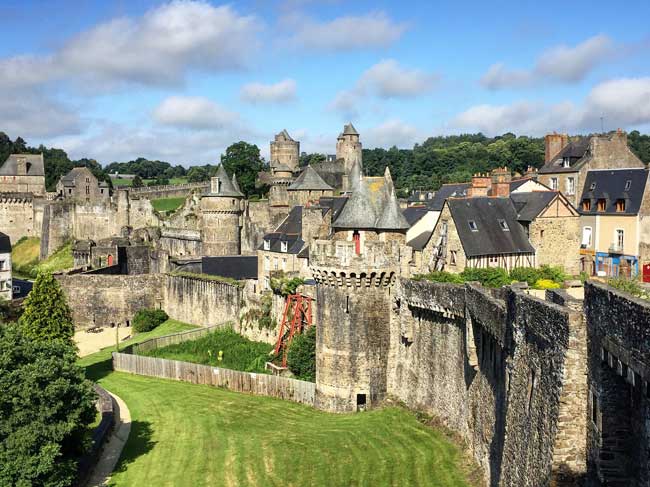 Fougeres
This is the storybook castle people dream of. The circular curtain wall is intact and bristling with towers. It sits at the bottom of a hill, so there are time-traveling views that haven't changed in centuries into the fortress, which is brilliantly lit at night.
Walking around the 80-foot-high stone walls in the evening, passing by a working gristmill that has four waterwheels, and dining on crepes and cider along the moat in the shadow of the drawbridge is a magical experience. The town sits near the border of Normandy and Brittany, and naturally has a wild and bloody history, but is a quiet place today filled with walks, flowers, and happy birds who swoop along the castle walls at dusk.
Saint-Malo
This is the ultimate pirate town, a walled city surrounded by forts that was home to France's most famous corsairs (legal pirates, authorized by the King to fight the British). It was the home of Jacques Cartier, who founded Quebec, and because of its military importance, it has some of the evilest looking fortresses in France, most notably the National Fort, which can only be entered at low tide.
Sadly, 80 percent of the town was destroyed by American bombers in World War II, but it is the only town in France that was completely rebuilt to resemble its historic appearance. Today, it is also a major beach town resort. Inside the walls, there are pirate shops, pirate themed cafes and statues of pirates. Outside, there are beaches, boats, swooping seagulls, and corsair ships darting around the harbor, easily spotted because of their distinctive blood red triangular sails.
Saint-Malo is a wonderful base in Brittany, and also within easy striking distance of one of Europe's top tourist attractions, Mont St-Michel. Technically, Mont St-Michel is just a mile over the Brittany border and in Normandy.
While you should certainly visit this 1,000-year-old abbey and fortress that floats above the water and sand and is one of the great and most famous sights of the world, be warned that it is crowded. When you tire of its armies of tourists, the packed narrow streets, and the high prices, nearby Saint-Malo will give you a peaceful evening retreat.
If you're lucky and hit Saint-Malo at low tide and in a twilight fog as we did, the walk across black rock and sand to the looming National Fort with the tricolor floating above it, will be as memorable as any glimpse of Mont St-Michel. Just remember, the tides come in faster than a galloping horse. Always keep a wary eye on the horizon. The sea is filled with the dead bodies of those who didn't.
Continued on next page