Visiting any place requires a person to know what to expect in terms of places as well as know how to navigate their way around. Pittsburgh is a beautiful place in southern Pennsylvania where the three rivers, Ohio, Allegheny, and Monongahela meet. There are many activities in Pittsburgh that make a visit worthwhile.
If you are wondering how to explore as well as get around Pittsburgh, here's what you'll need to do for your visit to Pittsburgh.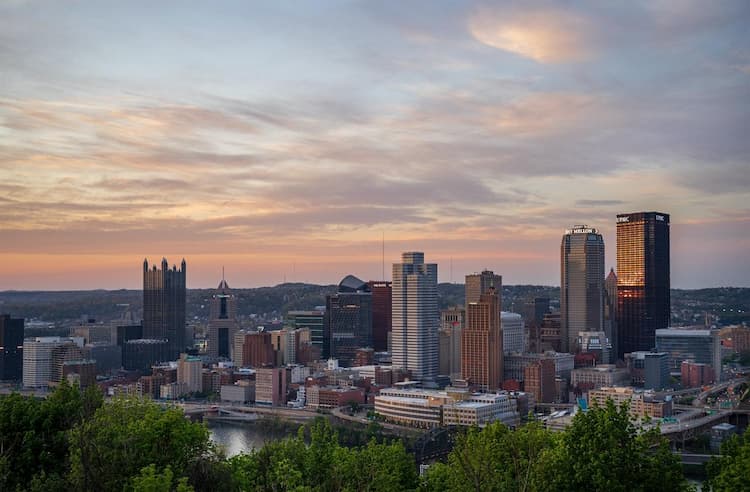 How to Explore Pittsburgh
Pittsburg has attractions and places to explore for all kinds of people. It has many history museums, so if you are a history enthusiast you can visit a museum and have a fun-filled day.
If you are looking to have a little more entertainment and fun, visit on a weekend as there are many festivals happening, for example, the Irish festival in September. If you are interested in arts or performing arts, visit the numerous theatres as well as art galleries. 
An outdoorsy or adventurous person will enjoy doing a bike ride along the scenic view, or along the Monongahela or Duquesne inclines. Added to this, there has been no compromise to the food places as well. Numerous local restaurants promise exceptional food that promises an experience of a lifetime. 
However, the main concern is how to get around Pittsburgh to experience all that it has to offer.
How to Get Around Pittsburgh?
The first step is to get to Pittsburgh. The amazing thing about it is that it is only 500 miles from almost half the population in the US. This means it is less than a 90-minute flight or a six-hour train from 10 states. Parkos airport parking will also provide easy airport parking as it is exceptional in telling the parking situation of an airport. 
Here are methods of transportation and their availability situation around Pittsburgh, especially downtown Pittsburgh.
Walking in Pittsburgh
Many people are reluctant to walk around as it can get tiring as well as they need favorable weather. However, walking around downtown Pittsburgh can be a very enjoyable experience. Added to that the walk is also not that long and can be managed without getting too tired.
It takes a mere 25 minutes to walk from one end to the other in downtown Pittsburgh. You can visit different tourist attractions by exploring on a walk that will give you an experience of a lifetime.
There is a three rivers heritage trail that you can take and explore local attractions as well as restaurants. Along with this take Fort Pitt and Fort Duquesne as these are the main pedestrian walkways. 
Biking in Pittsburgh
If you are not that keen on walking, taking a bike to navigate through is also a good option. Pittsburgh offers a secure and good bike trail. Use the Mon Wharf Switchback Ramp, this is a new ramp and can take you everywhere.
A bike ride allows freedom of navigating freely along the area, that too is bike friendly. The bike experience can give a sense of freedom as well as joy. There is a bike service from which you can rent a bike for low rates if you cannot bring your own.
Boat Ride in Pittsburgh
You can go to Pittsburgh in more ways than you can imagine. One should always try to better the experience they would get along the journey. A boat ride can give a truly unforgettable experience. With two rivers connecting the city, getting in a boat to get around can be a lot easier. There are also boat services that will take you to Heinz field or PNC park.
Taxi in Pittsburgh
Many people are not that adventurous and get nervous about bike rides, boats, or walking. There are people who appreciate much simpler and quick navigation around the city.
Also, walking or taking a bike ride can be difficult if you get confused by directions. For all of these reasons taking a taxi can be the best possible option.
However, you need to be aware that as compared to bike rides or even a boat, a taxi service can prove to be on a little pricy side.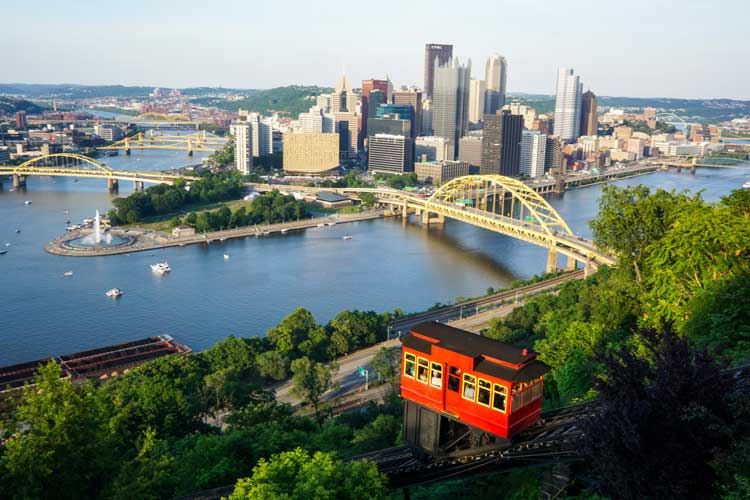 Public Transit in Pittsburgh
If you are up for it and do not want an expensive ride around Pittsburgh, take public transit.
There is a seven days a week port authority bus or light rail train bus that will be going around with minimal ticket charges and offering a free ride for children under 5.
The Port Authority or other regional transit bus connects Downtown passengers to the regions easily, while the light rail will connect Downtown and North shore to South Hills neighborhoods.
Passenger Rail in Pittsburgh
The passenger rail The Pennsylvanian and Capitol limited offers daily trips around downtown from many US states. This can be a good option for people not opting for a flight.
Getting Around by Car in Pittsburgh
Many people do not feel comfortable taking public options and want the comfort of their car. However, taking a car around areas like downtown cannot be an ideal option.
If you are willing to take the stress then you can easily navigate around in the car, however, the traffic can make the experience stressful and slow. However, it is still an option for transport.
The Parking Situation in Pittsburg
If you are taking your own car, it can be difficult to park. If you want to park and are near downtown, the best possible option is the easy-access parking garage. It is not even 5 minutes away from Downtown. On-street three is also metered parking available.
However, you need to check in case there is any restriction due to a prior or ongoing event. Added to this, the metered parking is free after six on seven days a week.
If You Go
Visiting Pittsburgh can be an exciting place to visit, especially due to the numerous activities it has to offer. You can now easily navigate through Pittsburgh by selecting your favorable mode of transport and exploring your favorite tourist attraction.
Inspire your next adventure with our articles below:
Author bio: Aireen B.