After being aloft in the sky on an international Delta flight, I then seemed to float through Miami International Airport upon arrival. It was, far and away, the most seamless and smooth immigration, customs and then ground transportation process I have ever experienced.
In fact, "the process" didn't even seem like I was being processed at all.
Less than an hour after touchdown I was in the poolside sunshine of the Hilton Miami Airport Blue Lagoon Hotel.
But, How?
I was seated at landing near the front (not business class) of the Delta aircraft. But the flight was not too crowded, so I doubt the experience I am recounting for you would have changed much even if my seat were farther back.
I disembarked with a backpack, walked down the jetway and through the secure corridors of Miami's airport which funnels international passengers to the United States Immigration checkpoint. I do have the common Global Entry status, so I followed the signs leading to the standard electronic kiosk and found it easily…with no wait.
Typically, at this stage, the machine's touchscreen will tell me to insert my Passport for scanning and take my photo…but this time a message told me to proceed to the counter with the immigration officer.
The immigration official had someone in front of him, and I was next in line. I then heard that same officer behind the glass, still reviewing the other traveler's documents, call out my name: "Michael Patrick Shiels?!"
"Yes," I answered from behind the yellow line while waving my hand.
"You're good. Go ahead," he stated.
Wait, what? (I thought to myself.) But the officer didn't have to tell me that twice. I got moving went around the man in front of me and, without even a stamping of my passport, walked myself over to the baggage claim rack.
Miami's airport is renovated, clean and full of eye-candy artwork, including its terminal terrazzo floors and natural light spaces. It was easy to find the conveyer belt bringing my bag from the aircraft. I am not exaggerating to say in less than five minutes my suitcase slid down onto the moving belt and I was rolling it out into the ground transportation area.
Once again, I was startled to find no further customs check. No one was even there to luggage check for Cuban cigars or Havana Club rum. Perhaps the bags are x-rayed behind the scenes? If so, it would have to have been done very quickly.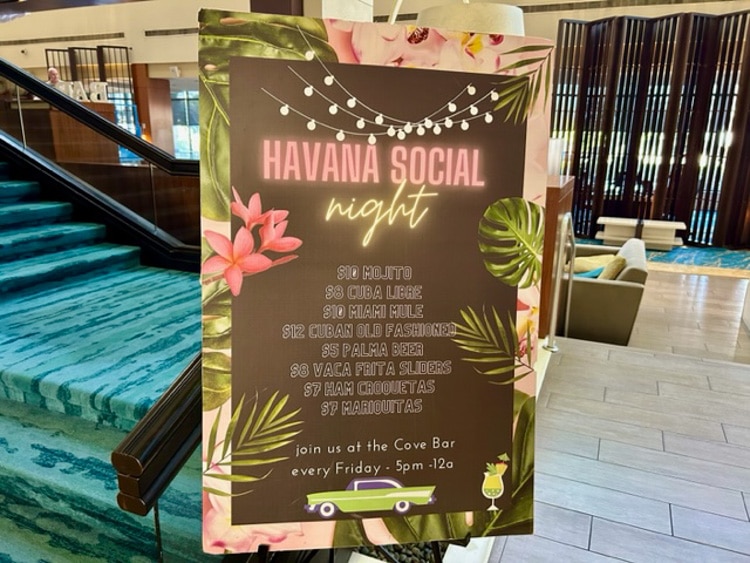 Rolling to the Resort
My glide continued when I followed the clearly marked signs to ground transportation and the proper level to find the nearest hotel shuttle pick-up stop. There is both shade and sunshine along the inner road looping through Miami Airport. While I waited, I called the Hilton Miami Airport Blue Lagoon phone number to ask about a shuttle ride.
For once, I didn't mind reaching a recorded greeting, because the very first prompt was to "push #1 for shuttle information," and the resulting recorded message immediately assured me of this:
"Our complimentary shuttle is currently running appx every 30 minutes from 5 a.m. to 12:30 a.m. Proceed to the lower level and to the location where you see the hotel shuttles. There is no need to speak to anyone. If you have a question, you are welcome to text us at (786) 528 6177."
The thoughtful efficiency continued! And the message delivery wasn't impersonal because the hotel anticipated my need (and those of the countless others who call) and gave me the info without a time-consuming, repetitive conversation. This no doubt freed up hotel front desk staff to focus their efforts on a speedy check-in for the guests who had arrived.
Which is exactly what happened next.
Land and See
My wait for the Hilton Miami Airport Blue Lagoon shuttle was hardly long enough for me to sit in the fresh air and check my emails. The ride to the hotel, which is just over the airfield boundary and freeway, was 3.7 miles.
"It's a beautiful location…a resort next to the runway," hotel general manager Jean Armas told me. "When you get here, you're going to feel like you're in an oasis and not at the airport."
The friendly and helpful driver of the free shuttle dropped me under the Hilton's covered valet entrance just steps from the front desk. My check-in occurred so rapidly that Armas almost missed greeting me before I headed to my room.
"We try to make it as prompt as possible for our guests to check-in. Our shuttle drivers inform us how many people they have in the shuttle. We know our guests want to go to their rooms. Once they get to the room, they forget they are tired and want to enjoy the hotel and the city. They drop their bags, feel refreshed and get out and about."
The Hilton, and of course the Miami area, give guests plenty of reasons to leave their rooms.
South Beach is a zippy, direct 14 miles to the east via a $35 rideshare. The music, culture and cuisine of Little Havana is much closer, as is the Miami Marlins baseball park. Each of these are worthy activities, even if you're staying for only one night to catch a cruise or connect to an international flight to South America or Europe. ($13-dollar Port of Miami transfers are available on weekends for cruisers.)
If you can't get out into Miami, Armas says the Hilton Blue Lagoon will bring Miami to you.
"We want to make sure our guests experience at least some of the culture and vibe of Miami so from 5:30 p.m. to 9:00 on Fridays we have Cuban performers who play salsa and merengue music and we serve food offerings such as pork empanadas, Cuban sandwiches, mojitos and Cuba Libres to give the guests some Cuban flavor."
Laying Out on Your Layover
If you're therefore enticed to remain on the hotel grounds, the Hilton Miami Airport Blue Lagoon provides a campus for relaxation, recreation and professional meetings and events. You won't get claustrophobic cabin fever. Corner suites a living area with a refrigerator and a curved, screened patio overlooking the airport, pool, surrounding lagoons and the downtown Miami skyline.
"You can see the sun come up over the skyline from the guestrooms or the pool. You see the colors of Miami in the sky: it's a beautiful view," Armas said.
I found the nighttime view of downtown Miami – and the takeoffs and landings at an international airport equally compelling.
"From your room you don't hear or feel the airplanes taking off or landing, which is great. We have pilots and flight attendants who stay with us because our rooms are quiet and they get good rest. We want pilots rested for safe travel," Armas insisted.
You'll spot plenty of airline staff on the 5 a.m. shuttle to the airport while you might just be coming in from a night experiencing Miami's legendary nightlife.
If staying in and cozy convenience is your idea of nightlife, the Hilton's Herb n' Kitchen walk-in convenience kiosk and gift shop is thoughtfully located right in the center of the lobby. Baristas brew up specialty coffees; and the counter offers artisanal sandwiches, flatbreads, salads, breakfast sandwiches and parfaits; plus take-away craft beer and wine or high-end room snacks like kettle chips, pastries and chocolate chip cookies.
Hilton's Sunshine State
30,000 square feet of poolside patio amidst the palm trees await beside a big swimming pool next to a jacuzzi, lounging chairs and umbrella-shaded tables along the lagoon.
"You can see the airplanes take off and land but not with a noise that will distract you. We have a lot of ambiance around the hotel that is perfectly located in the heart of Miami and next to the airport," said Armas.
Part of that resort ambiance is the Blue Lagoon Saloon tiki-style pool bar. The hotel's Coral Café Restaurant and Cove Bar inside offers plenty of sky-view natural light with a glass atrium-style ceiling. Even the 24/7 fitness center has a view of the pool, the lagoon and the trees. If basketball or tennis are your preferred workouts, the Hilton has that, too, as well as bike rentals.
Home at the Hilton
Armas joined the Hilton team – and moved his family – to Miami from Texas is 2019.
"'Don't mess with Texas,' but I love Miami as well. It has offered my family – my wife and two children – a great quality of life. There is stability and great schools. I am proud to live in Miami now," said Armas, formerly with Ritz Carlton. "Working for Hilton has been a great experience."
I shared with Armas my amazing Miami Airport experience upon which I seemed to ride a wave right through immigration and customs. He told me Hilton implements similar techniques to create a smooth experience for guests.
"When you are a Hilton Honors member, gold and diamond, you have certain perks, including checking in through your app and skipping the line. You can open your room with your smartphone via a virtual key Hilton sends you. And you can even choose the room you prefer and get an automatic upgrade," Armas explained.
Bienvenido a Miami!
Read more of Michael Patrick's work at The Travel Tattler and contact him at [email protected]